JoJo's 'Bachelorette' Wedding Could Be On TV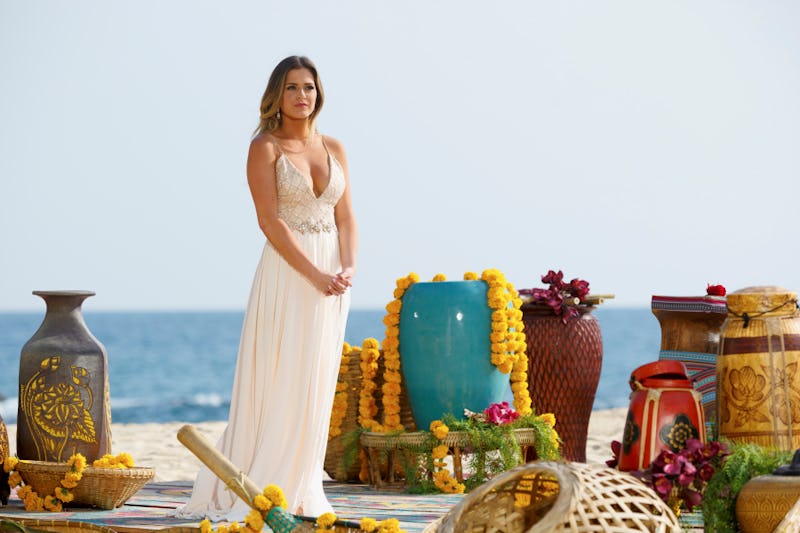 If the producers of The Bachelor know anything, it's how to keep a franchise going — from Bachelor Pad to Bachelor In Paradise, there's always something brewing for Bachelor Nation. Me? I love to watch the couples (whoever lasts, that is) get married after The Bachelor and The Bachelorette. There's really no better way to say "I love you" than to have an extravagant wedding on national television that you don't even have to pay for! Now that our Bachelorette is engaged to Jordan Rodgers, the question must be asked — Will JoJo Fletcher get married on television?
Honestly, I don't see why she wouldn't. If you're ready to get married to the person you picked on television (which, some, like Kaitlyn Bristowe and Shawn Booth, said they wanted to "date" a little before being married), why not have ABC foot the bill? You've already given up most of your privacy from the beginning of your relationship, so just throw caution to the wind and say, "Yes, Chris Harrison, but I want 500 white doves released at the time of our first kiss as husband and wife." JoJo has been a part of this Bachelor rigmarole twice now — first on Ben Higgins' season of The Bachelor and then on her own Bachelorette — so she knows how it works. She knows how much money she and fiancé Jordan Rodgers could make by airing their nuptials on television. My word of advice for JoJo? Just do it!
After all, these Bachelor and Bachelorette couples got married on television, and they seem just fine.
Ben Higgins & Lauren Bushnell
Okay, so they're not married yet, but HollywoodLife.com reports that Ben and Lauren will be getting married soon — as soon as this year, apparently — and it will be on television. Now that they're getting their own spin-off show on Freeform, I'm guessing that a lot of the wedding planning will be shown there.
Jade Roper & Tanner Tolbert
These two met on Bachelor In Paradise, but it doesn't make their love story any less romantic. Jade and Tanner married in 2016 on national television, and let me tell you, there was not a dry eye in the house during their nuptials. It was so dreamy and romantic that my cold, dark heart had me shed a tear, too.
Sean Lowe & Catherine Giudici
Sean and Catherine are my favorite Bachelor couple, especially on social media. Their wedding got a huge special on ABC, and the only thing that was weird/gross about it was how much it focused on the "grown sexy" aspect of the wedding night being their first time having sex. Other than that, the wedding was beautiful and these two have an adorable baby boy now.
Molly Malaney & Jason Mesnick
Once Jason realized what woman he wanted (he picked Melissa Rycroft first, then dumped her After The Final Rose, which was a giant yikes), Molly and Jason got married in a gorgeous ceremony on ABC. With a couple of kids under their collective belt, they now live a fairly normal life in Seattle.
Trista Rehn & Ryan Sutter
Ah, the OG Bachelorette and the fireman that swept her off her feet. Trista and Ryan's wedding is fun to watch because it's fairly basic — in 2002, no one knew that The Bachelorette would be the moneymaker it is now. The budgets are definitely bigger today, but it didn't make their wedding any less sweet.
I'm telling you, JoJo — go for the big television wedding of your dreams!
Images: Matt Klitscher/ABC; Giphy