There's More 'Beat Bugs' On The Way & That's Fab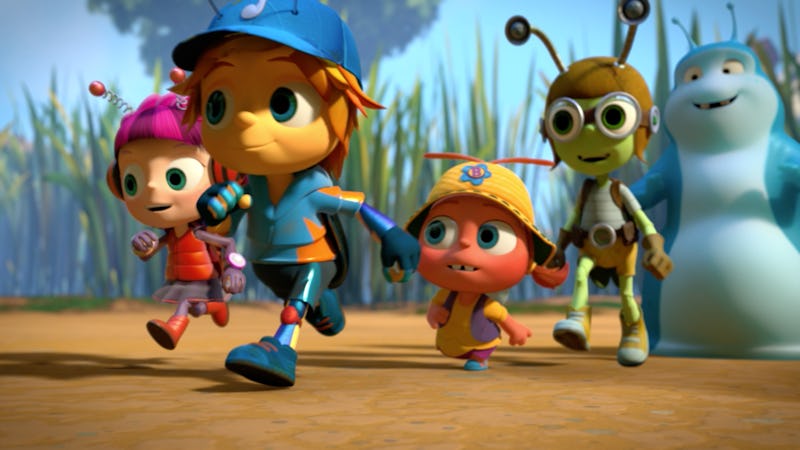 You had me at "Beatles," Beat Bugs. The newest animated kids' series coming to Netflix follows a gang of insects called the Beat Bugs (no, not the Beetles), as they live and learn in an overgrown suburban backyard. The adventures of Jay, Kumi, Crick, Buzz, and Walter are set to a soundtrack of new Beatles covers sung by some of today's hottest artists. All in all, Beat Bugs sounds like a "Magical Mystery Tour" of sight and sound. Even though Season 1 of the show will have just premiered on Netflix on Aug. 3, as a huge Beatles fan, I need to know if Beat Bugs will return for Season 2.
Well, it is a good day, sunshine, because it has already been revealed that Beat Bugs will return for a second season. Series creator Josh Wakely confirmed the news at the Netflix Television Critics Association panel on July 27, the streaming service revealed in a press release. What's more, Wakely also announced that Season 2 will premiere on Netflix worldwide on Nov. 18, while Australian Netflix subscribers will be able to watch both seasons soon after they bow on Seven Network.
And get ready to twist and shout (in a good way, of course), because we even know which songs and artists will be featured in Season 2 of Beat Bugs, according to the release. These include Rod Stewart ("Sgt. Pepper's Lonely Hearts Club Band"), Chris Cornell ("Drive My Car"), Regina Spektor ("And Your Bird Can Sing"), Jennifer Hudson ("I'll Follow the Sun"), Of Monsters and Men ("Eleanor Rigby"), James Bay ("Hey Bulldog"), and Tori Kelly ("I'm Happy Just to Dance With You").
But don't worry. There are some fab artists taking on the Beatles in the show's soon-to-drop first season too, including P!nk ("Lucy in the Sky With Diamonds"), James Corden ("I'm a Loser"), Aloe Blacc ("Rain"), Robbie Williams ("Good Day Sunshine"), Eddie Vedder ("Magical Mystery Tour"), Frances ("In My Life"), The Shins ("The Word"), the Lumineers' Wesley Schultz ("Honey Pie"), and Sia ("Blackbird").
Hopefully, all of the new versions of these beloved tracks live up to my expectations. Covering the Beatles is a risky move, after all. For every amazing cover (Joe Cocker's "With a Little Help From My Friends," Richie Havens' "Here Comes the Sun," Fiona Apple's "Across the Universe"), there are a ton of misses (Kylie Minogue's "Help!," Eddie Izzard's "Being for the Benefit of Mr. Kite," Michael Jackson's "Come Together"). Don't even get me started on the 1978 movie Sgt. Pepper's Lonely Hearts Club Band starring the Bee Gees and Peter Frampton.
So come on, Beat Bugs. Don't let me — and the Beatles — down.
Image: Netflix