16 Top-Rated Tights That Actually Won't Rip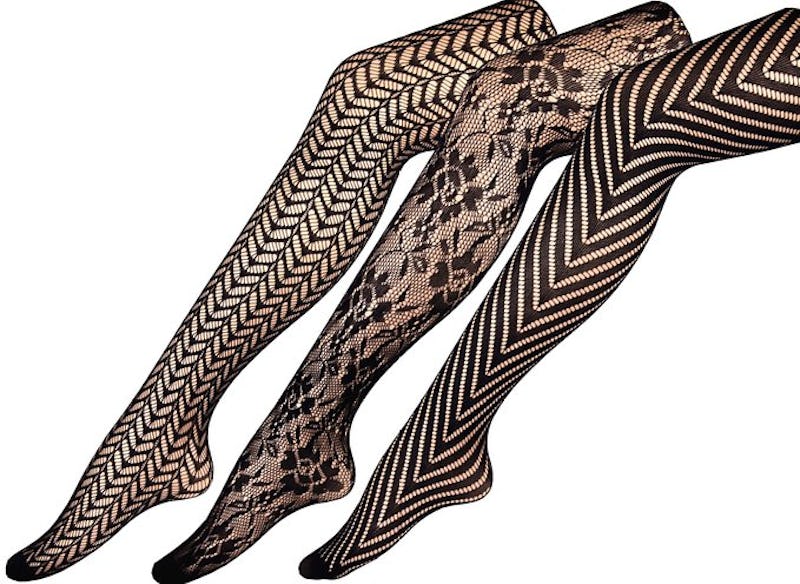 Tights can be the perfect accessory for any fall or winter outfit, but finding the very best tights that won't rip can also feel impossible. Scoring the right pair will keep you free from needing to the fix common tight problems that bother anyone who didn't do their tights research, but lucky for you, I've done the work on your behalf. I scoured Amazon for top rated tights that won't rip or run, and there are plenty of stylish (and durable) options out there.
Knowing the stockings brands that won't rip or run is crucial — but so is knowing if you're shopping for the correct fit to begin with. If your waistband tends to roll up, order a size bigger than usual. If you're way more prone to ripping your tights than most people you know, perhaps it's time to start shopping for thicker tights styles.
Once you've figured out the fit, it's time to stock up and start rocking the best fall and winter skirt and dress trends. With the right pair of long-lasting tights, you'll avoid runs, and you'll be able to use some of that extra money for something better. Say goodbye to ripped tights and hello to stylish and fun outfits for the whole season.
Super Opaque Tights That Actually Last
HUE Super Opaque Control-Top Tights (Size 1-5), $9-$22, Amazon
When you buy a pair of opaque tights, you hope that they stay opaque. One user said, "These are a really dark black tight, very opaque. They last forever." Plus, they come in eight different colors, which means a great tight for whatever outfit you want to wear.
Dance Tights Mean Durability
Capezio Hold & Stretch Footed Tights (Size S-XXL), $10-$18, Amazon
If you get really annoyed by runs in your tights, think about investing in a pair of dance tights. They are often thicker and last longer (but they are also tighter, so size up!). Several buyers on Amazon said that the tights are so much more durable than regular tights and they hold up after repeated washings.
Patterned Tights That Won't Run
Hanes Silk Reflections 3 Pack (Size 1-3), $16, Amazon
Make your next outfit more fun with a pair of patterned tights (or three!). These tights are a great quality, safe for machine washing, and are 11 percent spandex for generous stretch that won't run or tear. One reviewer put it simply, "love these tights!"
Bright High Quality Tights
Betsey Johnson Solid Opaque Microfiber Tight (Size S/M-M/L), $18, Amazon
When you just want to have fun and add a pop of color to your outfit, tights can be a good way to do so. But, you don't want to be bold and end up with torn stockings. These hot pink Betsey Johnson tights have gotten the stamp of approval from a ton of buyers. The buyers agree that the tights are high quality, soft and durable!
Quality For The Price
DKNY Opaque Control Top Tights (Size S-Plus), $10-$20, Amazon
When you want to rock a pair of tights that aren't super expensive, but they still last a long time, look no further than this pair by DKNY. The people at Refinery29 say that these are great, as long as you remember to hand wash them. If you're good at being delicate, these tights will last you more than a few washes and wears.
Long-Lasting Wear And A Pretty Pattern
Wolford Poppy Tights (Size S-M), $48, Amazon
Finding tights in a pretty pattern that won't rip can be tough sometimes. That's why it's better to invest in a good pair. Sure, they may have the higher price tag, but Wolford tights are made to be high quality. Reviewers agree that the brand is "always the best."
After Washing, They're Just Like New
Commando Perfectly Opaque Matte Tights (Size S-XL), $33-$38, Amazon
According to Refinery29, this set of tights can take abuse, be washed several times, and still look like new after they dry. The matte tights are made to feel invisible, and while sometimes that could mean runs in your stockings, these ones are so good, you won't find any after a long day. Invest in a good pair of tights and say goodbye to rips.
Silky Thin Tights That Tolerate Everyday Wear
Bonas 15 Den Ultra Sheer Toe Tight (Size S-XL) , $9-$21, Amazon
Sometimes I don't want to wear opaque tights because sheer tights are just better for certain outfits. But, sometimes I worry that the thinness means they'll rip faster. That's not the case with these tights, as one buyer said, "It is not delicate and it tolerates pulling and stretching very well, but it looks really silky and smooth on the legs."
Patterned Style That Doesn't Rip
Chirrupy Chief Patterned Fishnet Pantyhose (One Size Fits Most), $11, Amazon
If you like to stay on trend and rock some patterned tights, it probably has crossed your mind that they must rip more easily than regular ones. But that's not true with these — one buyer said, "I was nervous about the quality of these when I pulled them out of the package, but after a full day of wearing them, I know they're going to last longer than my other 'regular' pantyhose."
Luxuriously Soft But Surprisingly Resistant
Wolford Mat Opaque 80 (Size XS-S), $55, Amazon
When you are able to run a pair of soft tights through the spin cycle in your washing machine, you've found a winner in terms of high quality tights. While these are pricey, they last a long time. According to Refinery29, these are the tights for those who "prefer a more luxurious-feeling tight that won't fritz out on you."
Good Quality That You'll Buy Over And Over Again
Calvin Klein Matte 30 Denier Pantyhose (Size L-XL), $14-$20, Amazon
When you find a style of tights that look great and last long, you should buy ten pairs (but I guess you won't have to because these don't rip or run!). Buyers agree that Calvin Klein tights are a good quality material, and they would purchase them again and again. The soft tights fit well and even hold up in the washing machine, too.
Sheer Tights With A Little Shine
Hanes Silk Reflections Luxe Sheer Tight (Size 1AB-5IJ) , $8-$16, Amazon
With Hanes you can get a great quality product for an awesome price. These super soft tights mix sheerness and opacity for the best style ever. One buyer said," The bottom line is I do recommend these tights to other women, as the fit, feel and look of them are top notch. Also, the price is unbeatable for these high quality tights. Try them you won't regret it."
No Worries, No Runs, No Problems
Danskin Ultrasoft Microfiber Footed Tight (Size A-D), $9-$15, Amazon
One buyer said, "These seem fairly durable. No runs yet after more than 10 wears, and no worries about tossing them in the washing machine." They come in seven different colors and fit wonderfully, which makes wearing these tights an easy addition to anyone's wardrobe.
One Pair, Five Months
No Nonsense Super Opaque Control Top Tights (Size S-XXL), $6-$7, Amazon
One user said, "In terms of quality...omg these are sooooo amazing. I've worn one pair of stockings since April, it is now August, not a ream or a tear." Tights that can last for five months are hard to find. But that's not even the best part, they cost less than $10.
Tights You Don't Have To Worry About
SPANX Bodyshaping Tight-End Tights (Size A-G), $12-$40, Amazon
When you purchase a pair of delicate tights, you have to take extra care with them. But, these SPANX tights are thick enough that you don't have to worry at all. These tights are basic enough to wear every day, and you won't spend the whole day concerned you're going to cause a run in them.
An Even Weave That Wont Snag
Danskin Compression Footed Tight (Size A-D), $8-$14, Amazon
These tights are made with a tighter weave than other "regular" tights. That means that they won't snag or run as easily. You can wear them all day without worrying about rips and tears. One user said, "I figured dance tights would hold up better than the tights I usually buy that run after a few wears. I bought these and the quality is very good."
Bustle may receive a portion of sales from products purchased from this article, which was created independently from Bustle's editorial and sales departments.
Images: Pexels (1); Amazon (16)