Was It 'Love At First Kiss' For These Couples?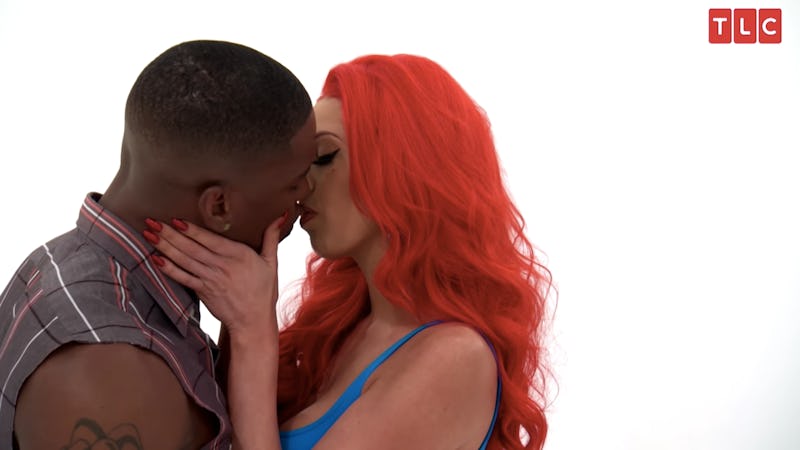 The television landscape is full of dating shows, and this summer is no exception. So in order to grab viewers' attention, your show has to offer something that we've never seen before. Well, by matching complete strangers based on whether or not they see sparks after sharing a smooch, Love at First Kiss, which premieres on Wednesday, Aug. 3 at 10 p.m. ET on TLC, does just that. But are any of Love at First Kiss ' Season 1 couples still together after participating in this experimental dating show?
Though there are some video clips of Love at First Kiss and a few of the singles' names have been revealed in articles about the show, TLC hasn't officially released any of the daters' identities, and some of them may be keeping their participation in the series on the DL until the series premieres as well. We also won't know which singles actually agree to a two-minute speed date and then a date out in the real world after their initial kiss on the show, so some of the following couples could just end after locking lips. And if you watch the trailer for this season, it's not surprising that some couples will, in fact, meet that fate.
However, I was able to figure out a few of the the singles based on the information that is available before the series premiere of Love at First Kiss. And with that intel, I've determined who likely did find love at first kiss and who had to keep their lips moving.
Amanda Abbott and Shondo Blades
Amanda Abbott and Shondo Blades both look pleased with their smooching session in the above preview clip from Love at First Kiss. Amanda did apparently move her tongue just the way Shondo likes it, aka she did what he has dubbed the "Whirly Dirly," when their lips met. So it seems like these two had some chemistry.
But going by their respective social media feeds, it doesn't look like Amanda and Shondo have interacted much since their time on the show. Could Amanda and Shondo really be a couple if they haven't made it Facebook official? I think not.
Sarati Toups
Sarati Toups will be another contestant appearing on Love at First Kiss , according to the New York Post. It's unclear who she will be paired up with on the show, but it looks like she is currently in a relationship with a man named Jesse Callahan, according to her Facebook page, so she may have found love one way or another.
Bo Sellers
You would think that Bo Sellers' bright red lipstick, as seen in the Love at First Kiss trailer, would be a good starting point for letting your kiss find your perfect match, but she might not find romance on the show. It looks like she rejects one suitor in the trailer, which he is not too happy about. It's unclear if Bo ends up locking lips and going on a date with another dude, but she has found love off of the small screen and is expecting a daughter, according to her Instagram profile.
Josh Basili
The award for the most awkward smooch on Love at First Kiss will probably go to Josh Basili. That's because he pecks his fellow single Emily's hair before immediately turning around and bolting, as you can see in the above preview clip of the show. "That was more awkward than I anticipated it was gonna be," Emily says in the clip. I second that emotion.
But you never know what's going to happen on reality TV, so did Josh actually end up wooing Emily or another lady on Love at First Kiss? Josh kept mum on the matter in a recent interview with HeraldNet, but it doesn't look like he's had much luck with the ladies after the show, according to his social media profiles. Let's just hope his kissing skills have improved.
Dani McVicker
The Love at First Kiss trailer also teases that Dani McVicker may not find "the one" on the show. "It was great, but I'm more interested in women," she says to a guy who said he "totally didn't see that coming" in response. It's unclear if Dani found a boyfriend or girlfriend after the show, according to her social media presence.
But the only way you'll find out how skilled of a Cupid Love at First Kiss is is by watching the series premiere on Wednesday night.
Images: TLC; Giphy