The Song In The Under Armour Commercial Is Amazing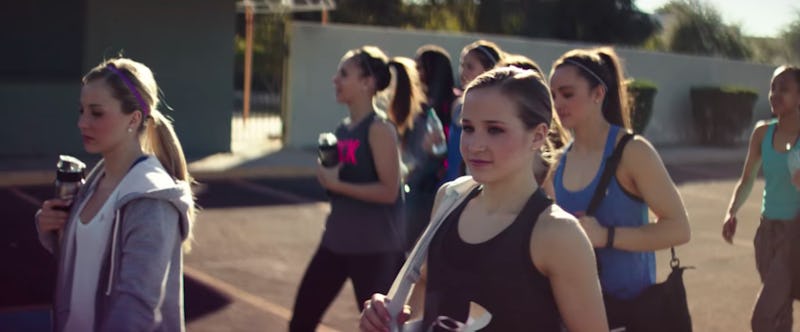 If there's one sport that I never fail to be ridiculously impressed with, its gymnastics. Sure, as someone who under performs at pretty much every sport in existence, being impressed with athletes isn't that hard, but there's something particularly mind-blowing for me about the skills of gymnasts. These athletes move their bodies in way that seem virtually impossible, not to mention would result in serious injuries if any of us non-flexible humans attempted to do so, so it's a particularly impressive feat. When you get to the Olympic level, like the young women in the new Under Armour commercial have, you're looking at an even crazier set of skills. The commercial features USA's women's gymnastics team crushing it in the gym, set to an empowering song. And, if you can't identify the song in the new Under Armour Olympics commercial, don't worry — I have you covered.
Put this one on your workout playlist ASAP. The track in the new Under Armour commercial is called "Matangi," and is performed by rapper/general badass M.I.A. The track shares a title with M.I.A.'s album, and, according to M.I.A.'s interview with Complex, refers to the Hindu goddess. One of the 10 Mahavidya Goddesses, Matangi is the goddess of Inner Thought and Wisdom and governs speech, music, knowledge and the arts. Matangi is a powerful woman, hence why a song named after her is quite fitting for a commercial about strong women en route to achieving their dreams.
The song also could hint at the road to the Olympics. The song lists countries in its first verse, which could be a nod to the upcoming Olympics in Rio, where Team USA will face competitors from all over the globe. As M.I.A. sings:
India/ SerbiaLibya/ LebanonGambia/ NamibiaBali/ MaliChile/ MalawiBequai/ St VincentTrinidad/ and NorwayChina/ CanadaU.S.A./ and U.K
The song certainly seems fitting for the upcoming competition. Excuse me while I go watch this commercial on repeat — both for the tune and the absolutely insane physical feats.
Image: Under Armour/YouTube