23 Beauty Hacks You Can Do With 15 Household Items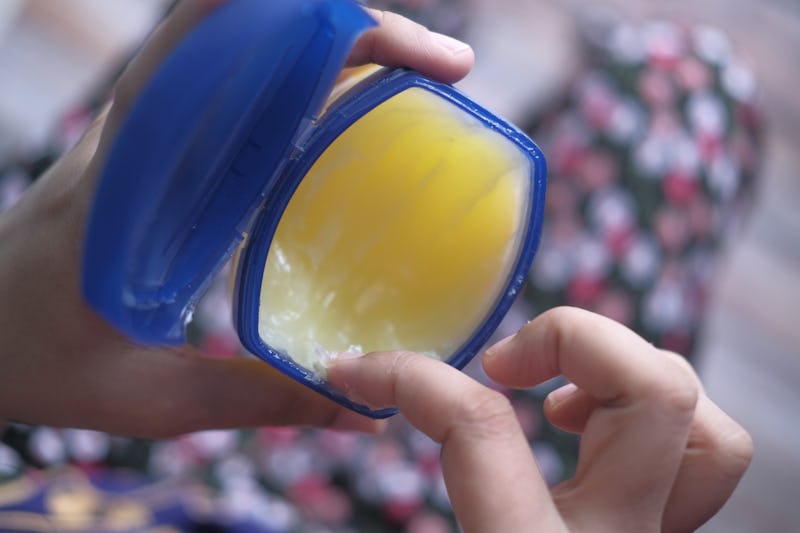 Towfiqu Barbhuiya / EyeEm/EyeEm/Getty Images
I love a good multitasking product as much as the next person. A lipstick that is also a blush? Perfect. A dry shampoo that doubles as a texturizer? Fabulous. But what about some multi-taskers that have a wider range of application? As it turns out, there are actually tons of beauty hacks you can do with household items. If you're a fan of DIY projects, you're probably familiar with some of the common kitchen ingredients that you can use for beauty purposes. Things like coconut oil, apple cider vinegar, cinnamon, eggs, and baking soda can be used for a wide range of beauty hacks. Everything from hair masks to pore strips to teeth whitener can be crafted from ingredients you probably already have in your kitchen. But there are also common household tools you may not have thought of that can be used in your beauty routine.
For example, while you may not have thought that you could apply your makeup with the same type of sponge that you wash your dishes with, this type of crossover can actually work in a pinch (although it is not recommended to use the same sponge — always start with a clean one for use on your face). If you enjoy repurposing products like this (especially for beauty use), you're going to love these tricks. Here are 15 items you probably already have around the house, and the cool ways you can use them to hack your beauty routine.
The Bathery Loofah Back Brush, $18, Amazon
If you're into sunless tanner, you probably know the struggle of bronzing your own back. But if you have a back loofah laying around, all you have to do is secure your tanning mitt around the loofah end with a hair tie, and scrub your back. If you don't have a back loofah or brush, you could also use a spatula to help self-tan those hard-to-reach places.
Johnson's Baby Pure Cornstarch Powder, $15, Amazon
You may know that baby powder is a great dry-shampoo alternative. Just sprinkle some in your roots, massage it in, and brush away any excess to revive greasy strands. But did you know that you can also use it to make lashes more voluminous and at-home waxing a little less painful? When applying mascara, sprinkle some baby powder on your lashes between coats to help amp up the drama. And before waxing, sprinkle some baby powder over the area you want to remove hair from. The powder will prevent the wax from gripping your skin so it only tugs at your hair, minimizing irritation.
Bounce Outdoor Fresh Fabric Softener Dryer Sheets, $9, Amazon
If your hair is a little staticky, quickly smooth it out with a dryer sheet. Lightly run a dryer sheet over your locks in the same direction they fall to smooth down flyaways (and make your hair smell fresh).
The next time your jewelry needs to be cleaned, carefully puncture a laundry detergent pod, and use a soft cloth or toothbrush to dip into the detergent and scrub down your accessories. Rinse with water and gently pat dry for your jewelry to shine like new.
Dawn Ultra Dishwashing Liquid, $11, Amazon
If you accidentally spill some oil-based makeup on your clothes, hit it with a little dish soap. This type of detergent is strong enough to cut through the grease to prevent a stain, but gentle enough to not ruin your duds.
Melitta Super Premium Coffee Filters, $10, Amazon
Out of blotting linens? No problem. Coffee filters work just as well at absorbing excess oil from your skin. Just dab along your face as you would with a traditional blotting sheet.
Scotch Transparent Tape, $2, Amazon
Tape has a bunch of surprising beauty uses. Some of the best are helping to nail winged eyeliner, cleaning up eyeshadow fallout from your cheeks, and creating perfect lines for nail art.
Oral-B Complete Deep Clean Soft Bristle Manual Toothbrush, $7.49, Amazon
These mini brushes have handy uses other than cleaning your teeth. Gently massage one over your lips to exfoliate before applying lipstick, or even spritz some hairspray on one before combing your brows and flyaways into place.
CONAIR Bobby Pins, $5, Amazon
Besides being one of the best hair tools ever, the tips of bobby pins also make for great impromptu dotting tools. Just unbend the pin before lightly dipping one end into nail polish to easily create a cute, polka-dot mani.
Vaseline Original Petroleum Jelly, $6, Amazon
If you have trouble with your perfume fading too quickly, try using petroleum jelly. Just rub a little bit on the areas where you like to spray your scent before actually applying your perfume. The oils will prevent the scent from evaporating as quickly, so your perfume will last longer.
Oneida Savor Teaspoon, $15, Amazon
Spoons are another one of those items with a surprising number of beauty uses. Place it behind your lashes when applying mascara to prevent getting mascara all over your lids, line it up with the edge of your eye to help draw on winged liner, or my favorite, chill one in the fridge overnight and hold it on puffy eyes in the morning to reduce swelling and wake you up.
PAM Original Cooking Spray, $8, Amazon
Help your manicure dry faster by spraying your nails with cooking spray. As odd as it sounds, a quick spritz will not only seal your polish but it will also moisturize your cuticles.
Colgate Optic White Sparkling Mint Toothpaste, $7, Amazon
If you were left with yellow stains on your nails from an old manicure, one way to help brighten your nails and return them to their natural color is to clean them with whitening toothpaste. Just put some toothpaste on a toothbrush (preferably not the same one you use for your teeth) and gently buff your nails.
Diamond Strike On Box Matches, $6, Amazon
If you can't find your emory board, a matchbook will work in a pinch. Just use the rough strip where you would strike a match to file your nails.
Sterilite Ice Cube Tray, $11, Amazon
Ice cube trays work well as makeshift palettes so you can mix custom foundation or lipstick colors. But they're also great for using with aloe instead of water if you want to make some skin-soothing cubes.
Who knew there were so many beauty tools just chilling around your house?
Images: Towfiqu Barbhuiya / EyeEm/EyeEm/Getty Images; Courtesy of Brands