The Girl Power-Fueled Olympic Ad You Need To See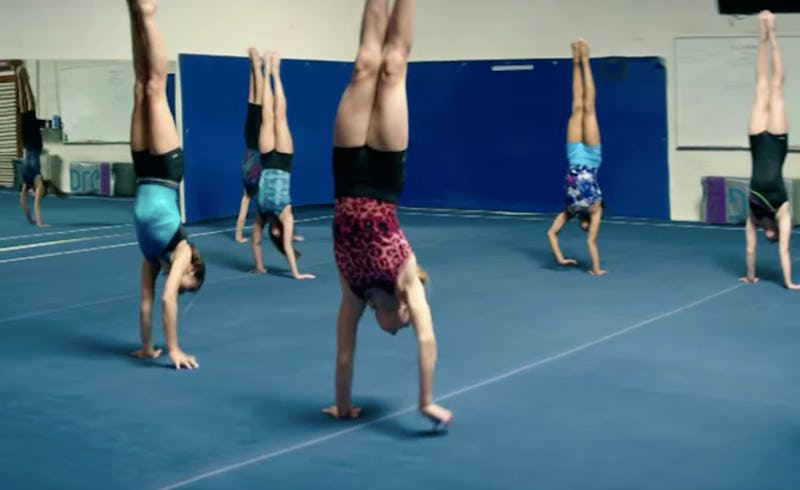 When it comes to the summer Olympic Games, who run this mother? Girls. That's right, the U.S. Women's Olympic Gymnastics Team always makes their country proud. These women are strong, talented, and formidable. And, if you want to get psyched for the upcoming women's gymnastics events in Rio, you should really check out the Under Armour women's gymnastics commercial that is bursting with girl power.
While the women sparkle through the air as if flipping between parallel bars is a breeze, the audience can be fooled into thinking they aren't even breaking a sweat. But there is a reason their back flips and beam exercises look effortless — these females are strong as hell. And the new Under Armour ad featuring the Olympic gymnastics team depicts the practice, dedication, and strength that goes into being a world class gymnast. According to ESPN W, the specific gymnasts highlighted in the commercial are Team USA members Maggie Nichols and Madison Kocian, and alternate MyKayla Skinner. Of course, their badass workout regimen, long days, and teamwork is set to M.I.A.'s "Matangi," to add to the commercial's empowering awesomeness.
If you haven't watched the commercial yet, you really should and can below. It will totally get you psyched to see these women compete at Rio, especially once you see their commercial's many moments full of girl power moments, as listed below.
They Work Together
From the moment the video opens, you see the gymnasts starting the day by working together. They are a team.
They Are Athletes
OK, the starting-the-day-jogging shot is pretty standard in any athletic montage. But, wait for it...
They Flip The Training Montage On Its Head
Jogging, that's cute. These women can basically jog on their hands, and train backwards and upside down.
They Remind Viewers That You Can Be Strong & Feminine
Yes, some of these tough as nails women get manicures, because you don't have to choose between being strong and traditionally feminine.
They Put In Long Days
These gymnasts have to take their A-game on the road.
Did I Mention How Strong They Are?
Look at her climbing that rope with just her bare hands?!
And, They Are Crazy Flexible
It's hard enough to do that, but these ladies practice control by holding tough stretches.
They Are Graceful
This is seriously not as easy as they make it look.
They Have Total Control
Every inch of a gymnast's body has a correct position in any given move, which means they must train every muscle. Woah.
They Are Tough
Remember when Kerri Strug landed on one leg?
They Are Brave
Because it takes courage to take the leap!
They Are Olympians
How patriotic/proud to be a woman are you feeling right now? #SquadGoals
They Are Fierce
USA! USA! USA!
Images: Under Armor/YouTube (14)