Disney Wants To Bring 'Star Wars' To TV — Again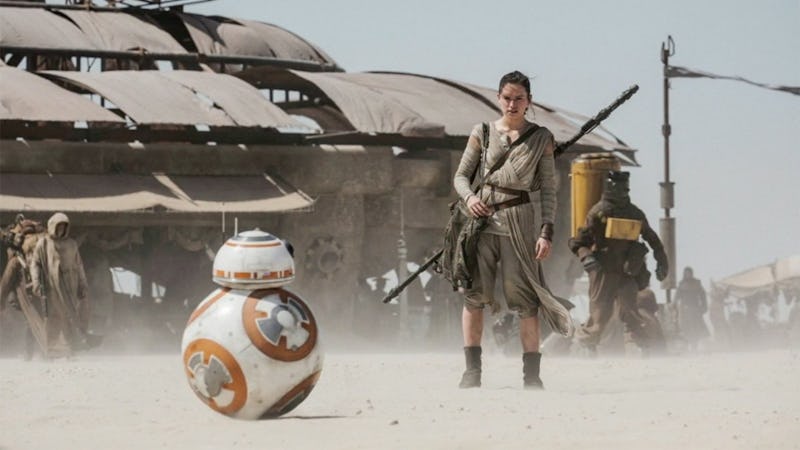 The galaxy far, far away could soon be in your very living room — and, no, I'm not talking about re-watching all Star Wars films on DVD in the comfort of your own home. I'm talking about the possibility of a Star Wars live-action TV series heading to ABC. After Disney's contract with Lucasfilm in 2012, ABC is reportedly in talks with its parent company on how they want to use their rights next. Naturally, that involves maybe bringing the beloved galaxy to primetime audiences on a weekly basis. But is a live-action Star Wars television series really necessary?
"As a fan, I would absolutely love to say 'Yes,'" said ABC Entertainment President, Channing Dungey, at the press tour for the Television Critics' Association. "The conversations with Lucas, we have had conversations with them and will continue to have conversations with them. I think it would be wonderful if we could find a way to extend that brand into our programming."
Though he revealed that they "don't have an official timeline yet," it's not hard to assume that the Star Wars TV franchise might follow the same formula as ABC's work with Marvel. The network has got Agents Of S.H.I.E.L.D. on its docket, so we know that they know their way around a spinoff. And yet adapting the Star Wars series to the small screen may come with entirely different challenges than AoS ever did.
On the one hand, it would certainly expand the galaxy with both new characters and new storylines. Star Wars has already branched out in the form of various comic books, Lego adaptations, and, of course, the Disney XD animated series, Star Wars Rebels. (That could also possibly be adapted into whatever ideas they have for the live-action series.) However, a film-to-television leap would not be as simple as Star Trek's jump from television-to-film. I mean, we're talking about George Lucas here.
The production value bar is already set at the highest of possible standards — Lucasfilm famously stays away from green screen technology as much as possible — and fans are already expecting multiple spin-off films to help expand the galaxy. Thus, a TV show might complicate the vision Lucasfilm has for the galaxy. On top of that, this isn't the first time a Star Wars TV series was recommended. In 2005, Star Wars: Underworld was developed with the help of George Lucas and Ron Moore (Battlestar Galactica) until, as expected, HBO decided to cut the production. The network that could do Game Of Thrones just six years later didn't think they could handle Star Wars back then. Because, well, it's Star Wars.
But, considering they have the rights, I can't blame ABC for being interested in exploring this opportunity. If they could get the funding they need, this could be what the Star Wars expanded universe has been missing all along.
Images: Walt Disney Pictures/Lucasfilm; Giphy (2)