Ways To Be Healthy When You're Feeling Lazy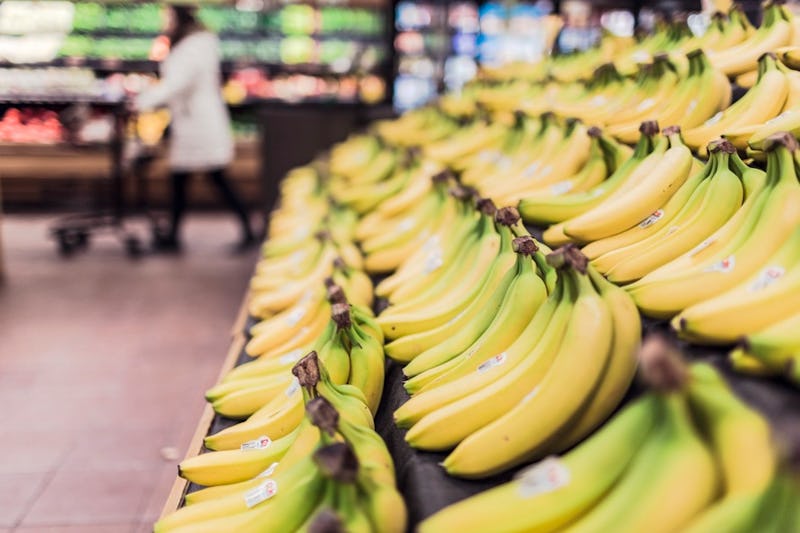 Being healthy can be hard when you have a lot going on. In between working all day, hanging out with friends, and running errands, the last thing you want to think about is being healthy. But what if there's a way to be healthy when you're feeling lazy? I know. But wait, it gets better. Incorporating exercise and a healthy diet into your daily routine can seem challenging. I mean, who honestly has time to wake up at 6 a.m. to run? Thankfully, there are ways where you can still live a healthy lifestyle even when you're not feeling up to it.
"Make a list of foods you like. Keep a list on your phone so you can easily access it. Try not to focus on the food you don't like. Also, use sites like FreshDirect or Amazon Marketplace to also keep track of all your previous purchases. They have a great selection of healthy foods and snacks to choose from," says nutritionist and founder of NAO Nutrition Nikki Ostrower in an interview with Bustle over the phone.
If you've been meaning to get back into a healthy lifestyle, but you just didn't know how, here are 19 ways you can be healthy even when you're feeling lazy.
1. Drink A Cold, Non-Caffeinated Beverage
When you just don't want to exercise for the day, a quick way to feel healthy is by drinking a lot of fluids, especially during the summer. "Often when we are tired, it's because we are dry and our brain needs fluid. Iced water, lemonade or any diluted fruit juice will work. If you choose something sweeter, be sure to limit the quantity and don't forget to brush your teeth," says a board certified family physician from LiveHealth Online Dr. Mia Finkelston in an interview with Bustle over email.
2. Take A Short Nap
Taking a quick nap is one of the best (and laziest) things you could do when you didn't get enough sleep the night before. Try to keep it short so it doesn't affect your normal sleep cycle. "It is normal to have a dip in our circadian rhythm between 1-3 p.m. This is why many countries practice siestas. Take a nap but be sure to set an alarm. Anything more than 15-20 minutes can do the reverse and make it harder for you to wake up and concentrate," says Finkelston.
3. Eat A Handful of Nuts
While just eating nuts by themselves isn't a healthy meal, it's a great snack to have when you're hungry but you don't know exactly what you want to make for dinner just yet. "A handful goes a long way to satisfy. Packed with protein and good fats (try walnuts, which also raise your HDL or good cholesterol) this can give you a boost when you are feeling sluggish. If you prefer, sprinkle some on a yogurt or even a Froyo," says Finkelston.
4. Take A Break From Looking At Your Screen Or Sitting At Your Desk
It's easy to get lost in the world of social media when there are so many apps (thanks, Instagram Stories). But it's important for you to take a break so you can rest your eyes. "Maybe you need a change of scenery, it can be as simple as walking over to the nearest window and looking at something in the distance. This trick can also help your eyes, especially if you work at a monitor or read small print a lot," says Finkelston.
5. Get An Antioxidant Boost
Incorporating antioxidants into your diet is one of the best things you could do for a lazy fix. Bring a bag of blueberries with you as a snack or order green tea instead of coffee from your local coffee shop (bonus if you order matcha for an extra antioxidant boost). "Try two ounces of dark chocolate or one serving of green tea. Both are excellent sources of antioxidants which may give you a mental boost. The energy comes from the nutrition provided by the carbohydrate or protein not from the antioxidant. Even if it is not that motivating, the fact that you are doing something good for you can have a positive impact on your attitude and then you may feel more energized. (Added plus: Antioxidants help prevent cell damage and prevent cancer)," says Finkelston.
6. Move Around
Sitting at the desk all day is probably one of the most unhealthy things you could do. Every hour, stand up and jump around. Do the same thing at home if you've been binge-watching Netflix all weekend for a quick workout fix. "Make it fun. Crank up a loud '80s dance song and let it go for five minutes. Or, if you have access to one, get on a trampoline and jump. do 25 jumping jacks, 25 toe raises or balance on a Bosu ball (yoga anyone?). It can be energizing," says Finkelston.
7. Put On Workout Clothes
Sometimes you just need that extra push when you don't feel like working out. Put on your workout clothes to help get you into the spirit. "Put on your workout clothes and promise yourself you'll work out for five minutes. Just getting in the right attire will get you feeling motivated to actually exercise and who knows, you may do more than 5 minutes," says weight-loss and lifestyle coach for women Stephanie Mansour in an interview with Bustle over email.
8. Eat A Vegetable For A Snack
Don't have time to make a meal? Quickly sautée a handful of lettuce and call it a day. "Eat a vegetable. Train your tastebuds to crave healthy foods," says Mansour.
9. Cook For Yourself
There are lazy-girl approved ways to make a meal after a long day. You just need to find the right recipes that only take 15 minutes or less. "I cook for myself every day, even when [I'm] feeling a bit lazy. I know that the food I cook for myself is much more nutrient dense versus anything I order in. I blend myself a green smoothie every day for breakfast/lunch: like a frozen banana, spinach, blueberries, almond milk, lemon juice, and vanilla rice protein powder. For dinner, I love making a simple sautée after a long day or post-workout! Start with extra virgin olive oil, yellow onion, chili flakes, broccoli rabe and cubed savory tofu. Finish off with some avocado slices and you're done, Queen!" says professionally trained chef and health journalist Candice Kumai in an interview with Bustle over email.
10. Always Have Snacks On Hand
Who doesn't like snacks? Instead of heading to the vending machine when you're feeling lazy, place a few different healthy snacks in your bag so you can always have a mini healthy meal on hand. "Always have an ample supply of snacks with you. Use online delivery sites such as Amazon Marketplace to create a list of snacks you like and have them delivered directly to your door. It's important to implement action to create a healthy diet," says Ostrower.
11. Post A Note On Your Fridge
Motivate yourself to be healthy even when you feel lazy by putting little reminders around your house, whether it's a motivational saying or a simple phrase like, "Drink water." "Sometimes all we need is a little reminder," says Ostrower.
12. Drink Spa Water
One of the best lazy ways to be healthy is by adding fruits into your water for a spa-like taste. "Add lemon or cucumber to your water to add some vitamins and minerals to your daily water intake," says Ostrower.
13. Make Freezer Meals
Some days you just don't want to cook after a long day at the office. That's why it's a good idea to pre-make your meals in the beginning of the week so you can freeze and eat them when you don't feel like cooking. "Try to make enough food on Sundays so you can prep your meals for the rest of the week. Freeze each meal and pop them into the microwave to defrost for a quick, healthy dish," says Ostrower.
14. Use Grocery Store Short Cuts
If you're feeling extra lazy, buy pre-cut veggies. You'll save time and you can use them to make pre-made meals for the week. "Buy pre-cut up veggies. Some grocery stores have entire sections devoted to pre-chopped vegetables. You can often find pre-sliced mushrooms, squash, broccoli, carrots, etc. It can cost a few bucks more, but you'll save chopping time which means it's more likely you'll cook at home on a busy night (which is worth a lot!)," says founder of Moss Wellness and certified holistic nutritionist Andrea Moss in an interview with Bustle over email.
15. Have Eggs For Dinner
Isn't breakfast for dinner amazing? Instead of having pancakes with chocolate chips, substitute them with two eggs and side of veggies. "Cheap, protein-rich, and they cook up in about five minutes. Bonus points if you scramble in some pre-washed boxed baby spinach!" says Moss.
16. Take Vitamins
Listen to your mom and take your vitamins — even when you feel lazy. While this won't fix all your health problems, taking your vitamins is a quick and easy way to boost your immune system. "Vitamins never take the place of a healthy diet, but they do act as a nice bonus to help fill in some dietary gaps. In particular, vitamin D has been shown to help boost mood and immunity, vitamin B12 can help with energy, and fish oil can help create glowing skin," says Moss.
17. Use Healthier Sugars
While white sugar might be your go-to sweetener, switch it out for healthier alternatives. "Swap in healthier sweeteners for your sweet tooth. Get rid of your white sugar (or worse — artificial sweeteners) and replace it with coconut sugar, raw honey, or maple syrup for a healthier way to satisfy sweet cravings," says Moss.
18. Order Extra Veggies When You Eat Out
Instead of ordering dessert, ask for an extra side of veggies or drink water instead of soda when you're eating out. It might not seem like much, but every little change counts. "Ask for extra veggies when you order your main dish at a restaurant. Does your cheeseburger come on a bun? Ask for it on a bed of lettuce or sautéed spinach. Ask for your salmon filet with double the broccoli. Any time you can up your veggies, your getting in a major (and easy!) dose of ultra nutrition," says Moss.
19. Make A Quick Smoothie
If you're the type of person who's always on the go, make a smoothie in a to-go container so you can drink it while you're on your way to work. "Throw [spinach] into a simple make-at-home smoothie for a boost of easy greens power. Simple smoothie: one cup water or healthy milk of your choice, one cup frozen berries, two dates, one tbsp almond butter, serving of protein powder, and a handful of spinach. Blend until creamy.
You don't have to be on a strict diet to be healthy. When you don't feel up to it, use these tips to maintain a healthy lifestyle without feeling overwhelmed.
Images: Pexels