Kylie's Birthday Collection Just Broke A Record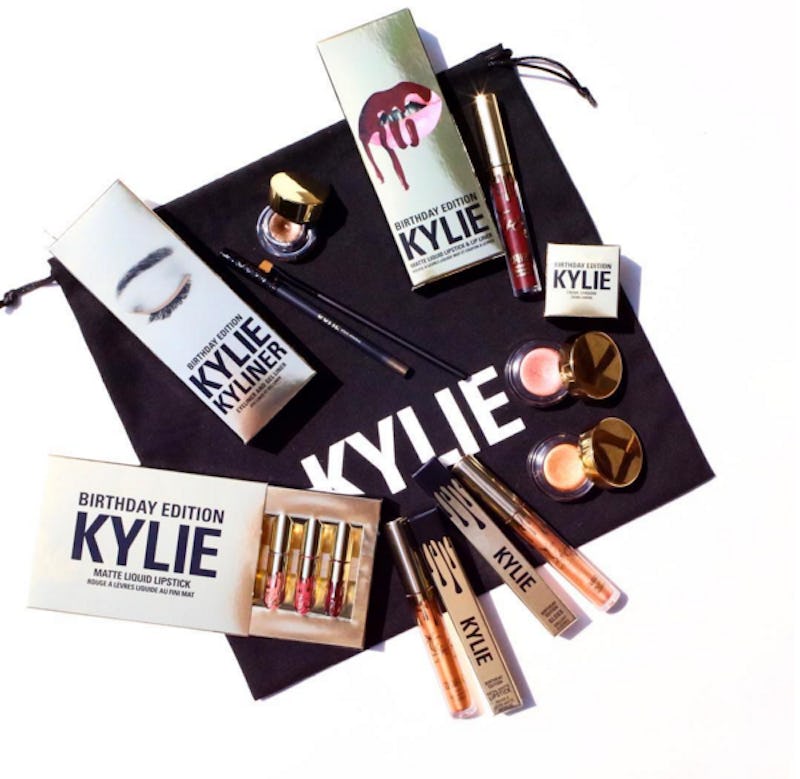 This girl is going all out for her birthday, and boy, oh boy is the rest of the world happy to celebrate right along with her. Trust me, everyone's getting involved with this one. Kylie Jenner's Birthday Collection just broke a record for the most checkouts per second on the site, according to her Snapchat. So, not only are these items selling out, they're selling out faster than ever before.
People are even willing to pay the $195 it costs to become the proud owner of the entire collection. And honestly, it's no wonder because Jenner's really outdone herself with this launch. These shimmery shades are infused with real gold. There's way more than just lippies, too. There's also the first-ever Kyliner and crème pot shadows in this collection. If you're squealing on the inside right about now, yeah. Me too.
Not only is the range full of amazingness, it's also a limited edition collection. So, the stakes are higher than ever been when it comes to purchasing products from the brand. That's exactly why everyone wants to get their hands on these beauties, no matter how much it'll cost them. Jenner may be the one having actually having a birthday here, but if you're able to purchase any of these items, you're going to feel like its your special day, as well. Because a piece from this collection is pretty much the best gift you could give yourself.
This is officially the most coveted collection, well, ever.
$195 is a small price to pay for a collection this incredible.
These creamy, shimmery shadows are available for the first-time ever.
And this bronze Kyliner, well, let's just say I sure hope there's more where this came from.
The meatllic lippies are stunning.
Plus, you can shop multiple mattes at once?
Seriously, what is life? This range is too great for words.
Image: kyliecosmetics/Instagram (1)