This Is What The Refugee Team Wants To Change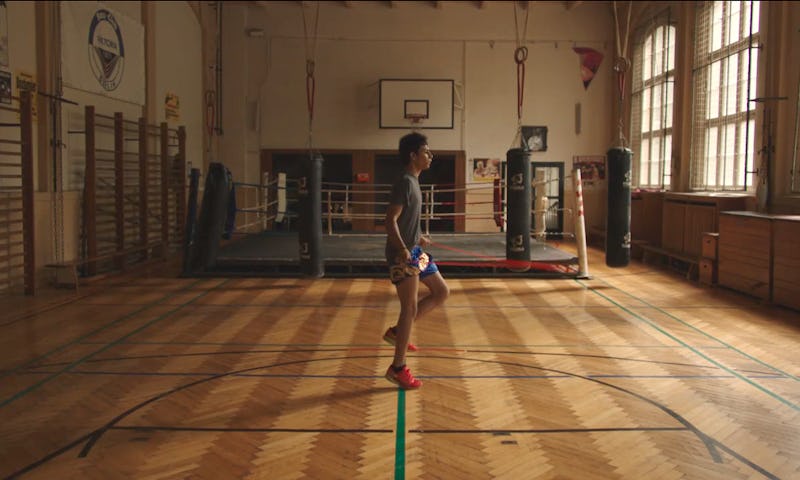 For many, the word "refugee" evokes a series of bleak statistics. According to the United Nations High Commissioner for Refugees, nearly 34,000 people are forced to flee their homes each day due to conflict or persecution, 65.3 million people in total have been forcibly displaced worldwide, with 21.3 million of them classified as refugees. But for those living under the label, the word refugee can sometimes feel like an unshakable descriptor, something that crashes into your life at full speed, leaving dreams and aspirations hanging in limbo as basic survival becomes increasingly more difficult. This summer, 10 athletes are looking to change how the world thinks of refugees while sending a powerful message of hope and inspiration to those attempting to rebuild their lives after displacement. For the first time in Olympic history, a team of refugee athletes will compete in Rio, representing not a nation, but the talent, resilience, and perseverance of the world's more than 21 million refugees.
The team is comprised of five runners who fled violent fighting in South Sudan; two swimmers who risked perilous journeys across the Mediterranean to escape conflict in Syria; two judokas who were both separated from their families while fleeing fighting in the Democratic Republic of Congo; and one marathon runner who sought asylum from Ethiopia.
"These refugee athletes will show the world that despite the unimaginable tragedies that they have faced, anyone can contribute to society through their talent, skills and strength of the human spirit," International Olympic Committee President Thomas Bach said Tuesday in Rio while introducing the team to IOC members.
While the Refugee Olympic Team may not have a home country cheering them on in Rio per say — the team's 10 athletes will compete under the Olympic flag — they have a growing fan club that includes aspiring refugee athletes like 18-year-old Iraqi kickboxer Abdalla (whose last name has been withheld due to security concerns). Inspired by Jackie Chan and Bruce Lee movies, Abdalla began training in kickboxing at 10 years old. But as fighting between government forces and various militant groups, including the Islamic State, intensified in 2015, Abdalla found it nearly impossible to continue his training.
In September, feeling the situation in Iraq had become too dangerous, his family made the difficult decision to leave their home in Baghdad to seek safety and stability in Germany. There, in Berlin, Abdalla was able to begin his training again.
"I want them to prove to the whole world that the word 'refugee' doesn't always represent — or is not associated — with fear and weakness," Abdalla says. "We need them to prove to the world that we can still do something [as refugees]."
For Abdalla, who is featured in an ad campaign aimed at drumming up support for Team Refugees, the Refugee Olympic Team is a beacon of hope. "When I first heard about Team Refugees I felt so optimistic about the idea," Abdalla tells Bustle through the help of a translator. "That motivated me and pushed me to work on training more and more. Throughout my life and training I've always dreamed of becoming an international champion and taking part in the Olympics has always been a dream of mine. I really want to be part of that team some day."
But it isn't just the thought of being able to compete in the Olympics one day himself that drives Abdalla to rally behind the Refugee Olympic Team. "I want them to prove to the whole world that the word refugee doesn't always represent — or is not associated — with fear and weakness," Abdalla says. "We need them to prove to the world that we can still do something [as refugees]."
It's a message the team is happy to spread. "You can't let people think that, just because they are refugees, they have to stop doing what they do," 24-year-old Popole Misenga, a refugee from the Democratic Republic of Congo who will represent the team in Judo, says. "No. Even though they are refugees, they need to carry on practicing their sports: They need to carry on boxing, they need to carry on running marathons."
While Misenga and his teammates are, like any Olympic team, hoping to capture a few medals, they're also hopeful about showing the world that refugees are more than just numbers, they're humans. "We still are humans. We are not only refugees," Yusra Mardini, a Syrian refugee hoping to once again change her life through swimming, says. "We are like everyone in the world. We can do something. We can achieve something. We didn't choose to leave our homelands. We didn't choose the name of refugees."
A year ago, in an attempt to escape fighting in Damascus, Mardini and her sister traveled to Turkey where they climbed aboard a crowded dinghy headed for Greece. When the overcrowded little boat's motor sputtered to a stop, the girls jumped into the water, pushing the dinghy along as they swam through the Aegean Sea.
While no athlete set to compete in the 2016 Summer Games found the road to Rio particularly easy, it was one full of seemingly insurmountable odds for the members of the Refugee Olympic Team — one that perhaps didn't even seem possible a few years ago. Their journeys are filled with so much strength, courage, and perseverance that, although no competitions have been held and no medals yet awarded, these 10 athletes have already accomplished something great.
Although they may not have a country standing behind them, Team Refugees certainly has support. "Not only me, but every refugee in the world and every supporter of refugees in the world is standing by your side cheering for you," Abdalla says when I ask what message he'd like to send to the team.
Images: Courtesy of Refugee Olympic Team (1)