Where Are The Girls Of BSC Now?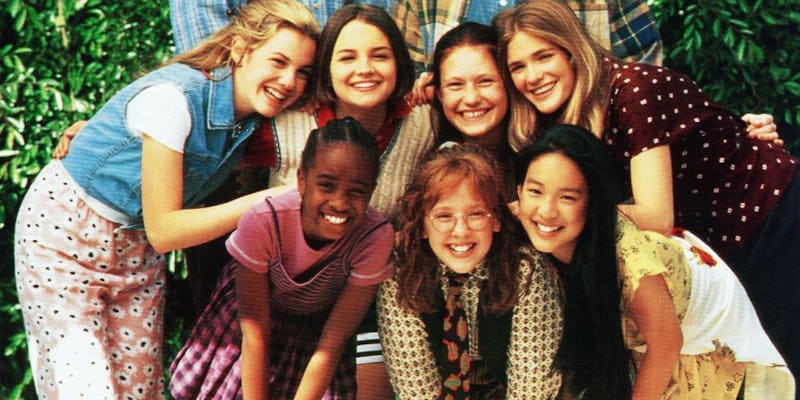 Raise your hand if, as a pre-teen, you worked your way through the massive Baby-Sitters Club series by Ann M. Martin. I'm just going to assume that everyone has their hands raised at this point, because I can't think of another series (besides maybe Harry Potter) that was such a big part of my childhood, as well as the childhood of many of my friends. The Baby-Sitters Club series had a prominent spot at Scholastic book fairs and took up basically an entire shelf at the library, and I used to always look for the next rainbow-colored installment during my weekly library visits with my mom. I wanted to be a part of the club, and I didn't even like kids!
Obviously I'm a bit too old for the BSC now, but that doesn't mean that I don't have fond memories of the characters. While I didn't have much in common with glamorous Claudia and Stacey as a kid, I did enjoy reading their installments. I related much more to studious Mary Anne, bossy Kristy, and budding environmentalist and health nut Dawn, so I tended to gravitate towards their stories. All in all, though, I'm pretty sure I've worked my way through the entire series, and I'm curious about what happened to the club when all the girls grew up.
August is the 30th anniversary of the Baby-Sitters Club, and I though it would be fun to imagine what the club is doing now. I'm assuming none of them have changed that drastically, and Kristy is still probably on course to become President of the United States or something.
Kristy Thomas
After graduating from college with a business degree, Kristy took a corporate gig in New York City. As she is hardworking, loud, and a natural leader (some would even say "kind of bossy"), she quickly began rising through the ranks before realizing that she hated corporate America and the city. She decides to quit her job and, upon moving back to her old town, begins a start-up that's basically an expanded model of the original Baby-Sitter's Club. Thanks to the internet, Kristy can amass a large network of qualified babysitters ready to help a family in need. The business quickly expands outside of Stoneybrook, and Kristy is now the CEO of The Baby-Sitters Club, Inc. which has clients all around America.
Claudia Kishi
Despite her parents' wishes that she major in something practical, Claudia insists on pursing a degree in fine arts in college. Though she does well in school and even manages to feature her work in several exhibits, she is unable to make a steady salary as an artist. Until, that is, she discovers Etsy. In between selling larger pieces at galleries, Claudia finds her niche selling jewelry, crafts, and clothing in her Etsy store. This allows her the freedom to continue pursuing her dream of being a full-time artist while also providing her with enough cash to move out of her parents house. And, most importantly, that means she can now proudly display her junk food on her shelves, instead of continuing to hide it under her bed (which she actually did until she turned 25 and moved out).
Mary Anne Spier
Thanks to her time working with the Baby-Sitters Club and her love of children, Mary Anne eventually became an elementary school teacher. And yes, as you can probably imagine, she is the best elementary school teacher ever. Parents and students alike love her, and she always makes time to stay after school with any student who needs a little extra help. In her free time she volunteers at the local library and animal shelter. Oh, and although the two broke up for a time during college, Mary Anne did end up getting back together with and marrying Logan Bruno. She's expecting her first child soon, and is already knitting her a bunch of hats and booties.
Stacey McGill
Although many expected her to go into the fashion industry, Stacey instead decided to let her math skills take the spotlight by becoming an actuary, working for a corporation in New York City. Rest assured, she is the best-dressed actuary you've ever seen. Stacey lives in New York and regularly meets up with Claudia for happy hours. In her spare time, Stacey volunteers with a non-profit, where she helps with fundraising for childhood diabetes research. Stacey briefly turned to Tinder after initially moving to New York, but after a number of terrible dates and several cringe-worthy messages, she gave up on online dating. She is currently dating a man that she met in Barneys who has great taste in shoes.
Dawn Schafer
Dawn chose to remain in California as an adult and went full-on hippie. She now works for a non-profit that aims to educate students about environmental issues. Dawn is an active member of Greenpeace and has recently been trying out a vegan diet. Her house has solar panels and when she's not biking she drives a hybrid, but only because her job doesn't pay enough for her to afford a Tesla. She eats a lot of kale and has strong opinions about labeling GMOs. Once a fervent Bernie supporter, Dawn is now fretting over whether to vote Democrat or the Green Party.
Mallory Pike
Despite her love of children, Mallory quickly decided that her days of babysitting other people's kids, as well as her own seven siblings, was more than enough time in childcare for her. She now lives in a cabin in Vermont, where she has enough peace and quiet to actually get some work done. Her first children's book was recently published to rave reviews, and she's now hard at work on the sequel. She has also provided the illustrations for a number of other children's books and magazines. Mallory has three dogs and treats them like her children. She also used some of her book advance to get LASIK eye surgery to finally rid her of her dreaded glasses.
Jessi Ramsey
After years of training with Madame Noelle, Jessi attended Juilliard to further her ballet training. She spent a few years after dancing with companies around the world before ultimately deciding to return to Stoneybrook to be near her family. Jessi opened up her own dance studio and now dedicates her time to teaching ballet to children. She married and has a daughter of her own, and every winter her family goes to Vermont to visit Mallory, who is the godmother to her daughter. She also regularly visit her Aunt Cecelia, who babysits her daughter while she's teaching.