Catch The 'Devious Maids' Cast In These TV Shows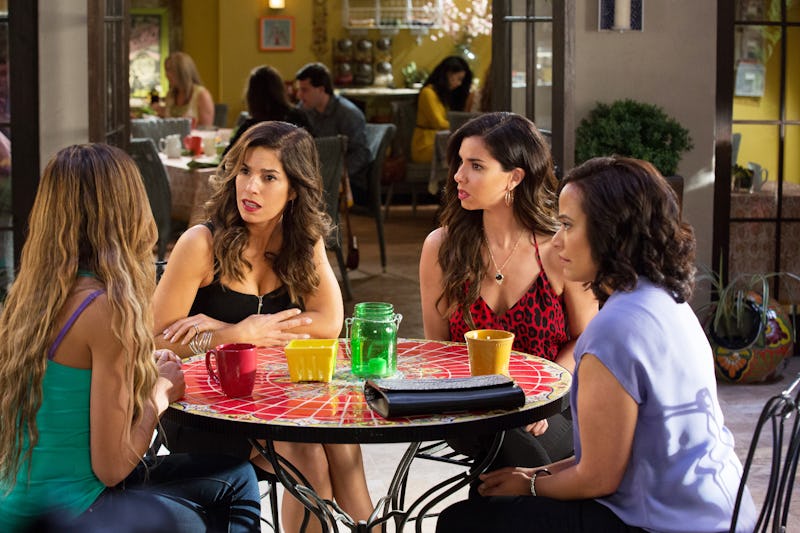 The Season 4 finale of the Lifetime original series Devious Maids airs Monday, Aug. 8 at 9 p.m. ET, and the last episode of this season is most definitely going to be messy. From the Season 4 finale teaser, it looks like murder, divorce, and an engagement could be on the menu. And if I know anything about Devious Maids, it's that this season will probably end on a cliffhanger since many delicious dramas do. So will Devious Maids return for Season 5 so I can find out how all of these suspenseful storylines wrap up?
I'm on the edge of my seat waiting to find out, and it looks like my anxiety won't be alleviated for some time. That's because Lifetime has yet to announce whether or not Devious Maids has been renewed for a fifth season.
However, that's not necessarily a bad thing. Lifetime didn't reveal that Devious Maids had been renewed for a fourth season until a month after Season 3 ended in September 2015, so the network could be waiting until around that time to announce Season 5 of the series.
It may seem like a bad sign that Lifetime greenlit 10 episodes for Season 4 instead of its usual 13, but Lifetime EVP Liz Gateley praised the consistency of Devious Maids in the renewal announcement. "Devious Maids is a steady hit that continues to deliver for us. It has found a loyal audience that is socially engaged with the show," she said in a statement, as reported by Deadline, which pointed out that the show's third season launched with 1.47 million viewers in Live+Same Day and ended with 1.53 million.
Unfortunately, Devious Maids' Season 4 ratings might not inspire the same optimism about its chances of being renewed for Season 5. This season of Devious Maids started out with 1.08 million viewers and has steadily declined for each subsequent episode, according to the Nielsen Company, as reported by TV by the Numbers.
But if Lifetime does give Devious Maids the thumbs up for a Season 5, it's likely we'll see it back on the network in Spring or Summer 2017 since that's the time of year all four of the seasons have bowed in the past, according to TV Guide.
Hopefully, that'll be something you can look forward to, especially because one of the reasons why it's so much fun to watch Devious Maids is because it's packed with TV veterans who really know how to dazzle audiences. Luckily, that also means you can catch the cast in some of the best TV comedies and dramas ever in case you need something to stream while you wait to hear about Devious Maids' fate.
Ugly Betty
Ana Ortiz had just as much hustle as her Devious Maids character Marisol Duarte as she did in her Emmy-winning turn as Betty Suarez's older sister Hilda in Ugly Betty. Like Devious Maids, Ugly Betty was also loosely based on a telenovela, but it's got a more lighthearted and campier take on it. Watch all four seasons of Ugly Betty on Hulu now if you want to watch a heartwarming series rather than a heart-stoppingly suspenseful one.
Heroes
Dania Ramirez joined Heroes in Season 2, which didn't live up to the first season of the show, in my opinion. However, her character Maya Herrera was one of the most memorable, especially out of the new characters added that season. You can't really ignore someone whose eyes turn black and cause people to drop dead, now can you? You can see Ramirez's time in Heroes, as well as the rest of the series, on Netflix now.
Without a Trace
Roselyn Sanchez, the actress who plays Carmen Luna on Devious Maids, is best-known for her turns on the big screen, including Rush Hour 2 and The Game Plan. However, she did have a long stint in Without a Trace as FBI agent Elena Delgado. If procedurals are your thing, Without a Trace, which follows the FBI's missing persons unit in its investigations, is a good one to check out. The show originally aired on CBS from 2002 to 2009, and you can purchase it from your streaming platform of choice today.
Scrubs
Judy Reyes may play Zoila Diaz on Devious Maids, but I will always remember her as Nurse Carla Espinosa on Scrubs. With her smart, sassy, and strong attitude, Carla always stole the show amid J.D. and Turk's shenanigans. For a little bit more of Reyes, you can also find her star as Dina Milagro, the writer for Rogelio De La Vega's telenovela, on Jane the Virgin. Both Scrubs and Jane the Virgin are available to stream on Netflix, and that should make for one epic marathon.
The Mentalist
You've probably seen Rebecca Wisocky, the actress behind Evelyn Powell, all over your TV in shows like Once Upon a Time, American Horror Story, and True Blood. However, her last big TV stint was as Brenda Shettrick on The Mentalist, which originally aired from 2008 to 2015 on CBS and is now in syndication on MyNetworkTV. Let's just say Wisocky gets up to as much trouble as Brenda on The Mentalist as she does as Evelyn on Devious Maids.
My So-Called Life
You can see Tom Irwin, who plays Adrian Powell on Devious Maids, involved in lots of family drama on My So-Called Life as Graham Chase, the father of Angela Chase (Claire Danes). The show's first and only season is available to stream on Hulu now, so in case you need more Irwin in your life, you can also check him out in many other TV shows, including Chasing Life, Grey's Anatomy, and Saving Grace.
Melrose Place
Grant Show, who plays Spence Westmore on Devious Maids, knows his soapy drama. He famously played Jake Hanson on the original Melrose Place from 1992 to 1997. All 218 episodes of the series are available to stream now on Hulu, so have your popcorn handy and get comfy.
All My Children
No matter where the actress behind Genevieve Delatour, Susan Lucci, takes her career, she will always be known as Erica Kane, the character she immortalized for decades on the ABC soap All My Children. It's a little difficult to find All My Children to view these days, but if you do, you'll see a show that helped pave the way for series like Devious Maids.
And hopefully Devious Maids will be back by the time you've finished watching all of these uber-dramatic shows.
Images: Bob Mahoney/Lifetime; Giphy (6)