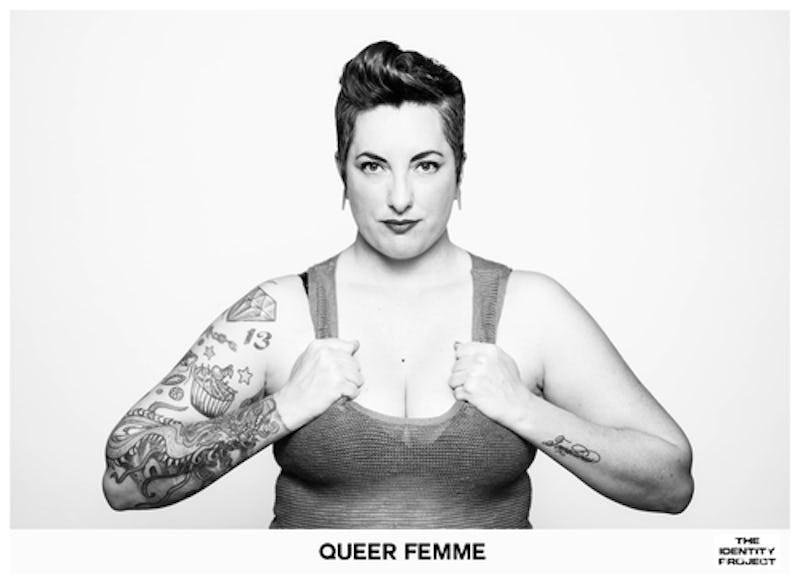 One of the many beautiful things about being LGBTQ is that you're not limited to those five labels. Whether you're a "queer femme wifey," a "versatile dandy boyfriend," or anyone in between (or even lightyears away from "between"), the possibilities are endless when it comes to gender and sexual identity. This is where Sarah Deragon, a freelance photographer based in San Francisco, comes in. She recognized the creativity and uniqueness behind the identities in the LGBTQ community, and captured them in her latest venture: The Identity Project.
As featured in Policy Mic, The Identity Project dares "to explore the labels we choose to identify with when defining our gender and sexuality." Through a series of powerful black-and-white portraits, the project not only spotlights different identities, but also forces its viewers to question their own. With 75+ and counting, Deragon has managed to expose and, in some ways, redefine what it means to be LGBTQ. (By redefine, I mean define beyond those five or six textbook gender and sexuality terms we learned from watching cable as kids.) As Deragon told Policy Mic, The Identity Project is all about diversity:
"I've always known folks who feel that they don't fall under the LGBT umbrella, which is the reason why we keep adding more and more letters to the end of it. But identity is far more nuanced than that, especially when you ask someone about the gender identity/expression and sexuality," Deragon wrote. "This photo project shows us how incredibly diverse and creative we are! Participants in this project have taught me new words through the process and I just love how that's one of the evolving parts of it. One of my hopes is for a teenager living in a small American town or someone in Asia or Russia to look at the photo project and finally be able to put a word/s to how they've been feeling for a long time. I hope that the project makes folks feel more connected to one another."
Ok, I know what you're thinking: where do I sign up to be photographer?? Deragon is currently accepting applications via the project's website. Her ultimate goal is to create a coffee table book or art installation with the portraits — hopefully both?! Until then we'll have to follow her on Instagram and Facebook.
Here are a few portraits from The Identity Project:
And, of course, the lovely Sarah Deragon herself:
Images: The Identity Project