The Papa Don't Peach Palette Comes Soon-ish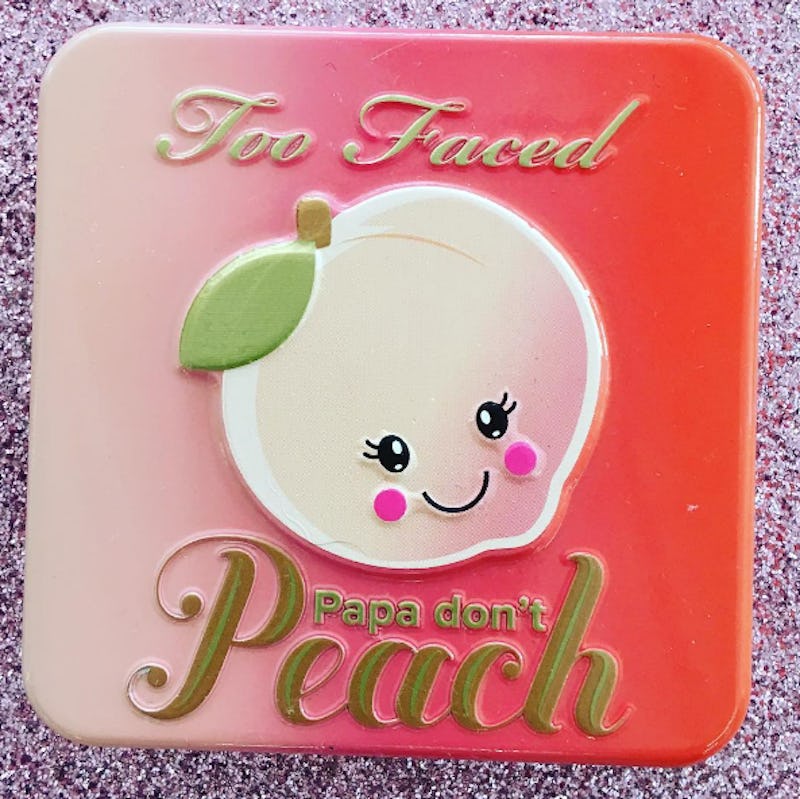 By now, you've probably seen the viral image of someone's toddler eating a chocolate-scented Too Faced palette. But thankfully, you have months to wait before you have to hide your new peachy-smelling collection. Specific dates as to when Too Faced's new Papa Don't Peach Palette comes out aren't yet available. That said, I have deduced a pretty solid time frame for when the entire spring-dedicated, peach-scented Too Faced collection will drop.
Bustle writer Amy Sciarretto did some digging on Too Faced co-founder Jerrod Blandino's Instagram page — aka the holy grail of Too Faced sneak peeks — and found the promise that the new Too Faced peach line would be out for spring 2017, but available for purchase between November and December 2016.
Thanks to this — and thanks to the peach-scented nature of the new product announcement on Blandino's Instagram page on Aug. 6 — I can only assume the Papa Don't Preach Palette will be out on the same dates as the rest of the line. (Or at least, I hope it's that soon.)
Now, November may seem like a million years away considering the heat of the summer that is still definitely steaming off the sidewalks. But I'd like to remind you that November is only three months away. Following that, December is only four months away.
If you're a particular kind of busy-body, you can start planning your Christmas list to Santa now, and you can begin said list with this product. I mean, who doesn't want peach-scented makeup? Everybody clearly does, as proven by the ridiculously fast sell-out of Too Faced's Sweet Peach Palette in summer 2016.
As well as the two items we know are being launched in a matter of months, just in time for some spring cleaning of your makeup drawers — aka, just in time to introduce a lot of new makeup into your collection while pretending to throw some of it away — I'm sure there's plenty more left to be announced for the range.
For one, the Sweet Peach Glow Highlighting Palette that came as another #sneakypeek on Blandino's Instagram is still to come. I for one await with anticipation as to what other products will be part of the new spring line, hitting shelves this autumn/winter.
Image: Jerrod Blandino/Instagram (1)