7 Cozy Beers to Get You Through the Last Brutal Bit of Winter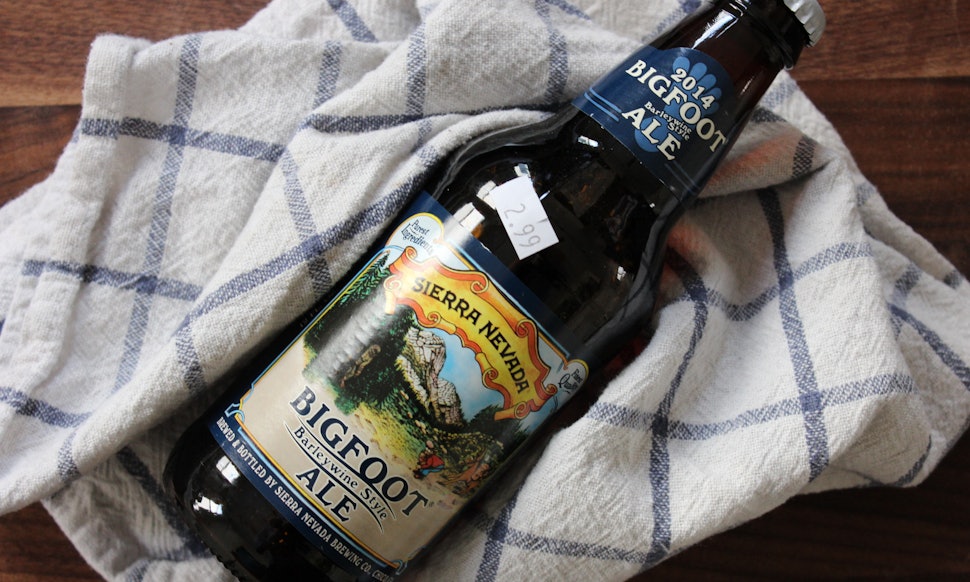 Soon we will all be headed to a place where snow shovels and thermal underwear and fleece-lined leggings do not exist. That magical place is called spring, and only good things happen there. But because we're not quite there yet, we're arming you with a handful of tips so you can make the most of this remaining ice/snow/Ugg boot season. So write yourself a list and march your muddy, rock salt-encrusted snow boots down to the nearest bottle shop. You've got some drinking to do. Get it.
Images: Emily K McDonald
Left Hand Brewing Company Milk Stout
The roasty malt and coffee undertones in this Colorado craft beer will keep you up and at 'em on any number of cold winter's nights. Let this stout warm up to 50 degrees to realize the full extent of its complexity ― those rich and creamy milk tones will make you want to pour this all over your Cheerios. Or, at the very least, drink it, like, really really fast.
Sierra Nevada Bigfoot Ale
This cult-classic barleywine is named appropriately ― it is a monster of a beer. Loud-mouthed and unapologetic, this brew is bold in all the right ways. Sweet, with bitter undertones and a foreground of booming malt, you'll want one for RIGHT NOW, RIGHT THIS MINUTE and one more for later; stick this beast in the cellar for a summertime hibernation, and next winter you'll find it's mellowed, imparting the sophistication of a fine wine. Bigfoot strikes again. Maniacal laugh.
Orval Trappist Ale
This is no Bud Light. The legendary Belgian is of the brightest of brights, and it deals a heavy hand of sourness and fizz. Interesting and complex, the bitter earth tones of this beer will pull you right out of your winter hibernation ― good news, since you're almost out of beer. Get your coat on ― I'll drive.
Founders Breakfast Stout
Thinking of baking some brownies, but you can't be bothered to preheat the oven? Crack this beer instead. Brewed with oats, imported chocolate, and coffee beans, this smooth and sweet imperial "breakfast" stout from Michigan-based Founders Brewing Company may be, like breakfast, the second most important thing after family.
Mayflower Porter
Do you like a roasty, malty beer that finishes a little sweet? This guy has faint undertones of chocolate and cola, perfect for after-dinner sipping. Dark and deep, this English-style porter warms the winter soul without being too heavy to discourage a refill. Just lovely.
Ommegang Abbey Ale
Ommegang, the NY brewery that puts out this beer, says that its Abbey Ale was made "to celebrate the many layers in life." And celebrate we will. Lavishly fruity and studded with an exotic bouquet of licorice root, star anise, sweet orange peel, cumin, and coriander, this Belgian dubbel has everything we need to get ready for the big thaw ― bready and sweet, spicy and dry, this beer hugs back.
Harpoon Rye IPA
Daydreaming of IPA weather? Ease your way into it, with this slightly spicy take on the India pale ale style. The tart grapefruit taste ― a hallmark of the IPA ― contends playfully with the malty, bready undertones of rye, and we give the end result two thumbs up. So let's quit talking about it and drink it already.