Best Sales This Week: Vibrators, Headphones & More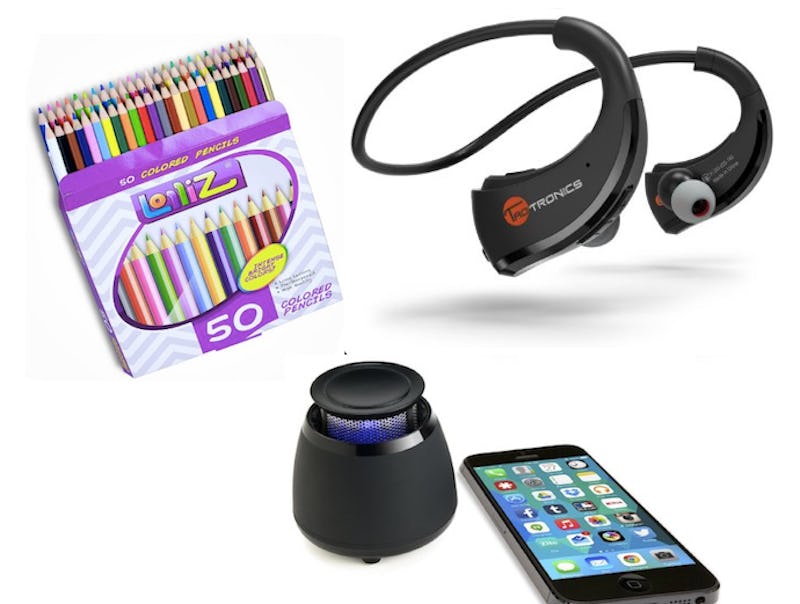 While in-store sales typically lead to headaches from crowds and math (my own personal worst enemies), great online sales going on right now can save you tons of time and money. For one, you can get incredible deals from the comfort of your own computer desk, and for another, your shopping cart does the math for you. It's a definite win/win.
My favorite place to shop for online deals would have to be Amazon. Not only do they have a mind-blowingly huge selection, but you can filter your deals based on the department, type of sale, and the percentage you'll be saving. Ebay and Babeland have some epic deals, too, if you're willing to do a little bit of scrolling and searching, and if you play your cards right, you could end up with everything on your summer and fall shopping list for a fraction of the price you would've spent in-store. Whether you're looking for tech gadgets, kitchen appliances, or back-to-school supplies, check out these awesome online deals going on right now.
A Vibrator For Internal & External Stimulation
RO-Jira Vibrator, $64 (Was $90), Babeland
This RO-Jira vibrator is small and sleek, but it's definitely powerful. It's ideal for deep clitoral orgasms, but is also great for vaginal insertion because of its tapered shape, and it's entirely waterproof and recharges with a USB.
Headphones That Keep Up With Your Workout Routine
TaoTronics Wireless Bluetooth Headphones, $28 (Was $60), Amazon
If you're a runner, these TaoTronics wireless bluetooth headphones are a great option. Not only are they wireless, weatherproof, sweat-proof, and waterproof, but they cancel out noise and provide a snug, slip-free fit while exercising.
Charge Your Devices Using Nothing But Sunlight
Anker 15W USB Solar Charger, $42 (Was $80), Amazon
Whether you're big on the outdoors or big on Pokemon GO, this Anker 15W USB solar charger lets you charge two devices simultaneously while using nothing but sunlight. The solar panels are sewn into durable outdoor-friendly canvas, and it's easy to attach to a backpack or tent to catch rays (and power) while you're doing other stuff.
Give The Gift Of A Cold Drink
Arctic Spirits Whiskey Ice Molds, $10 (Was $16), Amazon
These Arctic Spirits whiskey ice molds make a great gift for the liquor-drinker in your life. Not only do these ice spheres look pretty damn awesome, but they'll keep your drink colder (and less watery) for up to ten times longer. The molds themselves are also non-stick, quick release, and BPA-free.
Stop Throwing Out Your Food
NexGadget Vacuum Sealer, $76 (Was $160), Amazon
It's estimated that Americans throw out more food that plastic, paper, metal, and glass, but this NexGadget vacuum sealer keeps food fresher for up to five times longer than Tupperware or plastic wrap, because it entirely keeps out the air, bacteria, and moisture. It's also compact, lightweight, and super easy to use.
Invest In Power Cords That Won't Break Right Away
ONSON Lightning Cable, $11 (Was $17), Amazon
You can never have enough power cords for your iPhone 5 or 6, and these two-pack ONSON lightning cables are a number one new release because they have a high-tension nylon braided wire, they sync and charge at the same time with ultra-fast speeds, and reviewers say they're durable and reliable.
Decorate Your Dorm With Practicality
Melannco Wood Square Shelves, $11 (Was $15), Amazon
If you're doing some fall decorating or moving into a new dorm room, these Melannco wood square shelves are sleek, yet functional. They're made from high-quality wood and finished with an espresso stain, and people say they're great for books, jewelry, or knick-knacks.
Get Your Adult Coloring Game On
LolliZ 50 Colored Pencils Set, $8 (Was $20), Amazon
Get your adult-coloring game on with this LolliZ 50 colored pencils set. They come pre-sharpened, the pencils are strong and durable, the colors are vibrant, and this number one best-seller was exactly what reviewers were hoping for.
Not Your Average Desk Or Reading Lamp
Etekcity Dimmable LED Folding Desk Lamp, $36 (Was $70), Amazon
This Etekcity dimmable LED folding desk lamp is so highly rated because it's got tons of awesome features, like an anti-glare shade, a built-in digital clock, a charging port, a streamlined design that folds up, several lighting modes, and an included USB cord.
Cook Anything Like A Pro
Lodge Pre-Seasoned Cast-Iron Square Skillet, $22 (Was $36), Amazon
Because of this cast iron skillet's great heat retention properties and sturdy design, it's amazing for everything from baking to frying, all without the nasty chemicals that come with your usual non-stick pan. One reviewer even said, "It is my favorite cooking pan for everything."
Pop Out Your Tunes Wherever You Are
BLKBOX Wireless Bluetooth Speaker, $20 (Was $50), Amazon
For a small gadget that packs a huge sound, this BLKBOX wireless bluetooth speaker is an awesome buy. It's rechargeable, compact, and portable, because it pops up when you're ready to use it, but reviewers say "there should be six stars" because it sounds so incredible.
Get Ready For Back-To-School
Vera Bradley Lighten Up Backpack, $30 (Was $78), Ebay
This deal came right in time for back-to-school; the Vera Bradley 'Lighten Up' backpack is just big enough to be useful without being cumbersome, made from lightweight and durable material that's water-resistant, and the shoulder straps are padded and adjustable. Choose from a few different designs, too.
De-Matt Your Pets Without Hurting Them
GoPets Dematting Comb, $25 (Was $40), Amazon
For cats and dogs with longer hair, this GoPets dematting comb gets rid of the tangles and matted spots without hurting your pet. The sharp but rounded blades detangle fur without pulling or irritating the skin, and non-slip gel handle makes it a comfortable experience for you, too.
Work Or Relax With Your Laptop In Bed
DG Sports Multi-Functional Laptop Table Stand, $38 (Was $56), Amazon
Whether you're using it for Netflix or work, this DG Sports multi-functional laptop table stand lets you use your devices comfortably in bed, or anywhere else. It's got a slim and lightweight design that folds out and adjusts, and it's also got a built-in fan, mousepad, LED light, and four USB charging ports.
Bring More Power To Every Room in The House
SHARKK Aluminum Power Strip, $22 (Was $50), Amazon
This SHARKK aluminum power strip is a must-have because not only does it have four standard plugs, but it's got four USB charging ports as well. It protects devices from dangerous spikes in electricity, and it's got a really sturdy build.
Sleep Comfortably And Luxuriously, No Matter The Season
Egyptian Comfort 4-Piece Sheet Set, $11 (Was $80), Ebay
For 87 percent off, this Egyptian Comfort 4-Piece Sheet Set is an incredible deal. They're super soft and luxurious at 1800 count, and because they keep you cool in the summer and comfortable in the winter, they're great for any season. Choose between a whole number of colors and sizes to fit your bed and style.
Bustle may receive a portion of sales from products purchased from this article, which was created independently from Bustle's editorial and sales departments.
Images: Amazon (13); Ebay (2); Babeland (1)