Fox's 'Rocky Horror' Has A New Trailer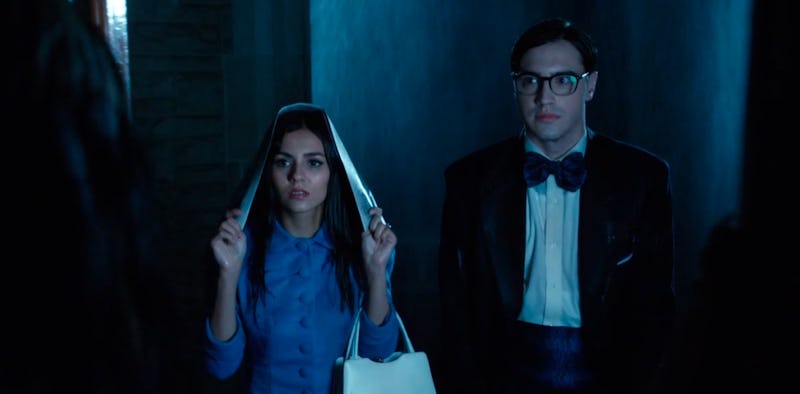 I wanted to be one of those Rocky Horror purists who were furious over the 1975 musical's Fox TV remake. After all, how could anyone possibly live up the the cult musical that introduced the world to the Time Warp, the greatest group dance of all time? While I still think that the original flick has set the bar too high for any remake to surpass, I'm now fully onboard for Fox's spin on the iconic movie. It's hard not to get excited for a movie that presents the crazy charismatic Laverne Cox taking on the role of Dr. Frank-N-Furter, or Adam Lambert revving up his motorcycle to play Eddie. After all, as someone who finds such delight in seeing a live performance of the movie, how could I possibly dislike Fox for doing the same thing with an all-star cast? Now, a new trailer for Fox's Rocky Horror proves that the film loves the cult classic just as much as fans — by paying homage to the original.
The new film will premiere on Fox on Oct. 20, and from the looks of it, it's just as much about honoring the original as it is creating something new. It's not just the film that Fox's new TV movie is paying homage to: it's the Rocky Horror phenomenon. The trailer features the song "Science Fiction" taking place in an actual movie theater, perhaps as a nod to both the '50s sci-fi films that inspired Rocky Horror and the film itself being the longest-running movie in history.
Though the new movie definitely takes some liberties with its adaptation (Eddie drives through a window, not the door of a walk-in refrigerator, for one thing) it's also keeping many of the same costumes and aesthetic as the original. Brad (Ryan McCarten) and Janet (Victoria Justice) wear almost identical outfits as Barry Boswick and Susan Sarandon did in the original, just in different colors. Justice is rocking a blue outfit in the trailer, while Sarandon wore a lilac outfit:
Of course, the biggest homage to the original film? The presence of Tim Curry, who is portraying a very different character than he did in the original. Curry portrayed "sweet transvestite" Dr. Frank-N-Furter in the cult classic, and somehow made all of us which we looked quite as good in heels and thigh-highs as he did. He's dressed a bit more conservatively in this trailer, as he is taking on the role of The Criminologist, a part originated by Charles Gray in the film.
It's clear that the producers behind Fox's Rocky Horror are huge fans of the original flick, so while it may not be the cult movie you know and love, it'll certainly be a film that honors it in a special way — and definitely one worth watching.
Image: Fox