'The Get Down' Has More In Store For You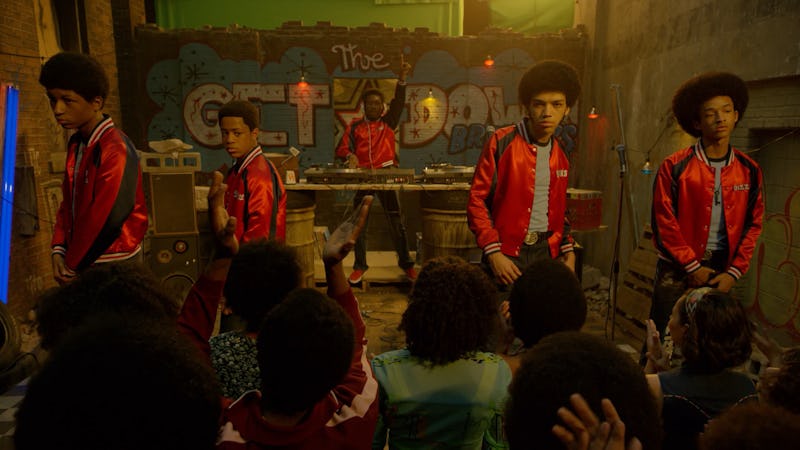 Although TV's last major examination of New York's music scene in the 1970s, the HBO drama Vinyl, was cancelled after one season, a major streaming service is now giving the topic a shot. So, will the new Netflix original series The Get Down , which is about the early days of hip-hop in 1977 New York, return for Season 2?
It's unclear what The Get Down's fate will be since Netflix has not yet announced whether or not it has renewed the series for Season 2. Season 1 of The Get Down drops on Netflix on Aug. 12, so it may be a little too early to tell if we'll get a second season. But, we will get more of the show in the future because Season 1 is actually split into two parts. Variety reported that, due to production issues, only six of the 12 episodes will drop Aug. 12, with the rest due out in 2017.
Beyond that, one good sign of a possible Season 2 is that reviews of the new series have been mostly positive so far. The Get Down has a Metacritic score of 76 as of the time of this writing. Netflix also usually isn't too eager to give its series the axe after their debut seasons, so it seems pretty likely that The Get Down will receive at least one more season. Every Netflix original has at least gotten a Season 2, to date.
If The Get Down is renewed for Season 2, there might be some changes afoot. Executive producer Baz Luhrmann told Variety that if there is a Season 2 of the show, he hopes to lessen his involvement and hand over the reins to a new showrunner. "I believe the particular techniques we've developed for this show can be passed on to a new team," he said.
It'll be interesting to see how Season 2 of The Get Down takes shape if Netflix greenlights another installment. But the time in between finishing Season 1 and watching a new season of the show doesn't have to be silent. There have been plenty of other shows that will entertain your eyes and ears.
S Club 7 In Miami/S Club 7 In L.A.
There ain't no party like an S Club party! That's because watching a group of Brits get up to some shenanigans in Miami and Los Angeles while singing incredibly catchy pop tunes never gets old. Unfortunately, it's difficult to find full episodes of these seasons on the usual streaming platforms, but you can find some clips, as well as music videos, on YouTube.
Glee
There are few TV series that communicate the power of music better than Glee, which showed how music not only saved a bunch of high school misfits but also the adults whose lives never quite lived up to the dreams they had in high school. The most beautiful thing about Glee is that the show's musical performances were just as memorable and emotional as its narrative arcs. You can watch all six seasons of Glee on Netflix now. Have your jazz hands — and tissues — ready.
Nashville
If you want a series that, like The Get Down, is about the music industry, Nashville, the first four seasons of which are available on Hulu now, might be your jam. The series, which was cancelled by ABC but then picked up by CMT earlier this year, follows the trials and tribulations of one veteran country singer's struggles in dealing with a star on the rise. The original music coupled with the cast's powerful performances will make you sing for more after the end of each episode.
Smash
Smash also looks at a segment of the music industry — the musical theater industry, that is. It tells a similar story to Nashville in that it starts off with a seasoned stage actress competing with a young ingenue for what could be the role of a lifetime. Come for the All About Eve premise, stay for the original songs. You can purchase Seasons 1 and 2 of Smash from your streaming platform of choice.
Empire
Empire is all about family members vying for control of a record company, so you know that means lots of drama. There's also tons of original music in Empire, too. Everyone who's anyone in the music biz today, from Snoop Dogg to Alicia Keys to Mariah Carey in Season 3, has appeared or will appear on Empire in the future. Do yourself a favor, and see what all the fuss is about by checking out Seasons 1 and 2 of Empire on Hulu now before it returns on Sept. 21 on FOX.
Crazy Ex-Girlfriend
Like all of the shows in this list, Crazy Ex-Girlfriend is filled with music. But unlike all of the aforementioned shows, Crazy Ex-Girlfriend's music has nothing to do with the protagonists' reality, other than communicating something more nuanced about the characters. Season 1 of Crazy Ex-Girlfriend is available to view on Netflix now, and you'll see what I mean. Now's the perfect time to catch up before Crazy Ex-Girlfriend returns to The CW on Oct. 21.
If none of these series are music to your ears, hopefully you'll be able to press play on The Get Down Season 2 before you know it.
Images: Netflix; Giphy (6)