Why Plus Size Binding Is Such A Struggle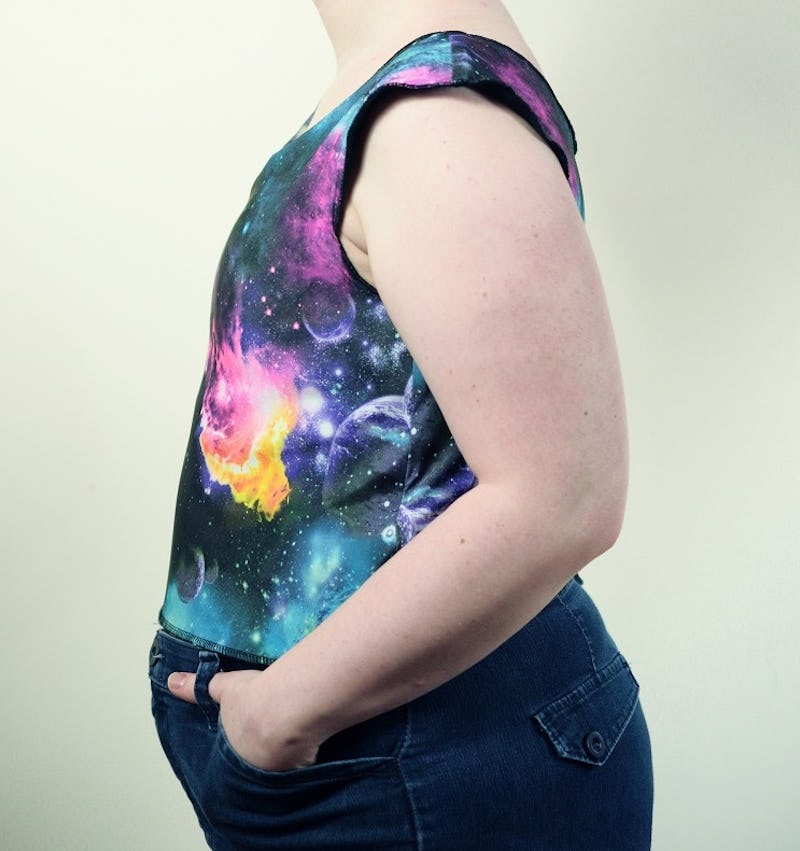 As a nonbinary transgender person who was assigned female at birth (AFAB), I'm often asked the same question each time I talk about my gender dysphoria or the fact that I do not want gender affirmation surgery. People want to know why I don't bind my plus size chest regularly so that I can achieve the more masculine appearance I seek without surgical intervention. The thing is, I would like to, but there's one roadblock in my way. Being plus size makes chest binding much, much harder.
I came out to my friends when I was 19, and to my family earlier this year. But only last week — at 23 — did I acquire my first two binders: A Tri-Top Chest Binder from Canada-based brand Venus Envy and a black Half Binder from binder specialist brand gc2b.
While I was shopping around for binders, I realized that because I have a 52-inch bust, I'm at the very top of almost every company's size chart. If you're any bigger than I am, it's quite probable that you're going to struggle with finding a binder in your size at all.
That's the first challenge of binding while plus size: The sheer lack of options (if there exist any at all) at most companies that sell pre-made, pre-sized binders.
Mesh Binder, $45, Shapeshifters
Of course, there are brands that do custom sizing. The aforementioned gc2b is one of them. If you contact its support email address, the company will work with you to personalize your product. And if you're looking for even more customization options, Shapeshifters offers hand-sewn binders tailored to your back length, bust, under-bust, and stomach measurements.
There are many reasons I waited four years to start binding, though. In addition to my size, binders are often incredibly expensive. Most will run you $50 and up, plus shipping costs, from stores that operate entirely online, and there's a lot of risk inherent in buying a pre-made binder without being able to try it on first. Plus size binders — like most plus size clothing options — regularly fall victim to a fat tax, which means they can be even pricier than smaller products.
Recently, I spoke to a transgender friend of mine, Austin, who commiserated with me via Twitter about the abysmal sizing choices in the binder industry. Like me, he has a larger chest, and he hesitated before buying his first binder.
"[Binders are] expensive to return and expensive to exchange," he tells me. "It's always been distressing to me how easily you can get the wrong size. I'm still not convinced [the ones I have] are the right size. But I didn't want to go a size larger in case it didn't actually function."
Black Half Binder, $33 ($35 3XL, $35.50 4XL, $36 5XL), gc2b
Before I got my first binders, I tried some (carefully researched) DIY binding experiments. I shied away from the dreaded — and dangerous — ACE bandage method, but I frequently wore sports bras and tight, layered tank tops. Now that I have binders to compare them to, the DIY options are surprisingly more comfortable for my plus size self. I don't get as much flatness, sure, but the softer materials and correct sizing prevent me from being put in pain.
With the sports bra/tank top combo, the sports bra naturally positions my breasts, whereas in both of my binders, I have to play the good old "shove-your-boobs-under-your-arms" trick. I'm a size 48DD, so there's a lot of breast to shift around, and not much room in which to do it.
In my longer, crop top-esque binder from Venus Envy, however, I got fantastic flattening, but couldn't help notice that the sides of the binder were not exactly fat-friendly. The binder cuts under my arms quite a bit, and any sort of motion that raises my limbs causes it to ride up, de-positioning my breasts and choking me with the high neckline in the process.
Tank Top Style Chest Binder, $60.80, Les Love Boat
Austin mentioned similar issues with his Les Love Boat tank top-style binder. "It was kind of just not great," he says. "Ill-fitting, and the neckline is weird. It's a pretty high neckline, so it bunches and it sticks out under even high-neckline clothes."
My binder from gc2b, which also flattens well (albeit not as well as the Venus Envy one) does not have this riding-up issue because the hem isn't long enough in the first place. My solution for the ride-up in my long binder is wearing a tank top underneath, which fixes the issue at hand, but also makes it difficult to reposition myself on the fly if I need to. Unfortunately, the tank top addition also adds to the overheating issue that often comes from the thick materials used to make binders.
Galaxy Binder, $50, Shapeshifters
It's a well-known fact amongst nonbinary individuals that binders are known to cause soreness and will probably pinch your body, but these issues seem exacerbated by my plus size form. Besides the fact that my longer binder cuts in under my arms, it also causes me serious rib pain because of the way my breasts need to rest in order to achieve a flat look. So while the binders fit in the chest region, there don't appear to be sizing concessions made for people who may have back or side fat, like myself.
I went into binding hoping that a miracle would happen: That I would put a binder on and magically become flat-chested. I'm plus size, yes, and I have big breasts. But fueled by the many AFAB people who speak about how happy they are to be binding, I was sure that I, too, could be one of the success stories. Now I worry that the binder market is suffering from the same limitations as other elements of the fashion industry. Far too often, products are just not made for bigger people.
Super Flat Chest Binder, $21.99, Amazon
While Austin and I were discussing the issue of binders riding up, he also noted that the hems of binders "just do not conform to [larger] bodies."
He was absolutely right, but I'd further extend the sentiment outside the realms of hems. Binders are designed to compress and alter bodies. But plus size bodies are more difficult to alter. And so I cannot help but wonder where plus size, nonbinary individuals who want to bind are left to turn. I'm a size XL in shirts and a size 16 or 18 in pants. I have a 52-inch bust. One of my binders is a size 5X; the other is 3XL. And those are the largest sizes offered by most brands. Yet running out of room for my breasts is a problem that doesn't seem easily fixable — unless vanishing boob pockets are someday sewn into the insides of binders.
I do think, however, that if more companies were willing to open a dialogue about supporting plus size individuals with their products and marketing, they might see just how many plus size trans folks need these services. Only then will they likely do better by us.
Images: Courtesy Brands