John Krasinski Faces An Ex Girlfriend In 'Hollars'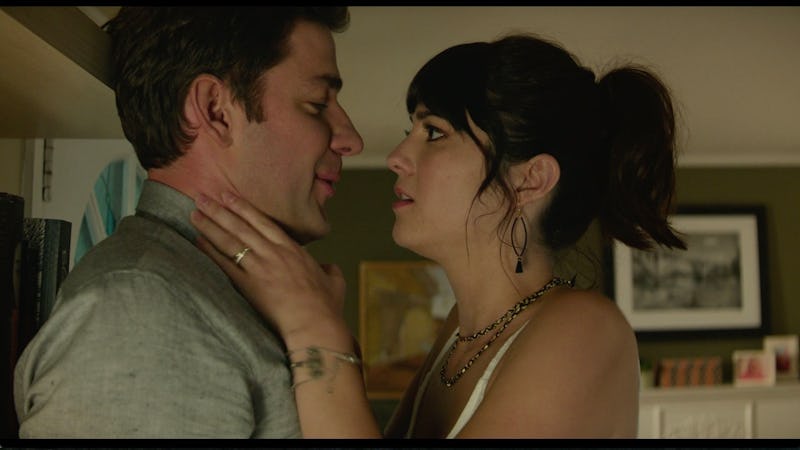 You know what they say: You never can go home again. But in this exclusive clip from The Hollars, John Krasinski tries to do just that. And let's just say that it doesn't exactly go as planned. But what else can John Hollar to do besides go home when his mother's illness needs tending to? He does what he has to do, leaving his struggling artist's life in New York City, where his girlfriend and soon-to-be-born baby are waiting, and running right back to the small town he grew up. But once he gets there, everything is different while still, somehow, staying the same. John is confronted with his dysfunctional family, his high school friends, and the ex-girlfriend he hasn't seen in years. Sounds like a whirlwind of a hometown visit, right?
It isn't always pretty, but John does manage to immerse himself in this world, putting himself right back in the middle of the life he once lived. Except now that life is completely different. His ex-girlfriend has a baby and a husband, his high school rival is still causing him problems, and his mother is the one who needs taking care of. And in this exclusive clip, John's version of home doesn't look anything like it did when he was last there.
In his ex-girlfriend's new home, John is practically mauled by her over-eager advances, all while her husband entertains himself in the next room and her new baby watches on. To say it's a different kind of life than John left years ago is quite the understatement. But he is home, and even if the world and people around him are different, he's bound to learn a thing or two about who he is, where he comes from, and what he is capable of.
I love a good prodigal son story, and The Hollars seems like one that pushes the boundaries of what it means to be part of a place and a family. The fact that it stars John Krasinski as the son who returns home to find the world he left completely changed certainly doesn't hurt either.
The Hollars hits theaters August 26.
Image: Groundswell Productions