You Can Only Binge-Watch Half Of 'The Get Down'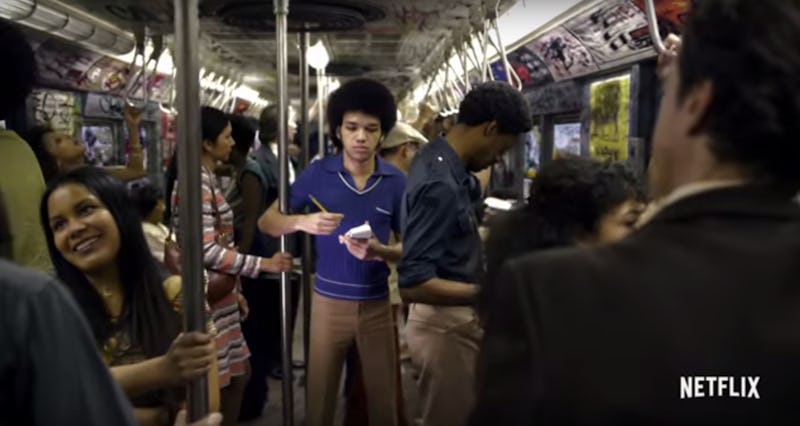 The highly anticipated Netflix original series from Moulin Rouge director Baz Luhrmann is finally being released Friday, August 12, after two-and-a-half years of production. But don't get too excited, because Vulture reports that the first season of The Get Down will be split into two parts — a first for Netflix. The date for the second part — which could be either six or seven episodes — has not been announced but will be released sometime in 2017. If you're feeling a little frustrated about the fact you can only binge half of the probably-super-awesome series, get in line, because I feel your pain.
It really isn't much of a surprise that the show will be split up this way— according to Variety the show, which is allegedly among the most expensive in history, has dealt with production issues so mountainous that, "because the troubled production had started, stopped, and stalled so many times as scripts were written, tossed, and rewritten, some writers had taken to calling the show The Shut Down." These sort of issues allegedly led to tension among Luhrmann, Sony TV, and Netflix — which according to co-creator Stephen Adly Guirgis in an interview with Vulture led to the latter two insisting the show be put on the air unfinished so there will be something to show for the two years of work (and millions of dollars).
Guirgis seems OK with the decision for the most part (probably because he's not going to be the one sitting at home binge-watching and feeling incredibly disappointed when the half-season ends) but did admit:
What's difficult about it was that we were writing in parts. We had sort of a three-act structure, which then became like a two-act structure with a P.S. at the end. But originally we wrote it to all be happening in a row. So where we end part one, it's not exactly like a cliffhanger. And that's a little disappointing to me. Because if we had known we were splitting it, we could have really made people suffer.
All the money, time, and a non-cliffhanger ending make me a little concerned that there won't even be a second season of The Get Down. If there's a perfect wrap-up at the end of Part 2, creators might think we don't need to see the story carry on. Furthermore, maybe after such a troubled bout of production, Netflix and Sony TV have had enough. If that is the case, make sure to take your time embracing and loving Parts 1 and 2 of Season 1 — because it could be all we have of this (probably!) groundbreaking and (most likely!) breathtaking series.
Whatever happens, The Get Down is going to be lit and an excellent addition to Netflix's already stellar original content collection. I'm counting down the minutes until Friday!
Images: Netflix US & Canada/Youtube (2)