Deep Analysis Of The 'Step Up' Final Dance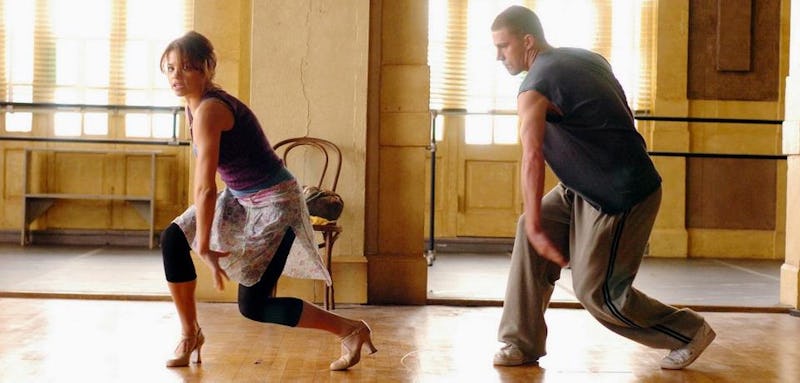 Ten years ago Channing Tatum danced into moviegoers' hearts. He completely stole the show with his good looks and even better dancing in the hit movie Step Up, in which he starred in his breakout role as Tyler Gage, a dancer from the wrong side of the tracks who impresses Nora (his eventual real-life wife Jenna Dewan) and a prestigious performing arts high school. But like any dance movie, the final dance of Step Up requires deep analysis. The final dance in movies of the dance movie genre take on great importance and the one in Step Up is no exception.
Let me set the scene for you. Throughout the course of Step Up, Tyler has realized his dancing talent with Nora, who attends the Maryland School of the Arts and recruits him to be her partner in her Senior Showcase dance. Together, they re-envision her final dance, which will also serve as his entrance audition into the school, and, you know, they fall in love. Tyler has some crises of confidence about belonging in Nora's snooty dance world, but Tyler's friend is shot and Tyler eventually shows up to her Senior Showcase, wanting a better life for himself — and to be with her.
Cue the final dance routine and the analysis.
Tyler Enters
The dance starts off traditional, with Nora leading a group of dancers in front of a backdrop that looks just like their school. Then the spotlight hits Tyler, who mixes it up and dances with Nora. She mimics his style for a bit, before going back to dancing with the group and pushing Tyler and his backup dancers aside. This represents the struggle between Maryland School of the Arts' traditional dance training and Tyler's natural talent. But then Tyler shows he's got fancy moves, too, when he joins with the ensemble.
The Couple Dances Together
Ah, the music slows down and the ensemble falls away, leaving lovebirds Nora and Tyler to share the stage. Together, they show off intimate tango-inspired moves. There are points where they each do their own moves, but they eventually end up in each others' arms. This represents Tyler and Nora's relationship — while they both come from different worlds and have different styles of dance, they can make it work in perfect harmony with each other.
Saluting Tyler's Roots
The music changes to straight-up hip-hop and someone even gives Tyler a shirt to wear as he busts out his moves. This dance pays tribute to Tyler's urban and contemporary dance influences. Later, Nora and the rest of the female company joins them, pairing up with all the male dances. At one point, the female dancers break away and display more ballet-esque moves, while the male dancers still channel hip-hop.
The Grand Finale
For the final seconds of the performance, Tyler and Nora blend their dancing styles to show off some impressive moves and chemistry. It's no wonder these two fell in love — they've got all the right moves together.
Watch the entire whole performance below and relive the classic dance movie.
Images: Buena Vista Pictures; Mallory Carra (4)/Bustle/Buena Vista Pictures