'Joshy' Reveals Dark Truths About Relationships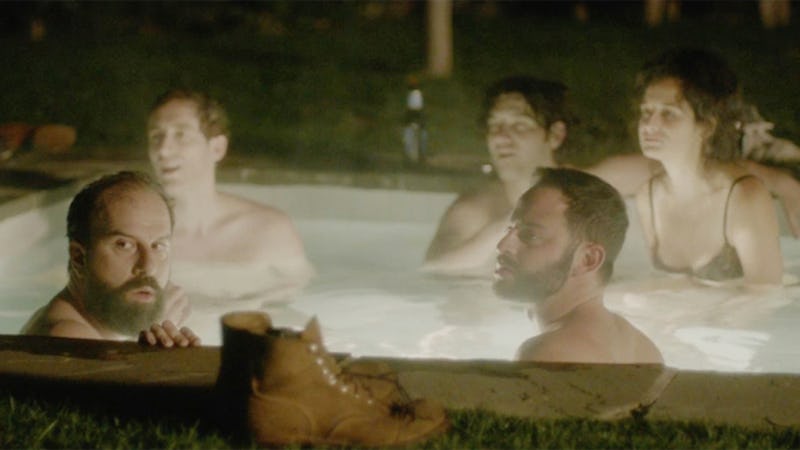 How do you know if you've found "the one?" Usually, in rom-coms, it typically involves the protagonist running into the love interest in some contrived meet-cute that gets the audience's hearts fluttering, even if it's not the most realistic. By and large, the way relationships are depicted in rom-coms usually don't reflect real life — sure, these films are entertaining, but rarely do they show true relationships, with the good, the bad, and the ugly. I've found that when it comes to depicting relationships accurately, indie movies tend to be far more precise than mainstream films. Indies don't show relationships as constantly happy, carefree, wonderful things, but instead reveal the reality of what goes into maintaining a romance. The new film Joshy, written and directed by Jeff Baena, is no exception — Joshy reveals dark truths about relationships and doesn't hold back in the slightest.
As its title suggests, the film, out now, revolves around Joshy (Thomas Middleditch), whose engagement ends abruptly after his fiancee (Alison Brie) kills herself — on Joshy's birthday, no less. After her death, Joshy begins to realize that maybe he didn't really know his fiancee at all. So he decides, during a weekend getaway to Ojai, to take the time to process her death and contemplate the future alongside some friends. Through the realizations Joshy and his pals have during this trip, the film poses the idea that you can never really know the person you're with. Joshy, for instance, comes into conflict with his ex-fiancee's parents after they brutally confront him over their daughter's death, not believing that she could have possibly killed herself. Their heartbreak is tragic, but it speaks to the general truth that sometimes you might think you know everything about someone, but you never really do. At times during the film, it seems that Joshy doesn't even really know himself; he's lost, trying to stay afloat after this tragedy, and he has to reconnect with himself before he can even consider reconnecting with the real world.
One of the saddest truths that Joshy explores is that although you may think you have found "the one," you still can feel alone and conflicted. Ari (Adam Pally) is married with a child when he meets Jodi (Jenny Slate), and despite this, the duo deeply connect and spend time together. At one point, Ari says that he feels like Jodi "knows him," the real him; it's a cliche, but it rings frustratingly true. Even though Ari is married, his relationship doesn't feel enough to him, and because of this lack of fulfillment, he's drawn to someone he feels understands him better.
Compared to indie films like Friends with Kids and Drinking Buddies which focus on different, hard truths of certain relationships (primarily those involving marriage and coworkers), Joshy approaches bonds in a more nuanced manner. While Friends with Kids is upfront in its observations and critiques about relationships and Drinking Buddies relies on interpreting the subtext in its characters' quotes, Joshy manages to find the happy medium of explicitly expressing emotions with having the truth of a conversation exist below the surface. It's a delicate tightrope that the movie manages to navigate expertly.
Shot via treatment, Joshy saw its cast improvise each scene based off of an outline, leading the actors to get to know their characters and understand the core of who they were, and what issues they were dealing with, extremely well. As Middleditch told radio station 89.3KPCC,
It's not like a stage improv show where you just want to like go for the laugh... you have to improvise for the point of view of your character. Even if it's something funny, ideally it's coming out of a character and relationship and circumstance.
To make Joshy realistic, the actors had to be delve deep into the psyche of these characters and understand their journeys in regard to relationships. In an interview with POPSUGAR, Slate reflected on her character, Jodi's, journey in the film and her connection to Ari, explaining,
I think [Jodi] sees in Adam a person who is not going to be ultimately the safest person for her to be around. Not like, it's not worth it because he's already tied up with someone else, but that he really doesn't seem to know what he wants... [In real life] you have to look around and make sure sometimes that you are not a device in somebody else's personal process.
The dark truth of Joshy is that sometimes, you do get tied up in someone else's narrative, in his or her own self-exploration, and for better or worse, you have to decide if it's worth it to stick around. Relationships are fragile and complex and complicated, and with this movie, Baena shows audiences the hidden truths of relationships in a truly poignant manner.
Images: Lionsgate Premiere