The 'Sausage Party' Soundtrack Is A Wild Ride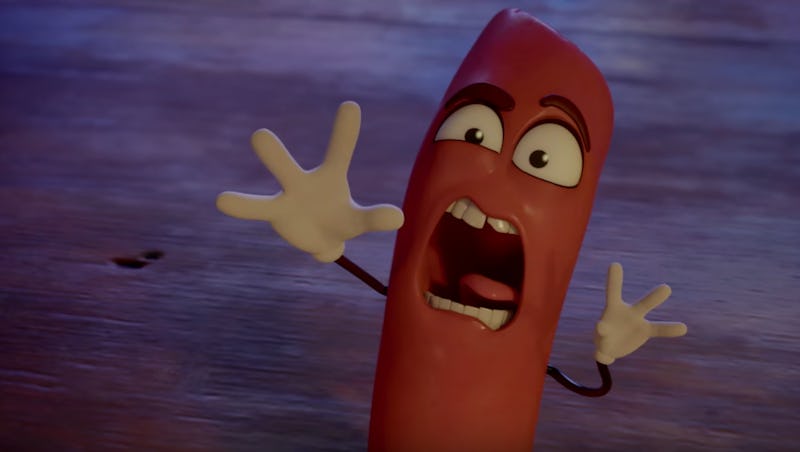 Seth Rogen and his longtime collaborator Evan Goldberg are taking their R-rated comedy talents where they have never gone before: animation. That's right, the brains behind Superbad and This Is The End are tackling the animated film, a genre typically reserved for children's movies, with their new movie Sausage Party. To be clear, Sausage Party is not — I repeat, not — a kids' movie, but, like any other self-respecting animated movie, Sausage Party is sure to have one thing: a killer soundtrack. Almost every animated movie, from Toy Story to Cinderella, have signature original songs, and Sausage Party is no different. In fact, the Sausage Party soundtrack has one original song that fans will really want to hear.
Sausage Party tells the story of Frank, a sausage, who, along with his friends, is faced with the awful truth that they are destined to be ruthlessly killed by humans once they leave the grocery store. What they thought was glorious salvation is actually cruel and unusual death. So, yeah, not exactly the kind of movie you would think features a lot of original music. However, in addition to some popular songs like Meatloaf's "I'd Do Anything For Love (But I Won't Do That)" and Wham!'s "Wake Me Up Before You Go-Go," the original Sausage Party soundtrack features original music and a new song by famed Disney composer Alan Menken.
Menken's addition to the soundtrack actually makes a lot of sense. When writing Sausage Party, Rogen and Goldberg were heavily inspired by Pixar films. "We're both crazy about Toy Story," Goldberg said in a recent interview with The New York Times . "We became obsessed with these Pixar movies. Their quality, tone and style were so much fun that we thought we should try to make one of those," Rogen added. So after recruiting animation vets Greg Tiernan and Conrad Vernon to direct and ensuring that the animation would be on par with any other animated movie, Rogen and Goldberg turned to the music. Naturally, they thought of Menken.
Menken, of course, is the Oscar-winning composer behind such animated classics as Aladdin, Beauty and the Beast, and The Little Mermaid. He and Christopher Lennertz composed the original score for Sausage Party as well as one original song, "The Great Beyond," which opens the film. The song is probably Menken's most NSFW song ever — and that includes his parody compositions for ABC's tragically short-lived Galavant.
As for how Rogen and his collaborators convinced Menken to sign on, it turns out it wasn't too difficult. "I think Conrad [Vernon] was working with him on something, and was telling him we're making a movie that's kind of an homage in many ways to the movieshe made that the writers grew up on... and there's a song it in. And he was like, I'll do that song! We were shocked," Rogen told Fandango.
The Sausage Party Original Motion Picture Soundtrack is currently available for purchase on Amazon and iTunes, and is available to stream on Spotify.
Images: Sony Pictures; Giphy