'The Get Down' Puts The Spotlight On A Rising Star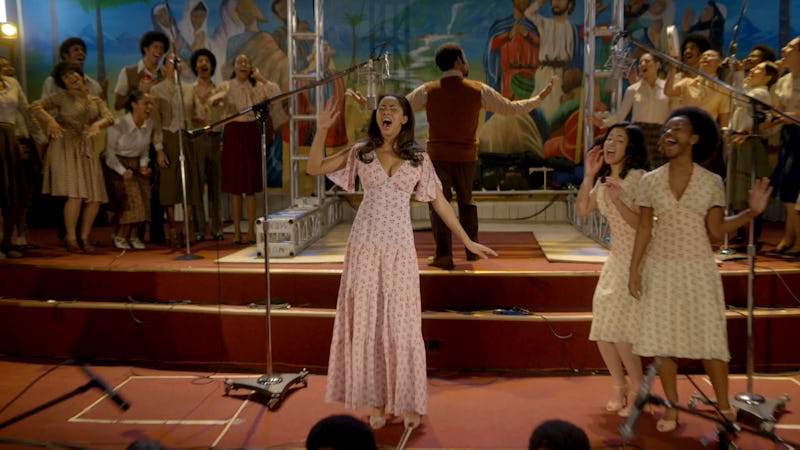 The cast of Netflix's The Get Down may have a few familiar faces, like Giancarlo Esposito and Jaden Smith, but most of the stars are unknowns, like Herizen Guardiola, who plays Mylene Cruz. Guardiola will likely be one of the breakout stars of the series, since Mylena, the aspiring singer, is one of the leads and a part of the central love story (Ezekiel, the young lyricist played by Justice Smith, is in love with her). Guardiola's voice will make you fall in love with her too, and her arc over the course of the season is the one that I'm looking forward to the most.
Mylene doesn't just have to struggle in order to find success in a competitive field, she's also a young woman with a conservative, religious father (played by Esposito), who will be dealing with sexist expectations stemming from both her religion and the 1977 time period. Plus, since disco and hip hop are both industries that often sexualized and underestimated female artists, I'm anticipating there will be something of a clash there.
But in addition to her complex arc on the show, Mylene is an exciting character because she provides an opportunity to get to know Herizen Guardiola in her first role. Here's the low down on The Get Down's newest star.
This Was One Of Her First Auditions
In an interview with InStyle, Guardiola explained that she was not an experienced actor before taking this role, even saying, "I was really nervous because I had never acted before." But she was able to win over Baz Luhrmann, the producer of The Get Down, with her singing and acting auditions.
She Went To The MET Gala
Even before the series premiered, Guardiola scored fashion's most exclusive invitation, where she got to dress in contemporary high fashion (as opposed to The Get Down's disco ensembles) and hang out for a night with Anna Wintour's guest list.
She Got Her Musical Education Early
Guardiola told InStyle, "My dad is a reggae musician and I was raised around the Marleys. Growing up around that world influenced me in a lot of ways," including starting her singing career on her dad's tracks.
Her Sisters Are Very Important To Her
In addition to her father's early job training, Guardiola is close with her two younger sisters, one of whom she told InStyle has Down Syndrome and is her best friend. Family is clearly one of her biggest priorities.
She Has A Hippie Vibe In Real Life
If you check out Herizen's Instagram page, it's filled with retreats to outdoor music festivals, and trips deep into the mountains complete with photo shoots next to a lake. She's clearly one with nature.
You Can Hear Her Voice Online
In addition to some actual performances you can find on YouTube, Guardiola posts the occasional video of her singing a cappella. After hearing those pipes, I think a lot of people (myself included) are going to be marathoning The Get Down as soon as it premieres on Aug. 12.
Images: Courtesy of Netflix (2)