'The Get Down' Used A Real Club For Inspiration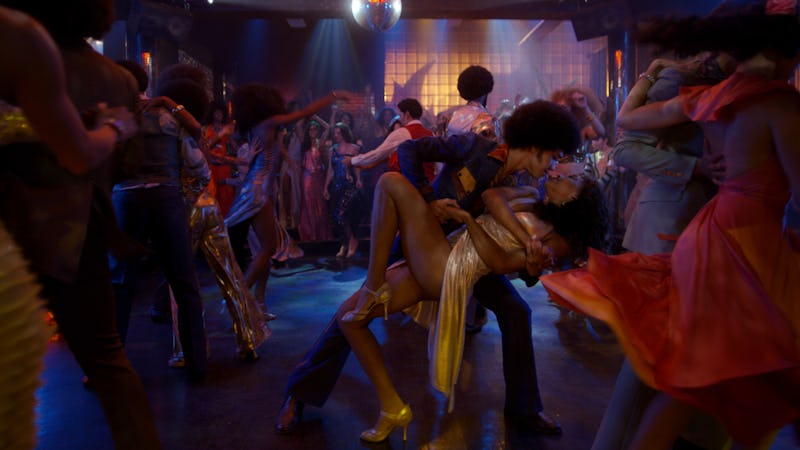 In Netflix's original series The Get Down, the characters have a love for music that fuels them to spend almost all of their time trying to break into the industry. Some of the characters' musical dreams involve a specific venue, a disco club called Les Inferno. And since so much of the show's production happened out on the real streets of New York City, you may be wondering if Les Inferno is a real club where you can go and try out some dance moves of your own. Unfortunately, you won't be able to go visit it, since it's a fictional venue that was created for the show, rather than a real club. However, it does have some real-life inspiration... though you won't be able to visit that club either.
While there was a real club called, simply, Inferno in downtown Manhattan that served a primarily Latinx audience, according to DiscoMusic, it has nothing to do with the Netflix series. The Get Down actually based Les Inferno on Club 371, producer Nelson George told Yahoo! News. He explained that while the real Bronx club didn't last long because of the tumultuous history fictionalized in The Get Down, it was a pivotal location for black men and women at the time, who treated this club as the fancy venue that they may have been turned away from had it been located 100 or so blocks south. "By doing the hustle and wearing these clothes, we were elevating ourselves somehow," George said. "There was definitely a sense of upward mobility embodied there."
There's another famous location that George told Yahoo! served as an inspiration for The Get Down called Disco Fever, but that was a club where the biggest figures in hip hop would hang out. As he pointed out (and as will be demonstrated on the series), hip hop and disco may have had some overlap, but largely they were in very different circles, and that will be represented in the portrayal of such clubs.
Since Club 731's existence was short-lived, there's disappointingly little information about its history. However, there is some slight documentation available, like the blog Old School Hip Hop Official, which collects some of the big figures that came out of the disco scene and attributes some of their major performances and influences to the famous club. It really takes the memories of individuals like George to keep the history of these clubs alive, which is just one reason why The Get Down is so important.
Images: Courtesy of Netflix, Myles Aronowitz/Netflix