Breweries Are Having (Gasp!) Pumpkin Shortages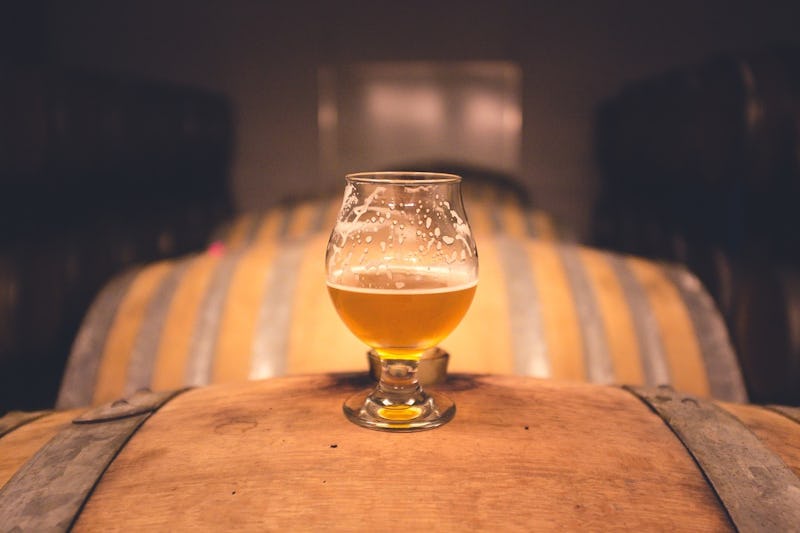 You know how the old saying goes — the early brewer gets the pumpkin. In anticipation of the fall season, breweries are experiencing pumpkin shortages, and those late to the game are finding it nearly impossible to get their hands on the coveted gourd, Draft Magazine reports. The pumpkin shortage of 2015, which crop experts foretold would lead to mass hysteria in supermarket aisles (a Black Friday-esque battle royale for pie filling) is finally taking its toll on this year's seasonal brews.
Pumpkins need a good balance of sun and moisture in the soil to grow, but too much of either can lead to serious problems. Illinois, the largest producer of pumpkins in the country, experienced heavy rains last summer that destroyed much of the crop. California (the second largest producer) fared no better, facing difficulty with droughts. The 2015 U.S. pumpkin crops yielded 50 percent of what was normal, reports CNN, creating a shortage of surplus inventory. Those placing orders over the summer are finding that suppliers are already sold out of the puree needed to make their spiced autumnal beverage, and it's especially tough on smaller breweries.
Nebraska Brewing Co. ran into some trouble this year when trying to procure pumpkin for its popular seasonal release "Wick For Brains." Their normal supplier said that they could fill the order for 5,000 pounds of puree, only to go back on their word. "We did end up finding a supplier, but not until after a few years were dropped from my lifespan trying to figure things out," Nebraska president and co-founder Paul Kavulak told Draft.
Virginia's Hardywood Park Craft Brewery also found themselves in dire straits a month ago when trying to refill an order through their pumpkin purveyor. They usually rely on local crops from Virginia farmers to make up about 50 percent of their inventory, but poor weather conditions put their production in a bind as well. They had to talk to numerous suppliers before finding on out of Florida with some puree that they would part with."I was able to patch it together this year and I referred this supplier to a couple other Virginia breweries that I'm friends with," head brewer Brian Nelson told Draft. "We'll be fine this year, but I know there are other small breweries scrambling. And I hear it's not only in the brewing industry but in the culinary industry as well."
Lovers of pies and jack-o-lanters should be fine this year, but with another problematic harvest sweeping the East Coast, we could be facing dark times come fall of 2017. Luckily, pumpkin spice lattes use slim to none of the actual gourd.