The 'Glee' Reunion You Didn't Know You Needed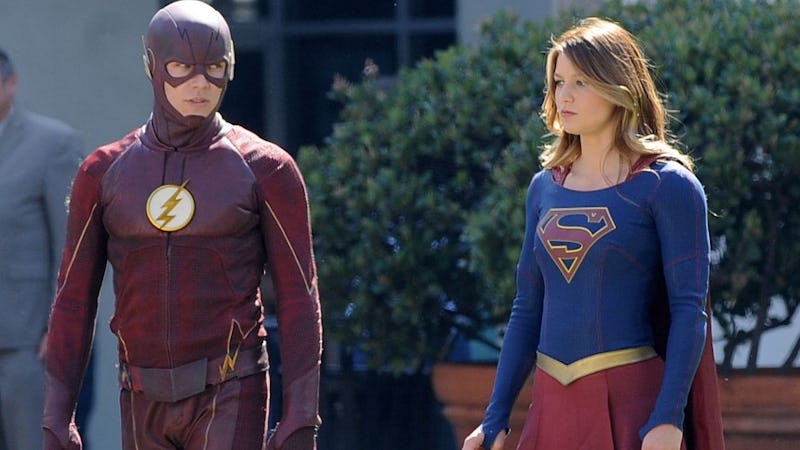 Fans of the DC Comics television universe no doubt love tuning in for the weekly adventures of the Flash and Supergirl. But there's something particularly special about what happens when Barry Allen and Kara Danvers unite to fight those hellbent on destroying the planet — which is exactly what they did during the freshman season of Supergirl in the episode "World's Finest." The Flash's trip to National City way majorly exciting for fans who were waiting for these two to fight crime together, or really, just banter about the perks and drawbacks of having superpowers. It's no surprise then that, with Supergirl officially moving from CBS to The CW, the two shows will once again cross over. However, it won't be the same song and dance as the initial episode — quite literally. Supergirl and The Flash will cross over in a musical episode, and it'll give Glee fans major flashbacks.
The good news comes from the Television Critic's Association press tour. According to the executive producers of all four of The CW's superhero shows — Arrow, DC's Legends Of Tomorrow, The Flash, and Supergirl — a reunion between Kara and Barry will consist of two musical crossover episodes. According to executive producer Greg Berlanti, the musical pair of episodes will be featured "in the back half of the year between Supergirl and The Flash," and have "at least one original song per episode." Also of note: This will also reportedly be different from an upcoming November episode which will combine all four of the superhero series for an epic crossover. According to Berlanti, some songs will possibly take place in the character's heads, like every great onscreen musical.
Of course, there are so many reasons to be excited for these two episodes, but I'm particularly hyped by the fact that it's reuniting two former Glee actors in music once again.
Fans of the superhero shows may have already recognized the stars as former characters on Fox's musical dramedy Glee. Both Melissa Benoist, who plays Kara/Supergirl, and Grant Gustin, who plays Barry/the Flash, appeared on the series in later seasons of the show as vastly different characters from their new superhero alter egos. Benoist played the appointed "new Rachel" Marley, who loved Christina Perri ballads and newsboy caps. (Most fans preferred the former. Just saying.) Gustin played Sebastian, a Warbler and general jerk who sang a very intense Michael Jackson duet with Santana.
It's exciting to see that these actors are going to be executing a totally different super power in the upcoming CW season: the ability to slay us with their vocal ranges.
Can it please be fall already?
Image: CBS