Simone Biles Could Easily Be Woven Into 'PLL'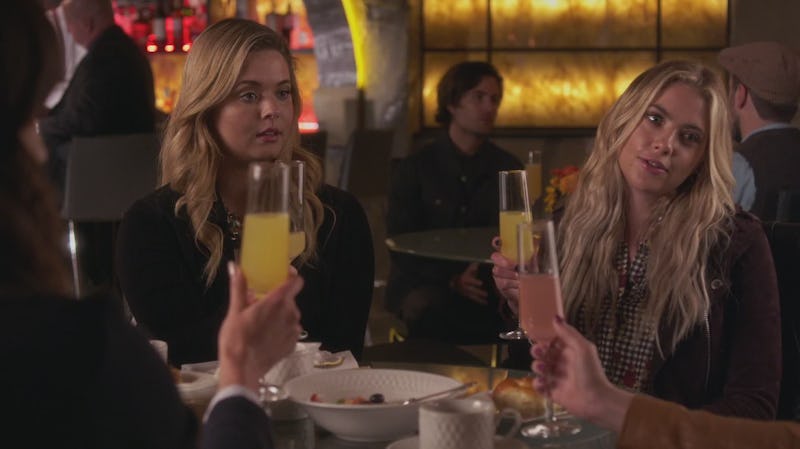 Simone Biles: gymnast, gold-medal-winning Olympic athlete and now Pretty Little Liars' latest cameo star? Pretty Little Liars' showrunner I. Marlene King tweeted at Biles following the gymnast's pro performance at the Rio Games 2016 and invited her to come and make a cameo on the show. Biles' answer was, obviously, a resounding yes. King's second tweet suggested it wasn't an empty promise but something that's (fingers crossed) taking place: "So proud of you and the #FinalFive. See you in Rosewood @SimoneBiles @PLLTVSeries #Rio2016 #usagymnastics #PrettyLittleLiars." Which leads to the obvious question: have I. Marlene King and the writers already thought up some ways they can work Simone Biles into the Pretty Little Liars plotline?
If not, they should breathe easy. I've got you covered, Pretty Little Liars scribes. Season 7 has been notable for the sheer quantity of loose ends the show is leaving trailing — something that was kind of unexpected, given that this is Pretty Little Liars' final season. But when the world gives you lemons, make lemonade. While these loose ends are going to make life hard for the writers in terms of resolving unanswered questions, they do make it easy to incorporate a celebrity cameo or two.
1. She Could Be One Of The FBI Agents Who Found Nicole
You can't fault Pretty Little Liars for a lack of telenovela-level excitement. In Season 7 Episode 7 "Original G'A'ngsters" (that title, though), Aria and Ezra are about to fly off to Tuscany to get hitched when there's a knock at the door. Obviously, it's the FBI. Obviously, they're showing up just as Aria and Ezra are about to find romantic bliss together to let Ezra know that the former love of his life, Nicole, who was presumed to have been murdered in South America has been found. But so far we have no idea who found her or how they found her. Simone Biles could logically star as the prodigious FBI talent who found her all this time later.
2. She Could Be A.D.'s Accomplice
Over the Pretty Little Liars years, both As rarely operated completely solo. Whether they blackmailed or persuaded their accomplices to help them, they usually had other people supporting their efforts: which makes sense, because being A (or in this case, A.D.) is a full time job, requiring the surveillance of five different women at all times.
We recently learnt that Mary Drake had a second child who would now be the Liars' age, and we're being lead to believe that this second child is A.D. If A.D. isn't blackmailing, but is friends or lovers with their accomplice, then Biles would make sense as an accomplice in terms of age. While the actresses who play Spencer, Emily, and Aria are in their late twenties-early 30s, and Simone Biles is only 19 years old, bear in mind that Sasha Pieterse, who plays Alison, is just 20 years old. I bet you've hardly noticed Alison and Spencer's almost 11 year age gap, right? Which just goes to show: with the right styling and makeup, they could make Biles look of a convincingly similar age to the girls.
3. Biles Could Be Emily's New Love Interest
Historically, the show hasn't liked to leave any of the characters flying solo for too long. Which makes Emily's unusually long stint as a single lady who is totally disinterested in dating pretty notable. While I'm all for Emily doing her own thing until they figure out who A.D. is, since romantic partners usually just mean that the current "A" is more easily able to control the Liars, I don't see the show letting her end the series single. Presumably people would be most excited if Biles had a cameo which allowed her to show off her athletic talents. Given Emily's propensity for seriously sporty ladies (how many swimmers has she dated now?), this cameo's a no-brainer. I could see Biles in the role of a student who's at a college near Rosewood and who has some sort of sports-based scholarship. Let's be real, gymnastics would make sense.
4. She Could Be One Of Emily's Mom's New Friends
One of the more peculiar moments in "Original G'A'ngsters" took place when Emily persuaded her mom to come to her work to celebrate her birthday with her over dinner. But her hopes for a mother-daughter bonding session are frustrated by the riotous hen party celebrations taking place at the same time. After the hens send over cocktails to apologize for the noise, Pam runs off to thank them and ends up having a great time.
The hens all looked really young — closer to Emily's age than Pam's, but they don't seem phased by the age gap and invite her to join their book club. But presumably this kind-of-random storyline is going to go somewhere, because so much of this action-packed episode was devoted to it, and it had little to do with the plot. Will Biles reawaken Pam Fields' sense of fun and happiness that disappeared after her husband was killed in Iraq? This would be a seriously heartwarming plot twist.
Whoever Biles plays, I'm sure she's going to give an Olympic-level performance. But here's hoping the Pretty Little Liars team uses her cameo not just to boost the show's profile, but to tie up one of its loose ends.
Images: Warner Bros. Television (5)