This 'The Get Down' Star Can Sing Everything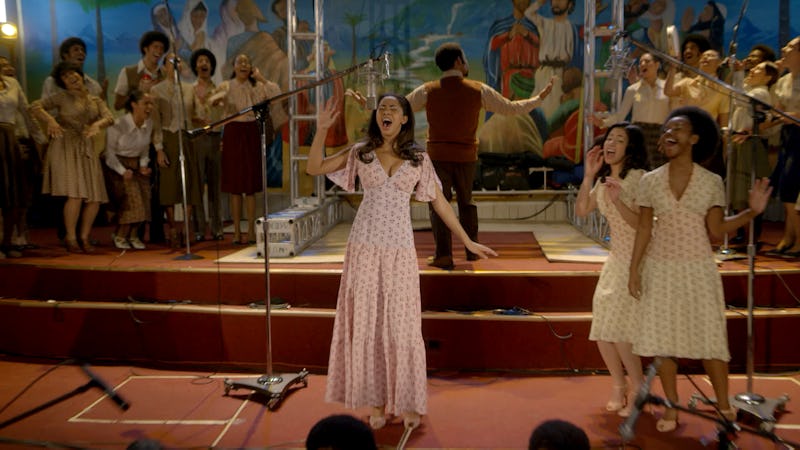 Mark my words — the stars of Baz Luhrman's The Get Down are about to be, well, big stars, especially Herizen Guardiola, who plays Mylene Cruz. [Minor spoilers ahead.] The first six episodes of The Get Down (the second six come in 2017) partly follow Mylene as she tries to escape from her very conservative household in order to be a disco star a la her idol, fictional singer Misty Holloway. This means that Guardiola sings a lot of gospel and disco music, but The Get Down' s Herizen Guardiola is a phenomenal singer, which viewers know from listening to Mylene's song "Set Me Free" from The Get Down soundtrack, performed by Guardiola. But, the actor sings more than just disco in real life.
The Get Down is set in the turbulent Bronx in the late 1970s, but Guardiola's audition song was something a little more modern than that. According to Vogue, she auditioned for creator Baz Luhrman's project with "Fallin'" by Alicia Keys, and she must have had exactly what Luhrman was looking for, because she nailed the lead role of Mylene. To be Mylene, Guardiola had to learn all about disco, but by the end of the project, she was nearly an expert on the subject. She told Vogue, "I'm kind of a tomboy, so I had to learn how to be graceful and really girly. [Donna Summer]'s majestic in the way she moves and glides across the stage, and she just has this sexiness about her that I had to cultivate."
I'd say she does it, because it's hard not to watch Guardiola on the screen, especially when she's performing her character's hit. Right now you can listen to "Set Me Free" via Apple Music, according to Entertainment Weekly, or purchase the song through the iTunes store.
But disco and gospel aren't all Guardiola does — she did have a voice before The Get Down, after all. A quick look at her Instagram shows that Guardiola has the pipes to settle down in whatever musical genre she chooses.
"I See Fire" By Ed Sheeran
How does she make a song that was written for a Hobbit soundtrack sound like a modern-day ballad? TBH, I'll take Guardiola's version of this song any day, and I'll take that "B*tch, don't kill my vibe" beanie, too.
"Pillowtalk" By Zayn Malik
Admittedly, this song is my jam of 2016 (not even just so far — I'm not sure anything will top it), and Guardiola does a powerful version of it. Zayn's track is soft and kind of lilting — Guardiola's is a "make-you-love-me" ballad that I'd love to hear on the radio. And bonus points for it being a capella.
"I Can't Make You Love Me" By Bonnie Raitt
Speaking of "make-you-love-me," there's not one great singer in the world who hasn't done a cover of this Bonnie Raitt song. Why? Because it's iconic. It's painful and beautiful and there's this amazing sense of longing in it that most songs can never dream to touch. Guardiola's soft piano version is totally gorgeous.
"Youth" By Daughter
Guardiola can even go indie! I love that she can just pick up a guitar, learn a song, and sing it on her social media. I have very little musicality, so this is operates on a level I can't fathom.
"Take Me To Church" By Hozier
I wish that Instagram videos were longer, because I'd love to hear Guardiola take on the bridge in this song.
I know Guardiola studied Donna Summer for her role as Mylene, but she certainly doesn't have to study for any other musical genres — she's got talent in her DNA.
Images: Netflix (2)