'The Get Down' Will Be Split Into 2 Parts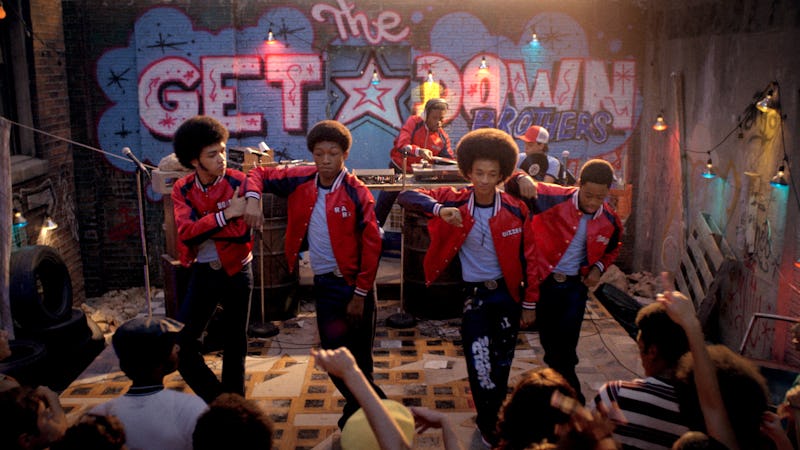 Netflix is doing something a little different with its hiphop series from Baz Luhrmann, The Get Down; the show is being offered in two parts. When is Part 2 of The Get Down premiering? In a rare move for the streaming platform, we're going to have to wait for more.
According to an official Netflix press release, the second half of Season 1 will premiere in 2017 — but there isn't a specific date at the moment. This isn't the first time that Netflix has eschewed the "full season dump" streaming method, even though that is what Netflix is known for. The YA series Between released episodes on a weekly basis, like network shows, and what we'll all be telling our grandchildren used to be how television was "in the olden days," am I right?The Get Down is doing something that splits the difference, almost literally. We're used to shows, mostly on AMC, splitting seasons down the middle in two parts. Outlander did a similar thing as well with its first season.
This is an exciting prospect from the show. Sometimes, streaming series are criticized for pacing problems, losing energy towards the middle, and not being able to respond to audience and critical feedback while developing the full season. The Get Down debuting in two parts means the second half can adjust accordingly to audience feedback before it hits Netflix in 2017.
So, we have to wait until next year to see the conclusion of the series. Luckily, there will be plenty of other Netflix series and seasons debuting in 2016 to tide you over until The Get Down returns to finish out the season. Narcos has a second season debuting soon. There's Luke Cage coming at the end of September. Haters Back Off and the new Black Mirror are premiering in October. A little show called Gilmore Girls: A Year In The Life will hit your screens over Thanksgiving weekend. Lovesick, the delightful series formerly known as Scrotal Recall, returns for Season 2 in November as well. There is so much amazing content to watch on Netflix this year, you'll be plenty busy waiting for the return of The Get Down.
Images: Netflix (2)