This Olympics Interview Is Comedy Gold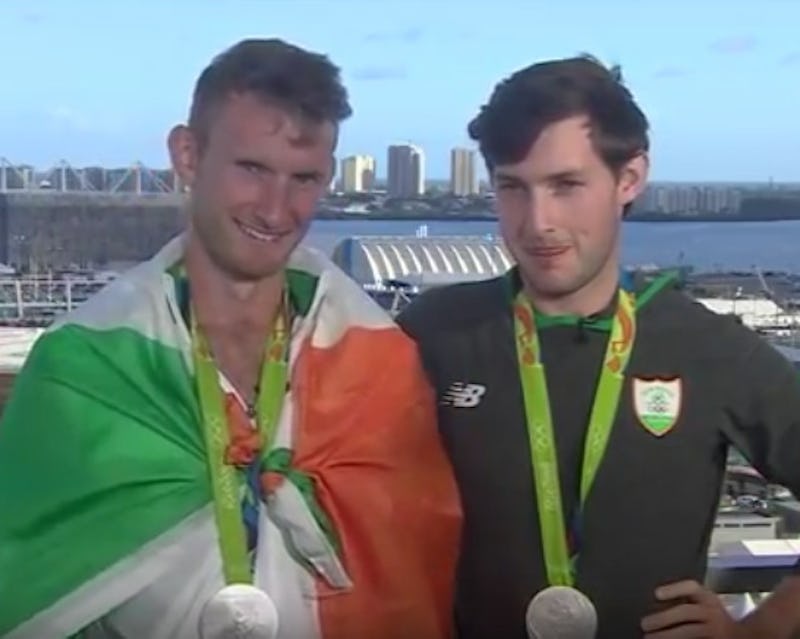 One of the greatest things about watching the Olympics is seeing the truly awe-inspiring strength, skills and drive of the competing athletes. If, as I've been doing, you've been watching hour after hour of sporting events from your couch whilst polishing off a family-sized bag of chips, then it can be easy to forget that these athletic superstars are still human. (Even if they don't do it like I do, aka filling up on junk food in their sweatpants all day.) So I'm all for healthy reminders that these athletes are just like us deep down. With that in mind, allow me to introduce you to this beyond funny interview with Irish rowers, the O'Donovan brothers.
Speaking with Irish news channel RTE following Paul and Gary O'Donovan's silver medal win in the men's lightweight double sculls, the rowers began proceedings by casually chiming, "What's the craic?" before delivering an interview more than worthy of a gold medal in comedy. Beyond excited at their win, and clearly tickled by the fact that, yes, they're really in Rio (they confirm that the background they're talking in front of may "look false" but that it's totally real), the Olympic stars go on to discuss how they feel about being winners.
Though they were glad to be celebrating, they revealed that they were both suffering a bad case of FOMO since everyone else they knew would probably be "in the pub at home" celebrating their win without them. Some other chuckle-worthy statements involve them discussing how they put on their "podium pants" to receive their silver medals, and drinking 10 liters of water to "pee in a cup" for a urine test.
Seriously, I love them. Like, can someone give them their own sports commentary show already? Because I'm so ready to watch it. But, all comedy interviews aside, who are the O'Donovan brothers? Well, Paul and Gary have actually become sporting legends in Ireland, and for good reason: It isn't just the fact that the O'Donovan brothers are Ireland's first Olympic rowing medal winners ever, but their tremendously charming underdog story which brought them to the Rio Olympics in the first place, which has garnered them attention.
As reported in an article by the Irish Times, after falling in love with rowing at a young age thanks to their father, who would take them out rowing as children, Gary and Paul went on to become part of a rowing club coached by Dominic Casey. Casey, it's worth noting, is also the coach who has trained them to their current Olympic glory. Their formative years rowing were a little uneven, including a sanction for Gary after he apparently enjoyed a few too many drinks and missed a race while brother Paul was making a name for himself. However their dedication to the sport soon became as great as their rowing skills, and they set out to make a name for themselves on a global level.
Their first major competition, the European championships, saw them finishing fifth in the A final, whilst success at the 2015 Rowing World Cup and the World Championships which followed would see them defying their outsider status to claim success which would qualify them for the Rio Olympics (they placed 13th at the World Cup and 11th in the World Championships).
In Rio, the O'Donovan brothers' Olympic performance was nothing short of heart-stopping. At the halfway mark of the race they were placed at fifth, only to power through and finish second, winning the silver medal in an impressive six minutes and 31.23 seconds.
With a story like that, is it any wonder that the wise cracking brothers have managed to win the hearts of the entire world? I think not. Now, if everyone over in Rio can just make sure to grab as many more interviews with these two Irish wonders as possible, then that would make this couch potato endlessly happy.
Images: Gavinsblog/YouTube