'Star Wars' Fans Have Lost One Of The Greats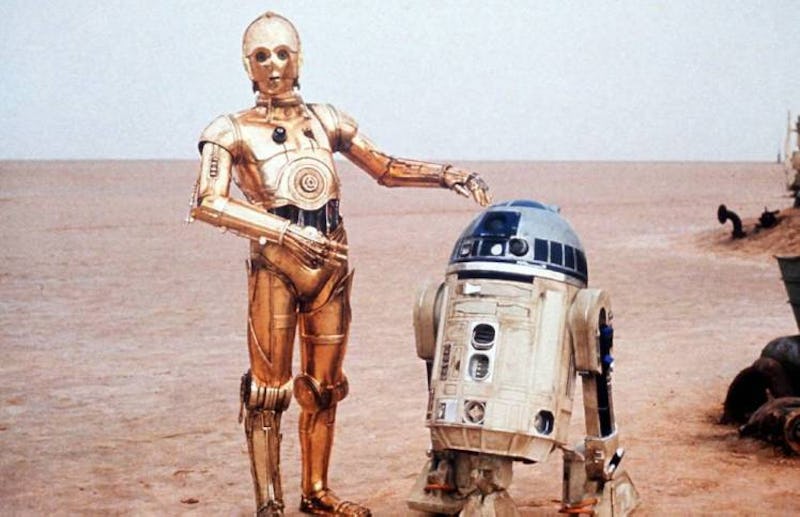 In tragic news, The British actor best known for his role as R2-D2 in the Star Wars franchise, Kenny Baker, has died. According to the Guardian, Baker passed away at the age of 83 following an illness and complications with his lungs. His niece Abigail Shields confirmed the actor's passing, and stated, "It was expected, but it's sad nonetheless. He had a very long and fulfilled life. He brought lots of happiness to people and we'll be celebrating the fact that he was well loved throughout the world. We're all very proud of what he achieved in his lifetime."
I can't help but agree with Shields: R2-D2 wouldn't have been R2-D2 without Baker and so few people create a seriously enduring, iconic character in cinema over the course of a lifetime. Baker first rose to prominence when playing R2-D2 for the first time in Star Wars: Episode IV – A New Hope (1977), and he continued to play R2-D2 in The Empire Strikes Back (1980), Return of the Jedi (1983) and in the Star Wars prequels that ran from 1999 to 2005. The three foot, 8-inch tall actor was also a mainstay of your favorite 1980s movies, appearing in films like The Goonies, Time Bandits and Flash Gordon.
So, let's both commiserate the passing of a much-loved talent and celebrate his work with the most memorable R2-D2 clips on the web.
1. The Clip That Proves How Indispensable R2-D2 Was To His Friends
Because without R2-D2, would Luke, Han and Leia have made it?
2. The Clip That Shows The Two In R2-D2 Stood For How Many Droids He Could Take Out At Once
Because two's company, but three's a crowd.
3. The Clip That Shows R2-D2 Was The Only One Who Knew What Was Up
That moment when your goofy friends embarrass you yet again.
4. The Clip That Gave Us All The Emotions, Aka BB-8 Brings R2-D2 Back To Life In The Force Awakens
Forcing... back... feels. So beautiful.
5. The Clip That Suggests R2-D2 Was Spunky As Hell
In Revenge of the Sith, R2D2 tries to take on robots a whole lot bigger than him. Say what you want, but that droid had serious moxie.
6. The Clip That Shows You The Man Inside R2-D2
Baker, who spoke about his time as R2-D2 at length in the undated interview above (I would speculate it comes from 2005 thanks to the opening line of the interview, which credits Baker as being in "all six Star Wars movies"), always seemed inspired by the overwhelming devotion of Star Wars fans. In the interview, he talked about a fan "camping out on the pavement" outside a cinema five or six weeks before the next Star Wars movie dropped. He argued if he had known how big Star Wars would have been, he "would have done it for nothing because George was broke at the beginning, didn't have a penny."
It's hard to imagine anyone else making a droid one of the most human and sympathetic characters of the franchise. Rest in peace, Baker.
Images: Universal Pictures