14 Cheap Things That Will Make You Feel Fancy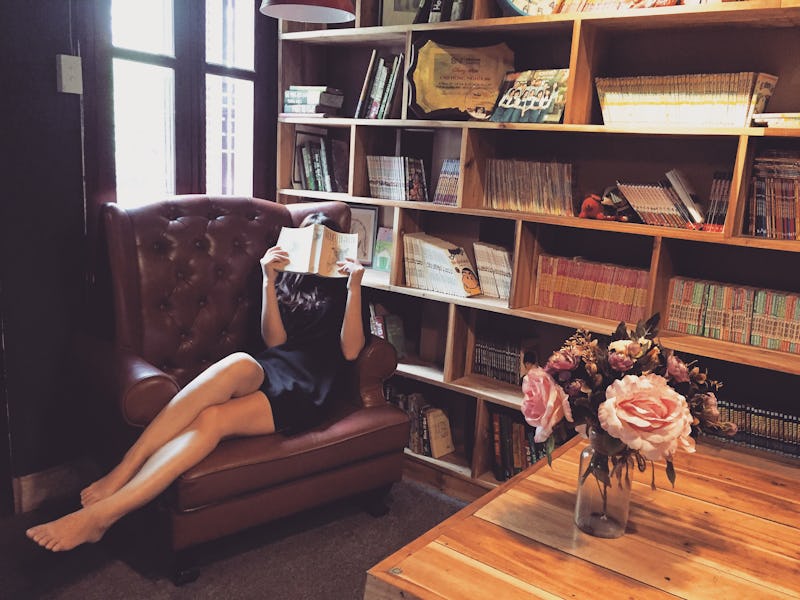 I look back at pictures of my college dorm and cringe. Why did I think I was adequately showcasing my newfound freedom and maturity with a Lord Of The Rings poster? Whether you're updating your bedroom or overhauling your beauty products, brushing up on cheap ways to make it seem like you're fancy can help you to outgrow your childhood tendencies and make your home feel more expensive on a budget. You might even be inspired to throw the type of dinner party where your friends swish wine around in a glass and twirl their mustaches. (Pro Tip: Get friends with mustaches.)
When I walk into the house of a full-fledged adult (or someone who's really good at faking it), there are normally three solid indications that this person is knows how to act sophisticated and mature: Things actually match, things smell really good, and things are pretty, yet functional. It also doesn't hurt if their laptop is open to a page of stock trades and they've got a collection of thriving plants they've managed to keep alive somehow. If you're looking to switch up your style and space so others are floored by your mere adultness, but you want to revamp your look on a budget, check out these easy and inexpensive tips for feeling fancy.
1. Actually Match Your Shampoo & Conditioner For Once
Art Naturals Organic Moroccan Oil Argan Oil Shampoo and Conditioner , $25, Amazon
You always run out of shampoo before conditioner, so you replace it with a different brand, and so starts the endless vicious cycle of non-matching shampoo and conditioner bottles. No more! Reset the cycle with the best-selling shampoo and conditioner set on Amazon right now (1,090 positive reviews). This set is formulated with shine-inducing argan oil and vitamin E, which will have your hair looking its healthiest.
2. Filter Your Shower Water
ZenFresh Filtration Shower Head , $16, Amazon
Thought those 20 minutes of steamy shower time couldn't get any better? Think again! This shower head uses bioactive mineralized stones to purify water, leaving your skin less dry by the end of your routine. One reviewer even said, "It is the best showerhead in the entire house. I am going to order another one for my other bathroom."
3. Just Monogram Everything
Monogram Initial With Swirls Sticker Graphic, $28, Amazon
Do yourself a favor and switch out that Audrey Hepburn poster for a fancy handmade sticker decal baring your initial. After all, nothing says 'fancy' quite like a personalized monogram. These handmade decals can be placed on wood, tile, windows, glass, and more, and can be custom sized by the Missouri based artisan to fit your wall.
4. Give Your Dresser A Quick Makeover
10pc Glass Cabinet Pull , $7, Amazon
Want to give your old dresser drawers or kitchen cabinets a quick makeover on the fly? Instead of stripping the paint or overhauling your decor entirely, just switch out the drawer pulls! This 10-piece glass cabinet pull set is a sleek way to make your old bureau look way more sophisticated.
5. Get At Least One Matching Set Of Towels That Won't Fade
Ibestuff Ultra Soft Fade-Resistant Bamboo Towel Set, $20 (Was $24), Amazon
Nothing says "#adulting" quite like a mismatched combination of adult towels and Disney beach towels from your childhood. A high-quality set of matching towels, like this Ibestuff fade-resistant bamboo towel set, immediately boosts your sophistication levels. These ones are easy to care for because you can machine-wash them without fading, and because they're made from 75 percent bamboo, they're ridiculously soft and way more absorbent than your usual towels.
6. Get The Blowout Feel
Living Proof Blowout Styling & Finishing Spray , $16, Amazon
While an actual blowout will make you feel quite fancy indeed, its cost will have the fancy price tag to accompany it. For half the price you can give yourself a blowout whenever you want — this spray is formulated to protect hair from the heat of your blow dryer, helping you get smooth, frizz-free results any time you want.
7. Keep Your Space Smelling Fresh And Clean
Activated Charcoal Natural Air Purifier Bag, $11 (Was $20), Amazon
This activated charcoal natural air purifier bag is a number one new release because it uses activated charcoal to absorb any weird smells, moisture, or allergens in the air, sans chemicals and while looking particularly trendy. Keep it in your bathroom or hang it in your doorway to make sure that things smell fresh and crisp all the time. Yes, even if you have cats.
8. Update Your Furniture With A Marble Finish
Grey Marble Adhesive Film, $8, Amazon
If you've got a surface that needs an update (like a bedside table or a desk) this grey marble adhesive film is an inexpensive way to give your furniture a makeover. It's made from durable vinyl that easily adheres to most flat surfaces, and it makes for a fun DIY project because it's super simple to use.
9. Get A Matching Dinnerware Set
Gibson Couture Bands 16-Piece Dinnerware Set, $45, Amazon
Being able to entertain up to three friends with mugs, plates, and bowls that all match is basically the pinnacle of adulthood. This Gibson 16-Piece dinnerware set comes with a set of four stoneware necessities that are dishwasher safe and look modern and mature. Reviewers love them because they're stylish, strong, and really hefty for the price.
10. Serve Your Wine In A Decanter
Sagaform Wine Carafe with Oak Stopper, $30, Amazon
Transfer your favorite boxed wine to this Sagaform wine carafe with oak stopper before you have company, and prepare to impress. It's hand-blown, dishwasher safe, holds 67 ounces, and has a really cool spherical stopper that's both aesthetically-pleasing and really functional.
11. Throw Throw Pillows Everywhere
Phantoscope New Living Decorative Throw Pillow Cases, $26 (Was $36), Amazon
Adults throw pillows on stuff. Couches, benches, sometimes purposefully on the floor — it's just a fact of life. These Phantoscope decorative throw pillow cases give your space a trendy yet mature finish, and because the designs are painted on man-made silk and you can fill them with any inserts you'd like, they feel as great as they look.
12. Give Your Backyard A Whimsical Vintage Feel
Deneve Backyard String Lights, $20, Amazon
Even if your yard is outdated and overgrown, an awesome set of vintage string lights make it seem like it's all part of the charm. This set is 25 feet long, energy efficient, waterproof, durable, and have end-to-end connections, so you can attach up to three strands. They'll also still work if one bulb blows, so you don't have to check every single one to see where the weak link is.
13. Keep Your Own Kitchen Herbs On The Wall As Decoration
Four Season Micro Planter Cylinder Season, $12 (Was $50), AmazonWhile the two might initially seem unrelated, absolutely nothing says, "I do my own taxes" quite like growing your own herbs. This hanging planter features a vertical growth system, which is a good call for tiny spaces.
14. Nothing Says "I'm Fancy" Quite Like Crown Molding
Crown Molding Styrofoam, $27 (Was $35) for 4.25 ft, Amazon
Crown molding is the icing on top of an interior decorating cake, and this styrofoam crown molding makes it possible for you to fake it 'til you make it. As long as none of your dinner party guests get too close, no one will be the wiser.
Bustle may receive a portion of sales from products purchased from this article, which was created independently from Bustle's editorial and sales departments.
Images: Hoang Bin/Pexels; Amazon (14)