9 Plus Size Lolita Blogs For All-Inclusive Kitsch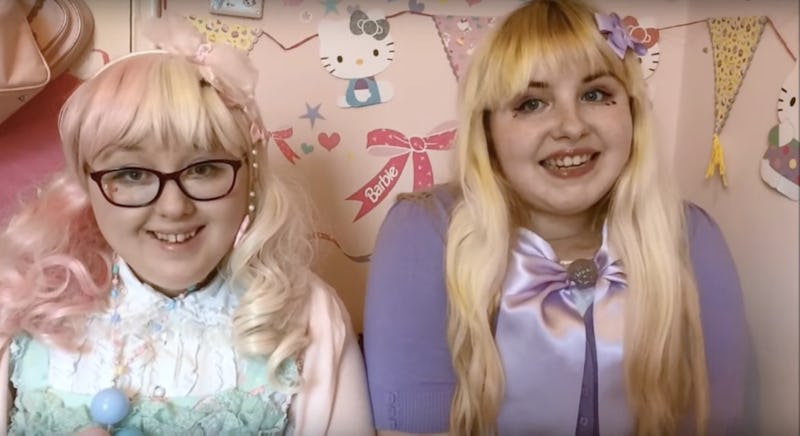 I don't claim to understand the Lolita aesthetic, but I appreciate it nonetheless. The investment, the dedication, and even the cost of this look make for a style I would never be able to recreate personally. But that is why plus size Lolita blogs are so important for folks of size hoping to rock the look. While great for tips and tricks to achieving Lolita wears while plus size (Lolita being a style originating in Japan and rooted in kitschier takes on Victorian and Edwardian staples) these blogs also offer representation and inspiration for plus sizers on the scene: A scene that, along with cosplay, has been called out for its arguable perpetuation of fat-phobia on a well-known blog in the fatosphere, This Is Thin Privilege.
As for me, I'm definitely here for celebrating those who fight against societal stigmas simply by existing. These plus size Lolita blogs do more than just exist, though. The bloggers actively post about their experiences as plus size humans in the community. It's an act that is commendable, to say the least, and one that I think deserves to be recognized.
If you're on the hunt for some cool fashion bloggers trumping stereotypes, you've come to the right place. Here are nine Lolita bloggers and vloggers proving the fat haters wrong.
1. Peculiarly Moll
Kelsey Ryan of Peculiarly Moll not only features Lolita fashion, but the blogger's vlogs and art as well. You can even buy a personalized portrait from the young artist. It's an insight into the life of a Lolita lover and a reminder that adoring this style doesn't have to be the only facet of your personality and interests.
2. The Lace Loli
Gothic Lolita Tiered Dress, $72, fanplusfriend.com
Although The Lace Loli hasn't been updated in two years, it's still a goldmine for cute Lolita style tips and reviews from a plus size gal. This is specifically a blog for plus size Lolita fans rooted in the recommendation of amazing items for your wardrobe. The dress above is just one of the gems that The Lace Loli has shared with us.
3. Petticats
The super cute duo of Haz and Nat runs an amazingly sweet lifestyle blog that follows their forays into all things kawaii and Lolita. Petticats is also the name of their joint vlogging channel, where the pair talks about their day-to-day, dissects issues within the Lolita community, and offers tutorials.
They also have a super cute Etsy shop, where they sell different kinds of kawaii jewelery. Basically, Petticats is an all-around kind of blog that should be on your follow list regardless of your size.
4. Part Time Lolita
Girly Rose Parasol, $106, tokyorebel.com
Although Part Time Lolita stopped posting in 2010, it still offers great insight into what it means to be plus size in the Lolita community. As well as sharing some great and honest fashion reviews, this blogger gives plenty of tips specifically about surviving while plus size in the world of Lolita. The parasol above is just one of the items that the blog recommends.
5. Kitty Time
This mom is a huge Lolita fan and her YouTube channel dates back to 2008, meaning it houses plenty of awesome videos about all things Lolita. I often prefer vlogs to blogs as I feel like I can engage with them more. If you're similarly-minded, Kitty Time is the perfect channel to subscribe to.
6. Parfait Doll
Strawberry Kitchen Maid Skirt, $116.50, devilinspired.com
Parfait Doll is a blog that is professional AF and extremely popular. This New Yorker's site has been going since 2008 and prides itself on its feminist stance on Lolita style — and so it should, because finding empowerment in your fashion can be an incredibly important skill. The above dress is a super cute find that the blog reviewed recently.
7. Branther
In 2015, YouTuber Branther posted a 20-minute long video discussing and detailing how to dress Lolita as a plus sizer. In the time since, this vlogger has uploaded haul vids, lifestyle ones, and pretty much anything you could connect to the Lolita lifestyle. It's a super cute and informative place that deserves your subscription.
8. Plus Sized Petticoats And Bows
Starlight Of Serenity Dress, $285, haenuli.storenvy.com
This blog is a collaborative effort between a number of plus size Lolitas. The site is incredibly informative, with plus size-specific tips and tricks for finding and rocking Lolita style. Even as an outsider to Lolita culture, I adore this blog for its dedication not only to the aesthetic, but to sharing how to achieve the aesthetic as a plus sizer. The dress above is one by blogger Tilly's favorite brand Haenuli.
9. Melty Bunny
Melty Bunny's guide to plus size Lolita is easy to read and easy to follow. While this blog is more lifestyle than Lolita currently, tracking through its history will bring you plenty of amazing Lolita posts to peruse at your leisure.
The pursuit of all things Lolita as a plus sizer isn't always easy. But with these tips and fun lifestyle posts, you'll hopefully find some inspiration in the pursuit of the aesthetic.
Images: Petticats/YouTube (1); Courtesy Brands