Adorable Honey Maid Ad Depicts Adorable Gay Family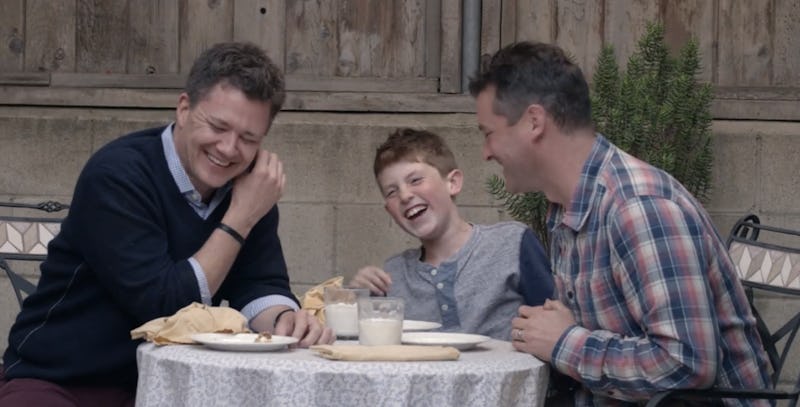 As more gay characters make their way onto television shows, so follow the commercials, and a new Honey Maid ad is the latest to welcome LGBT characters into the mix. This year, Coke became the first company to feature a gay family in an advertisement during the Super Bowl, but one of the oldest gay-friendly ads dates back to a 1994 Ikea commercial. It's awesome to see mainstream advertising supporting the LGBT community.
Sometimes, though, these commercials tend to rely on outdated stereotypes and tropes of gay people, which isn't exactly progress. This year, though, may be the year we finally see more and more brands begin to highlight gay couples in their advertising in a positive way. Coke's ad was largely well-received, and the Honey Maid's "It's Wholesome" campaign is the latest attempt from advertisers to reach out to gay families.
The video, which you can watch below, is incredibly sweet. Two fathers, "Dad" and "Papa," tell the story of their relationship and the adoption of their two children. It's predictably adorable, and if you don't tear up a little bit, you may actually be made of stone.
At Slate, Mark Joseph Stern argues that the inclusion of gay families in advertising is an extremely important reminder that they are just like most other families — mostly happy, and extremely normal. "In an era when gay life is so intrinsically political, it's wonderfully refreshing to see a gay family go about the simple business of everyday life with such normalcy. We're so used to hearing about pain and persecution that when a little boy in a graham cracker ad says "We'll always share our best and worst of the day — it's usually hard to come up with a worst," his sweet innocence registers as almost unbelievable," writes Stern.
The cynic in me wants to think that these companies are just finally catching on to the idea that gay people are an extremely important segment of the market that they've been ignoring for far too long, but maybe the motivations don't matter. Gay families deserve to see media that depicts their lives, regardless of whether or not companies are trying to make a buck off of them.
Image: Honey Maid