Someone Is Dying In The 'PLL' Summer Finale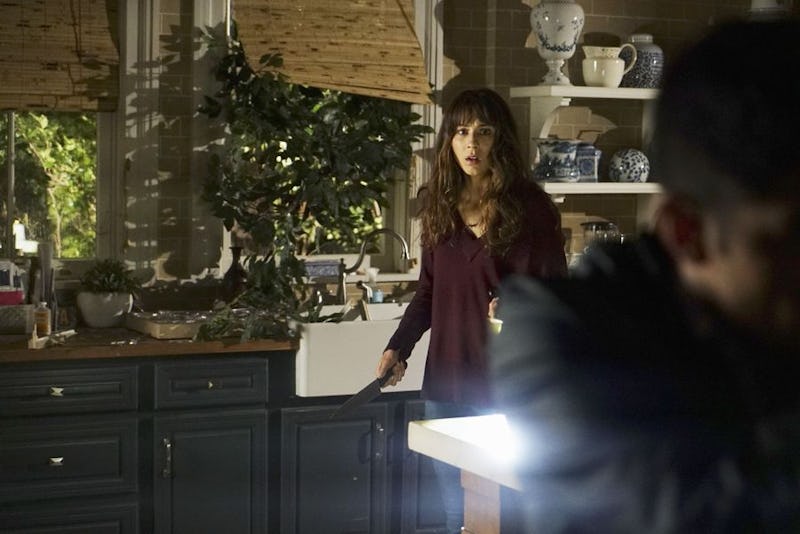 When Pretty Little Liars promised us the deadliest season of the show yet, they weren't kidding. Season 7 of Freeform's mystery drama may not even be halfway through, but the casualties are definitely stacking up. This season we said goodbye to Dr. Rollins and Sara Harvey, two people who were major suspects for Uber A and now are murder victims. (Err, well, vehicular manslaughter for the former, technically.) Now some new information about the Season 7 finale of Pretty Little Liars reveals that the bodies will continue to stack into the final installment of Pretty Little Liars as we know it. According to Freeform's official synopsis for Pretty Little Liars ' Season 7 finale "The DArkest Knight," someone is dying, and the circumstances of their death are seriously insane.
According to Freeform's synopsis, this death involves a fight between the Liars and their enemies, and it sounds brutal:
The Liars face off with their enemies in a chaotic fight that ends fatally. One of the PLLs learns a secret about her past that changes everything while another Liar discovers something about her future that could alter her course forever.
There is so much to unpack in this short synopsis, which makes sense given that this could be the second to last finale in PLL history. Personally, I'm stuck on the first part of this description, because it involves an incident that we haven't seen on Pretty Little Liars ever. A chaotic fight?! That doesn't exactly sound like PLL, a show where the war between the Liars and A is often fought over text messages. In fact, the Liars' enemies are usually so elusive that the idea of a physical fight between them is strange to consider — so who might be biting the bullet in this scenario?
While it's almost impossible to narrow down who could be dying in this finale, this fight might finally mark a real brawl between Jenna, Noel, and the Liars. Jenna and Noel have a vendetta against the girls, though there's likely more to the story than either of these characters have let on. Could Jenna or Noel die in a fight with the Liars?! Though it's hard to imagine any of the Liars or their allies getting into a West Side Story brawl, if someone is dying, it would make a lot of sense for it to be one of these two.
Of course, there is a chance that someone on the Liars' side gets killed in this chaotic fight. That would certainly raise the stakes of the series — and given that a new promo for PLL episode "The Wrath Of Kahn" shows Noel running over Caleb in his car, anything is possible.
My brain is swimming with theories on who could be involved in this deadly fight, but one thing is for sure: the Season 7A finale is going to pack one hell of a punch.
Images: Eric McCandless/Freeform; Giphy