Where To Eat In New Mexico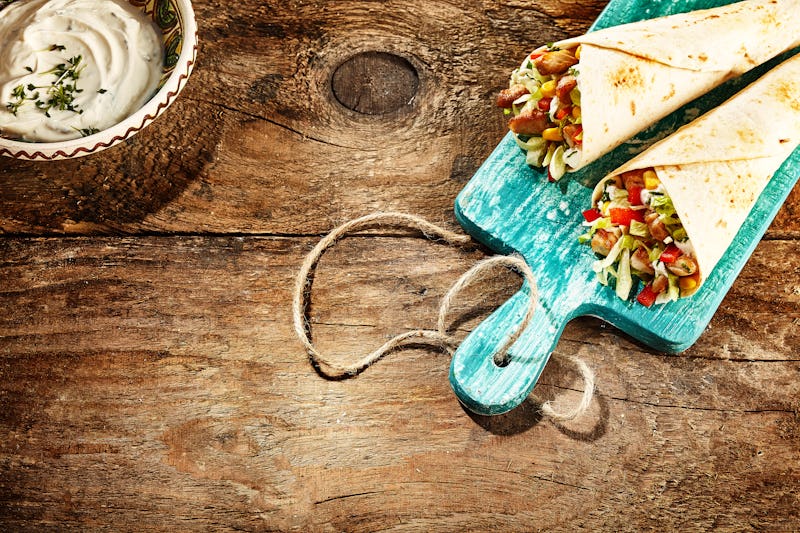 If you're looking for unique Southwestern eats, there's no better place to get your grub on than New Mexico. After living here for four years, I can attest that New Mexican cuisine is a flavorful, fiery treat for the taste buds. Wondering what to eat in New Mexico? If you're someone who can't get enough spice, New Mexico offers seemingly endless options. You'll have your pick of local red or green chile at almost any restaurant, even fast-food chains. Pro tip: When your server asks if you want "Christmas style," they just want to know if you'd like both red and green chile on your meal.
From enchiladas to rellenos, chile is the star of many New Mexican takes on southwestern specialties. But you'll also find its spicy flavor in more unusual places, from pizza to apple pie. If you're braver than I am, you might even try one of the New Mexican microbrews that use green chile as an ingredient.
If you prefer a milder dining experience, don't worry; New Mexico also has tempting delicacies for those who, like me, can't handle the heat. The region's sweet specialty, the sopapilla, is a delicious, fried bread concoction traditionally drizzled with honey and eaten warm. Can you say "yum"? If you find yourself in New Mexico, check out these seven eateries where you can try the Southwest's very best.
This post is sponsored by Nordstrom Rack. The new Nordstrom Rack opens on October 6th at the Winrock Town Center. Get details here!
1. Frontier Restaurant
One of the most iconic Albuquerque dining destinations, the Frontier Restaurant is my go-to stop for fast and tasty diner-style eats that won't break the bank. From the house-made tortillas that come warm from the press to the generous helpings of green chile stew, this is one stop that's not to be missed. If you're still hungry after a big plate of nachos or a chile-smothered burrito, consider trying one of the Frontier's famous sweet rolls — a sugary treat that's bound to satisfy even the most insistent sweet tooth.
2. Cocina Azul
In queso emergency (sorry, couldn't resist), I head to one of Cocina Azul's two Albuquerque locations for a meal that takes advantage of the freshest ingredients New Mexico has to offer. Get there for breakfast and try out the specialty "wa'toffles" — waffles battered and grilled like French toast — or substitute savory for sweet with a big plate of chorizo and eggs. If you prefer to sleep in, there's still plenty left to choose from. Flavorful carne adovada and calabacitas are just a few of the delicious choices to try for lunch or dinner, and, as you might have guessed, the queso is my favorite in town. Just be sure to save a little room for dessert. Like many New Mexico eateries, Cocina Azul includes free sopapillas with every meal.
3. El Patio
When the weather permits, patio dining is available at El Patio. This little eatery is a cozy, intimate dining destination that has been family owned and operated for three generations, and the local pride shows through in the menu. For the ultimate in New Mexican decadence, try one of the savory, stuffed sopapillas, or stick the the classics with an order of homestyle huevos rancheros. If you're vegetarian, try my favorite, the bean burrito plate — simple, filling, and delicious. Insider tip: It does get cooler out on the patio, so be sure to bring a sweater if you're planning on dining al fresco.
4. Sadie's Of New Mexico
It doesn't get much more New Mexican than my go-to brunch spot, Sadie's. With four locations to choose from throughout the Albuquerque area, you'll always be close to a terrific taste of the Southwest. This eatery is a local classic, with blue corn enchiladas that can't be beat. You'll feel right at home in the friendly atmosphere, and if you end up wanting to take a taste of Sadie's home with you, the restaurant's famous salsa is available for purchase at the counter.
5. Mary & Tito's Cafe
For good food without the fuss, Mary & Tito's offers James Beard Award-winning New Mexican food in a relaxed, understated setting. Which means you can eat that award-winning food and still kick it casual in your favorite pair of jeans and a T-shirt. Be sure to try the house specialty: red chile. But really, you'd be hard pressed to make a wrong choice at this cafe. From burritos to enchiladas, carne adovada to rellenos, Mary & Tito's puts out some of the best food that the state has to offer.
6. El Pinto
Indulge your every craving at El Pinto, a New Mexican restaurant that offers anything your heart desires. If you're ravenous from hours of shopping and touring, dive into a rack of this establishment's renowned red chile ribs. For tequila connoisseurs looking for the best New Mexico has to offer, the El Pinto's tequila bar will have all the classics you love, as well as new and rare selections to expand your palette. Unsurprisingly, the margaritas here are exceptional, and there's no better place to enjoy a cool drink at the end of a long day than the restaurant's beautiful covered patios.
7. 66 Diner
Offering classics like patty melts and burgers alongside New Mexican standards like green chile chicken enchiladas, the 66 Diner has a little something for everybody. Whimsical retro decor and friendly, uniformed wait staff might make you feel like you've stepped into another era, and there are countless opportunities for cute, vintage-inspired selfies. Be sure to try one of the diner's amazing, super-thick milkshakes or malts while you're there. These sweet, creamy treats are big enough to share, but after a taste, you might decide you want one all to yourself.
Images: Wikimedia Commons (2), Pixabay (5), Shutterstock (2), El Pinto Restaurant