This Rio 'Sports Illustrated' Cover Is Great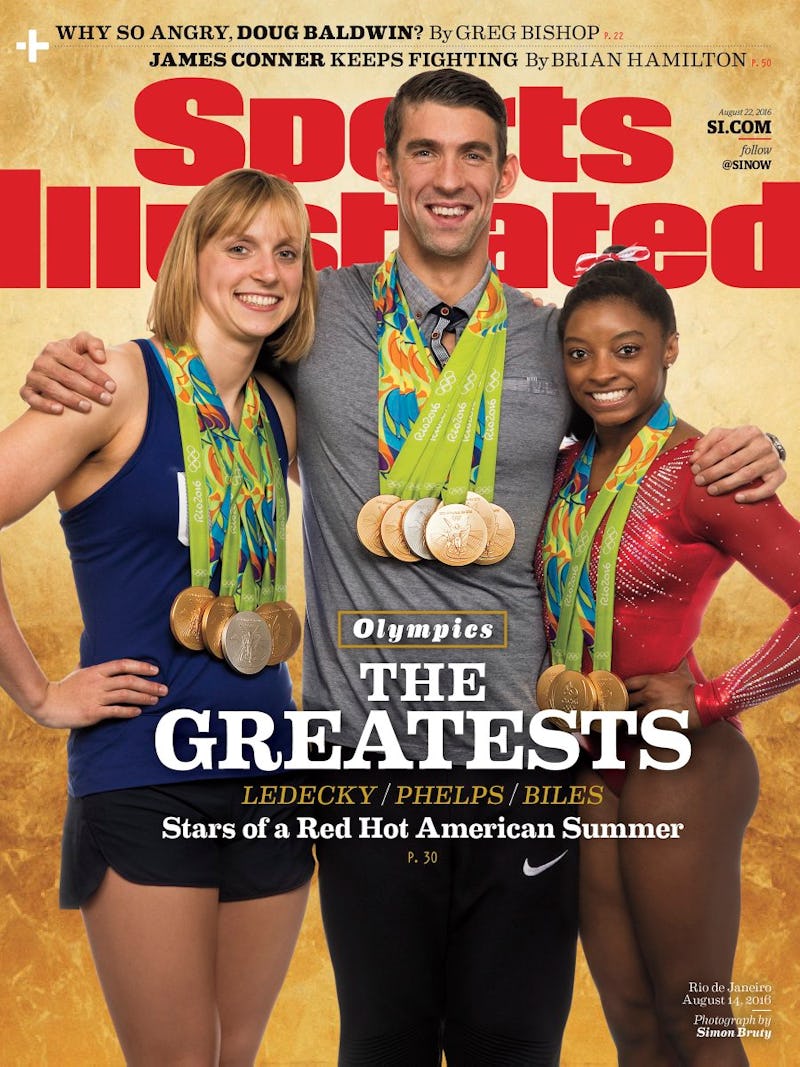 Three of the most celebrated U.S. Olympic athletes got together for the newest issue of Sports Illustrated this week. Katie Ledecky, Michael Phelps, and Simone Biles posed together on the cover of the magazine to show off their medals from Rio. The three most decorated American athletes of these games, two of whom are women, showed that girl power is unstoppable in Rio, and that the next generation of world-famous athletes will feature some amazing women whose path was paved by athletes like Ledecky and Biles. Ledecky's five medals and Biles' four shine on the cover as a reminder of their individual achievements and the legacy they have left in Rio. Both just 19 years old, Ledecky and Biles have long careers ahead of them in competition. The two young ladies have incredible opportunities in the future, and this hopefully isn't their last magazine cover.
Biles and Ledecky's achievements are especially important in this Olympics, which has been plagued by sexist coverage of women's achievements. Ledecky was called "the female Michael Phelps" by The Daily Mail after her world-record-breaking win in the 400-meter freestyle, while Biles and her teammates were reduced to mall-going teenagers by the NBC commentators when they talked on the sidelines during an event. Placing them alongside Phelps legitimizes their athleticism and honors all the hard work they put in throughout their lives to get to where they are now.
Images like this are so necessary because they establish the simple fact that women do belong in sports -- which is sometimes hard to see outside of the context of the Olympics. Although women's events like gymnastics and beach volleyball typically receive the most attention every four years, women's sports are so often forgotten throughout the four years between each Games. Already, pre-season football is starting to make headlines, whereas female professional sports leagues like the WNBA and LPGA struggle to get coverage throughout their regular seasons.
As discouraging as it still may seem to be a woman in sports based on the coverage of the Rio Olympics, the shifting focus and increasing awareness of women's sports and particular female athletes is an encouraging sign. Ledecky and Biles' success in these Games should inspire a new generation of young women to commit to both athletic excellence and creating positive change for female competitors in the world of sports. Images like the one on the Sports Illustrated cover are much more important than many people realize. It will undoubtedly be taped up on bedroom walls across the world, as young women appreciate and strive to emulate the new heroes born by the Rio Olympics.
Image: Sports Illustrated (1)