'The Case Of JonBenét Ramsey' Promo Unveils A Lot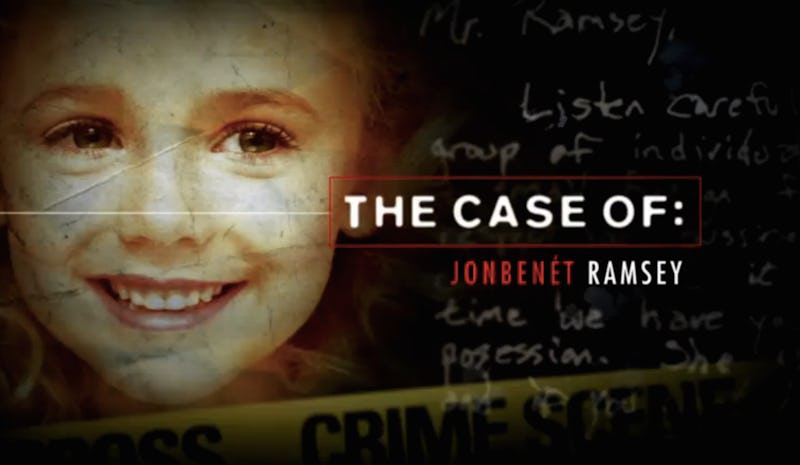 Many of us were too young to comprehend the mysterious case of 6-year-old JonBenét Ramsey's murder when it occurred in 1996. However, as those old enough to follow the case are likely aware, it's been a fixture in the news and unsolved crime shows since it occurred. Now, 20 years older, it still is: CBS' new docu-series, The Case Of: JonBenét Ramsey (for which the trailer just dropped) is set to take another look at the case that's remained unsolved for two decades — and, based off the promo, it promises to shed new light on this case.
The case was a massive one from the start, full of twists and turns. As CNN pointed out, there was a ransom note left when Ramsay disappeared, but it wasn't particularly clear. NBC reported, 10 years after Ramsay's disappearance in 2006, that a man named John Mark Karr falsely confessed to the crime — it was determined by police that there was no evidence connecting Karr to the crime. To this day, the case remains unsolved with no suspects.
The new series, which will run six hours over the course of six days, starting Sunday, Sept. 18 at 8:30 p.m. ET until Sunday, Sept. 25 at 8:30 p.m. ET. It comes from executive producers Tom Foreman and Eddie Schmidt, as well as producer Critical Content, dives into the case Making A Murder-style, and will hopefully answer some of the biggest questions from the case.
According to Hollywood Reporter, several specialists involved with the original murder investigation will appear in The Case Of: JonBenét Ramsey including retired FBI supervisory special agent and profiler Jim Clemente, forensic scientist Dr. Henry Lee, former chief investigator for the District Attorney in Boulder, Colorado (Ramsey's hometown) James Kolar, forensic pathologist Dr. Werner Spitz, and forensic linguistic profiler James Fitzgerald. A few new faces will appear as well — such as Scotland Yard criminal behavioral analyst Laura Richards and retired FBI supervisory special agent and statement analyst Stan Burke.
In the trailer, we learn that the specialists on the Ramsey case are pulling out all the stops to solve the case.
Hopefully, this new docu-series will help lead to an understanding of the mystery behind Ramsay's death.
Images: CBS Corporation