'Get Over It' Was A '00s Classic, You Guys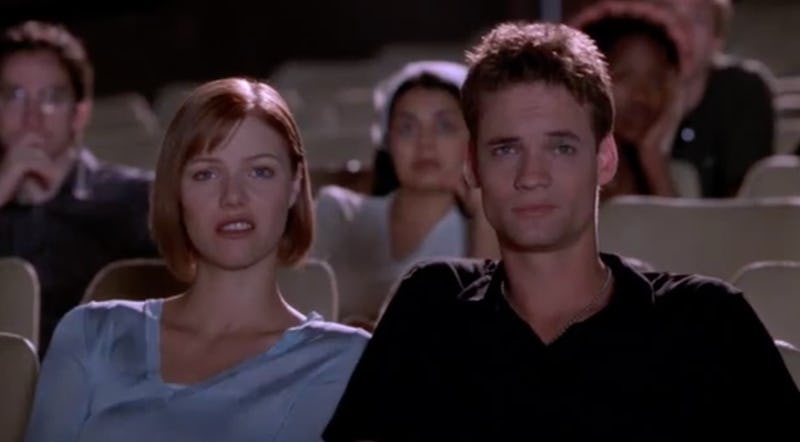 Remember the hit 2001 rom-com Get Over It? Nope? Your loss. This movie had freakin' everything: Mila Kunis, Kirsten Dunst, offbeat humor, ex-boyband members, bad British accents, intense '00s fashion, Sisqó. Yes, that Sisqó. The insane thing about the movie was how poorly it performed at the box offices, which makes me sad, because what the heck was everyone else watching in 2001 instead? Freddy Got Fingered? Anyways, it's been over a decade since I last watched this, and there was a lot I'd forgotten, but there are at least 18 things I noticed rewatching Get Over It now that I'm an adult.
Yep, you're welcome. If you're not committed enough to the '00s to devote 90 minutes to this tour de force (which has all sorts of postmodern moments and contains a play within the action), you can take a little preview of the best bits because I've taken screenshots for you. But honestly — I don't think you'll be able to resist post my prose appetizer. Get Over It was the funniest, weirdest rom-com you forgot about. So clear your some space in your partying schedule this weekend; it's the ultimate Saturday night movie that doesn't have John Travolta in it. You won't regret it, promise.
1. The Opening Credits Are Fire
It's this whole thing. They've got the band who plays the opening song walking down the road behind the protagonist, it's adorable. Also, check it: Carmen Electra. This film is a goldmine of every celebrity from the '00s you forgot about.
2. This Is What The Popular Girl Looks Like
Don't get me wrong, she's a hottie with a body, but, as with every other teenage girl in this film, she dresses like a 50something administration clerk. Don't get it. Was this what '00s fashion was like?
3. Coolio Was In It For A Hot Moment
Coolio cameo. Stop press: can any other film really compete? No, no it cannot. Gangsta's Paradise is still my jam.
4. In The '00s, This Is What A Party Looked Like
This surburban club is pretty lax about carding teens, huh. Also, digging the midweek Ibiza vibes.
5. In The '00s, This Was How You Got Chatted Up
"Let me get that for you," he says, opening her water bottle. She's blown away. Done. No need to buy her a drink, pay her compliments. You opened her frickin' water bottle.
6. Sisqó Had All The Best Lines
Did you know Sisqó is actually in basically everything in the '00s? He was in two episodes of Daria, The Nutty Professor: Meet The Klumps and even Glee. Sisqó is the underrated thesp of our times.
7. Kirsten Dunst And Mila Kunis Were In It And Were BFFs
And I refuse to believe they're not best friends in life as well as Get Over It.
8. The Drama Teacher Was Just Phoning It In
C'mon. Just five years after Baz Luhrmann's Romeo & Juliet? Lazy.
9. When Your Rebound Date Gets Scary
But you're like, meh, at least I'm moving forward with my life.
10. This Feels Like The Get Over It Version Of Kirsten Dunst's Toothbrush Scene In Bring It On
Just one year earlier, Dunst had been ratcheting up the chemistry with Jesse Bradford in Bring It On when they both brush their teeth together. I dunno. I can't explain. It's just wonderful. This is pretty much the same thing: they're adorably playing the piano together and it's definitely a metaphor for the harmony between them, y'know?
11. Worst Ever Idea For Encouraging Your Friend To Get Over His Ex
Take him to a strip club. Don't do enough research on if the strip club has an S&M special on a Monday. Let Carmen Electra strap him in a harness. Run away when the police raid the joint. Let his ex-girlfriend's new boyfriend laugh it up when it makes the local news. Shame tsunami.
12. The Costume Designer Has It Out For Mila Kunis
Even foxy Kunis can't pull off a bandana and low-slung trousers. Don't worry: nobody can. That was the '00s curse, and that is why we pray every day that the '00s will not be revisited with the same fervor the '90s was. Please, please, please.
13. That's Okay, The Costume Designer Might Hate Kirsten Dunst, Too
Floor length bile colored skirt. Off-blue mid-length cardigan. Orange top. Sure, she's just another hip teen and definitely not a Jungian therapist who's ooh, around 60 and is advising you to take control of your life.
14. Do You Remember Guy On The Left?
Shane West: his whole "thing" back then was playing hot evil guys. What a life.
15. Same, Sisqó
Because my dancing is inspired but chaotic.
16. The Visual Jokes Were Bellissima
Can't beat them.
17. Also, Then The Thing Happened That I Still Want To Happen
Sisqó and Mila Kunis. Can this be a thing forever? They were so good together in this movie.
18. Sisqó End Credits, Everything Is Perfect
'60s backdrop because I don't know why.
No, this movie was not, as I've made it seem, solely about Sisqó. There was some other stuff in there too, but I'm not sure it mattered. The Sisqó storyline is super fly though and definitely 100 percent worth checking out. Are you into it? Then Get Over It, and check this forgotten gem out. You won't be sorry.
Images: Miramax Films (21)