Use This App To Get Cheap Restaurant Leftovers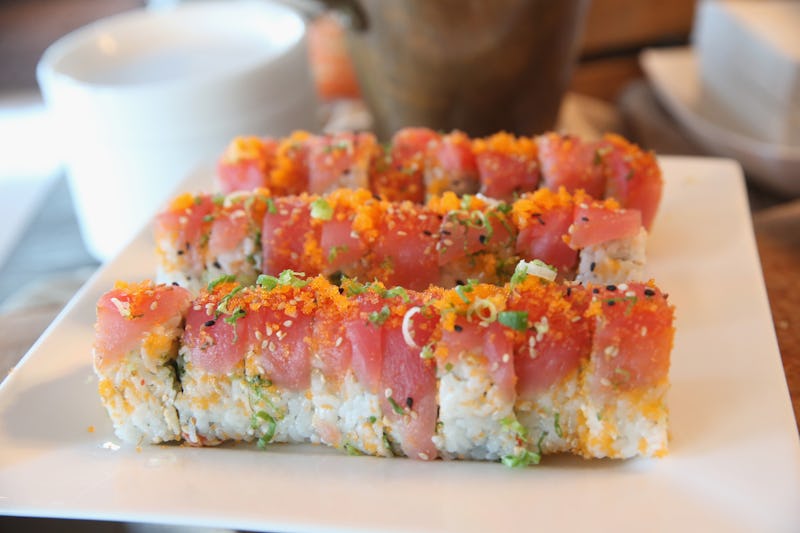 Jesse Grant/Getty Images Entertainment/Getty Images
Food waste is a major problem here and worldwide. A 2012 report by the NRDC estimates that a whopping 40 percent of U.S. food gets thrown away, uneaten, and a significant part of that waste comes from restaurants. But technology could help: There's now an app for restaurant leftovers that lets you buy food at a discount that restaurants would normally have to throw away. It's a win-win for everyone: The restaurant doesn't waste perfectly good food, and you get a cheap meal. The only downside? It's not yet available in the United States. (I know, BOO.)
The app, called "Too Good To Go," first launched in Denmark in late 2015. It has since traveled to Scandinavia and the U.K. Although the app is currently only available in a few U.K. cities (Leeds, Birmingham and Manchester), the founders, Chris Wilson and Jamie Crummie, Brighton, say that they'll be sending the app to London soon.
Here's how it works: You download the free app (or go online), find a restaurant, and sign up to pick up a meal at a specific time, usually an hour or so before closing. (You don't get to choose what your meal will be — the restaurant is simply giving you leftovers from already-prepared food). Rates vary from restaurant to restaurant, but they'll be somewhere between £2 and £3.80 (the equivalent of about $2.60 and $5 USD). Too Good To Go provides the participating restaurants with eco-friendly takeout packaging, and there's an option on the website to donate meals to those in need.
In an interview with the Evening Standard, Wilson said the restaurants get a cut of the money. "It costs restaurants on average 97p for every meal they throw away so we are saving them that expense and giving them extra," he explained. He added, however, that the point of the app isn't to create huge profits, but rather to reduce the massive amounts of food waste that plague the restaurant industry. He hopes that, eventually, apps like Too Good To Go will be unnecessary. "The idea is that restaurants stop producing the extra food so they don't need to throw it away in the first place, so really we want to put ourselves out of business by stopping food-waste," he said.
On its website, Too Good To Go claims that, in the six months since the app launched, it has "helped prevent approximately over 200 tonnes of carbon dioxide emissions." Fingers crossed that we'll get the app stateside soon.
Images: Jesse Grant/Getty Images; toogoodtogo.uk (2), toogoodtogo.dk/Instagram