Eva Nagao Is Dedicated To 'Unlocking The Truth'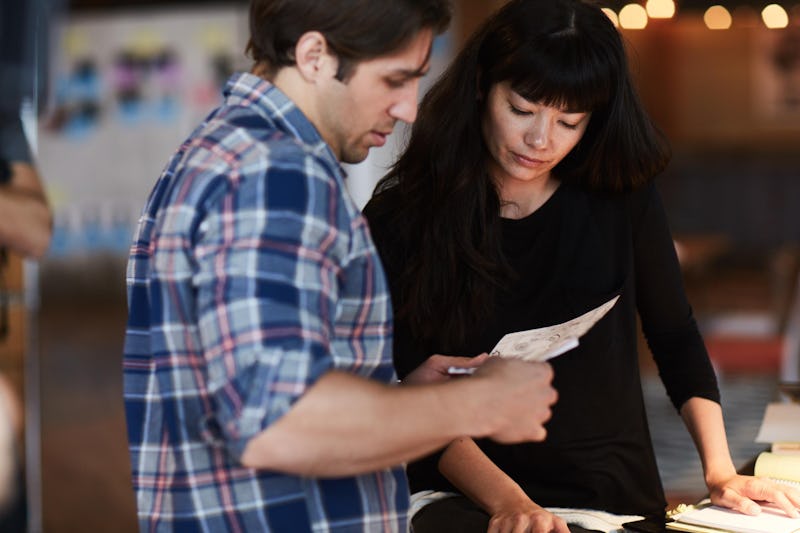 MTV's latest docu-series, Unlocking The Truth, seeks to live up to its title. The show follows Ryan Ferguson, who was wrongfully convicted of murder and served nearly 10 years in prison before his 2013 release, according to ABC News. He has now dedicated his life to ensuring that the same doesn't happen to others. For assistance in these tasks, Ferguson has teamed up with The Exoneration Project director Eva Nagao to co-host Unlocking the Truth, and to also co-investigate the cases that they will be covering over the course of the season.
Unlocking The Truth is a show that exists to investigate claims of innocence from currently convicted prisoners, and as such reached out to the best people for the job. Eva Nagao is a legal professional who has spent the last two and a half years as the Managing Director of the Exoneration Project, which, according to its website is a "free legal clinic at the University of Chicago Law School dedicated to representation of the wrongfully convicted."
According to Nagao's LinkedIn page, she worked for four years as a paralegal before dedicating herself to trying to lower violence in Chicago with the University of Chicago School of Social Service Administration. In addition to her work with The Exoneration Project, Nagao's other non-profit work includes collaborating with We Charge Genocide, the Chicago Liberation Library, and People's Response Team.
Nagao does a great deal of positive work, and she attributes this drive to do good to her personal background, according to MTV. "My grandparents were interned as Japanese people in the United States during World War II," Eva told MTV. "Knowing that story, growing up in a household where that was part of our culture and our history as a family, made me see early on that prisons and injustice went hand in hand."
Unlocking the Truth is Nagao's highest-profile project yet, but furthers her personal mission of ending potential injustice. Speaking to MTV, Nagao said, "Our goals [with Unlocking The Truth], our hope, is that by exposing the levels of injustice in any one case that we can achieve a greater mission which is to expose flaws in the system."
She tells Bustle in an interview that the idea of broadcasting these stories in popular docuseries like Making a Murder, for example, is hard for her to wrap her head around. "I haven't quite gotten there where it's something I really want to watch, because it's something I'm already exposed to, if not overexposed to," she says. "But, I understand the importance, and I especially feel passionately that it should be done as [Unlocking the Truth] did it, which is coming from unique perspectives ... and framing it in a responsible way." She continues, "[And] doing it because it needs to be done, because it can literally save people's lives and hopefully make a difference."
If Nagao can continue to fight against wrongful incarcerations and potential injustice, just as she has worked with The Exoneration Project to exonerate multiple innocent people, there's no stopping her from helping make America a better place to live.
Image: MTV