Here's The New, Serious Kristen Wiig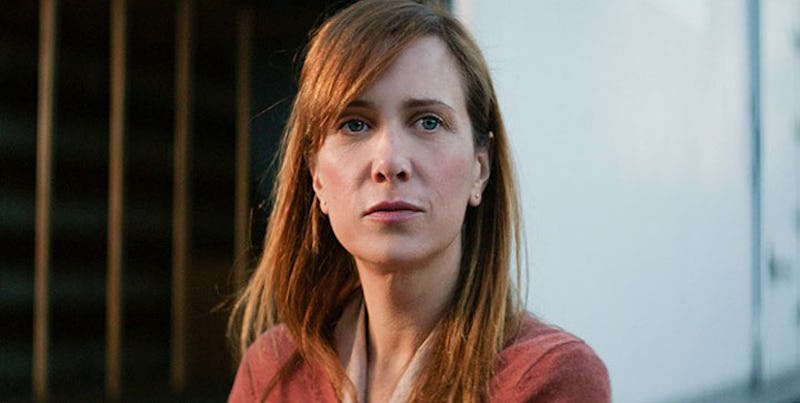 Thanks to Bridesmaids, Kristen Wiig "the actress" doesn't feel like so far-fetched a title. Although Wiig is best-known as a former cast member of Saturday Night Live, her starring role in 2011's summer blockbuster made it clear that the performer's comedic skills aren't limited solely to skits and improv. Yet while we've gotten accustomed to seeing Wiig's name get top billing on posters over the last few years, her films have typically had "2" or "The Legend Continues" in their titles — not exactly Oscar-winning fare. Now, though, Wiig is branching out into darker territory, starting with Hateship, Loveship , a drama whose first trailer premiered on Wednesday. Kristen Wiig, comedian, might be old news, but Kristen Wiig, serious actor? We might have to start getting used to the title.
In Hateship, Loveship, Wiig plays Johanna Parry, a woman hired by a man (Nick Nolte) to work as a nanny for Sabitha, his teenage granddaughter (Hailee Steinfeld). Based on Alice Munro's 2011 short story, the film follows a prank started by Sabitha and her friends in which, after intercepting a letter from Johanna to Ken, Sabitha's unreliable father (Guy Pearce), they begin a fake courtship between the two adults. Eventually, Johanna, who has clearly fallen for Ken, discovers the teens' prank, and is faced with the decision of how to proceed with the rest of her life.
The trailer tries a bit too hard to be dark, and there are certainly a few questionable moments. In one, Nolte and Pearce too-predictably express their grief over Sabitha's late mother; in another, Johanna makes out with a mirror. Overall, though, Hateship, Loveship has serious potential. Wiig shines in a serious role, and Steinfeld gives a nuanced, cliche-free performance, in one of her only post-True Grit parts that doesn't require a gun or a spaceship. The women's complex relationship is a highlight of the trailer, and hopefully, is telling of the movie itself. We're willing to give it a shot and find out.
Hateship Loveship opens on VOD and in limited release on April 11. Watch the trailer below:
Image: IFC Films