You Can Help The 'My Last Days' Cast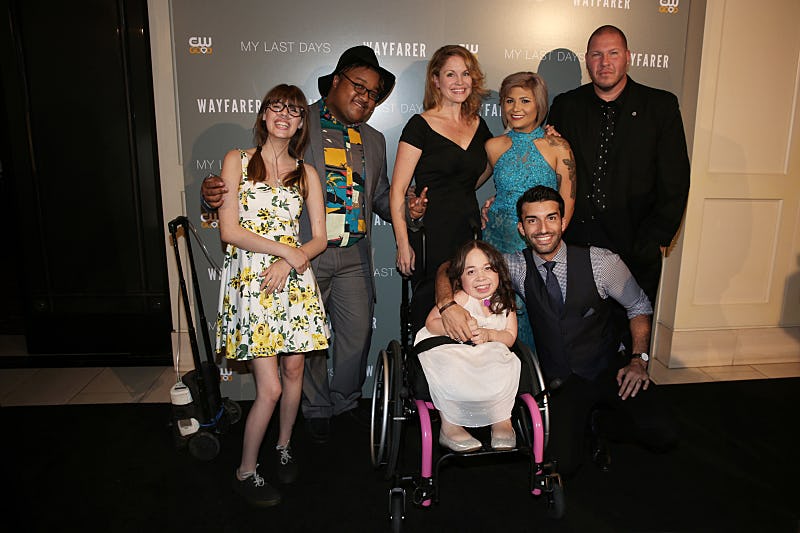 The subjects of the CW's My Last Days are bravely confronting their mortality on camera for an audience of millions, and while the show is certainly harrowing and sad, it's also imbued with a sense of hope. Because even as they're going through severe terminal illness, the men and women featured on the show are looking to raise awareness for certain causes and are hoping for people to boost their signals with a little bit of TV fame. You can help the people featured on My Last Days with everything from a small donation to simply a simple retweet on Twitter.
One of the things the series is doing to benefit the people who it will be profiling is helping them achieve their final goals, and maybe have experiences that they've never had before, like a trip somewhere they weren't able to visit or the chance to do something that was an out of reach dream, whether it's visiting the set of a scripted TV show or speaking in front of an audience for the first time. In just three episodes, there are six amazing individuals profiled, and here's how you can help each and every one of them.
Claire Wineland
Wineland has cystic fibrosis, a chronic illness that affects her organs, but she's also your typical high-energy YouTuber with a channel called The Clarity Project. Certainly watching her channel will help her not just increase her popularity, but it will also help her dispel some of the misconceptions about what it's like to get dozens of surgeries and spend so much time in the hospital.
If you'd like to offer Claire's advocacy some form of financial support, she's a contributor to Stand Up!: 75 Young Activists Who Change The World, And How You Can, Too. And she founded a charity devoted to promoting awareness of cystic fibrosis, Claire's Place Foundation, which you can donate to.
Kendrick David Evans
Evans' rare form of sleep apnea forced him to choose between his life as a talented gospel singer and getting a surgery that may have extended his life expectancy. Not wanting to live without music, he chose to decline the surgery in favor of other lifestyle changes.
Since Evans was so passionate about being able to sing, I think supporting his music would be the best way to tribute his life. He has several albums, and will have a new song in My Last Days that he and BeBe Winans collaborated on that will be released on Aug. 19, according to AllEvents.
Jess Oldwyn
Jess has been blogging about her experience living with an incredibly large brain tumor for years. Reading about the last six years of her life and learning more about what it's like to fight back against such incredible odds is inspiring and important. She's also an advocate for how good medical advice can make all the difference — check out this page where she talks about the medical team that's helped her stay relatively healthy while battling the tumor.
On her site, she also has an email address where you can send her questions if you're dealing with a brain issue, or support. And she has a GoFundMe page set up where she's collecting donations to help with her medical expenses.
Kat Lazo
Even compared to a lot of the other people covered in My Last Days, Kat has had to deal with a lot of uncertainty in her illness. She spoke to Complex, where Kat explained that her diagnosis has gone from terminal to cancer free and back several times.
Devoted to living her life to the fullest extent that she can, Kat is also raising money for St. Jude's Children's Hospital through GoFundMe.
Darth Vader
He may have leukemia, but Darth Vader — and yes, that's his legal name — is probably in better shape than you are. Smashing stereotypes about how cancer patients spend their time in bed, Darth Vader instead races and competes in Tough Mudder courses (if you've never heard of them, it's like an obstacle course mixed with a marathon).
If you're interested in pledging support to Darth Vader, you can donate to his GoFundMe where he's raising money to help battle the effects of his leukemia treatments.
Isabel Bueso
Despite being born with a very rare enzyme disorder called MPS VI, Isabel is a dedicated optimist. And the Guatemalan Cal State student is devoted to helping people understand her condition and how to treat people who are going through terminal illness or disabilities.
Isabel's chosen charity is the Make a Wish Foundation, so those who are inspired by her can donate to that cause in her name.
Image: Chris Frawley/The CW