8 Things That Will Help Messy People Get Organized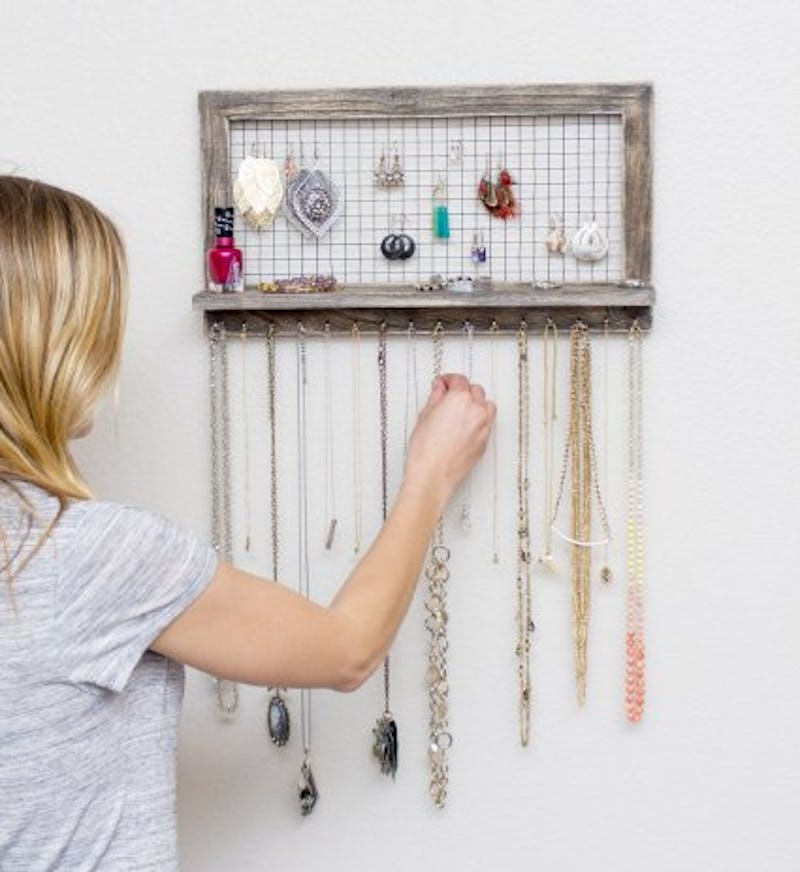 It's safe to say I'm not the neatest person on the planet — ask anyone who's lived with me. I'm not a mess, per sé, I'm just too busy to make putting things back perfectly a priority. That's why finding easy hacks for how to get organized if you're messy has gotten me out of a lot of trouble. Having a guide to being clean and organized has made me, in a weird way, excited about getting organized. Instead of buying a run-of-the mill jewelry organizer, I figured out a way to make one out of cheap chicken wire.
Organization hacks like that is what keeps my space semi-functional. Instead of squashing all of my purses into my closet (they inevitably always crash down in an avalanche), I've found that hanging them from simple S-hooks from my closet makes for a much more effective means of organization. If you're like me, there's a mess of bottles under your sink, right? You'd never guess it, but an affordable tension shower rod can fix that for you. It's magic!
I'll never claim to be an organization guru, but from one messy person to another (fine, I'll admit it, I'm messy!), I'm sharing a few of the easiest hacks for messy folks to get organized.
1. Organize Your Cluttered Kitchen Drawers With Customizable Dividers
If you're tired of your kitchen drawers (or any of your cluttered drawers) being a mess, try customizable dividers!
Adjustable Kitchen Drawer Dividers, Elegant Aluminum Modular Organizer 5 Dividers Set, $22, Amazon
These dividers make it easy to give everything a place, so you don't have to go tumbling around ever again, and they give more flexibility than a pre-set plastic organizer.
2. Organize Spray Bottles Under Your Kitchen Or Bathroom Sink With A Shower Rod
Yihai Tension Shower Curtain Rod, 36-60 Inch, Iron and Pe Coated, $17, Amazon
If you have a cluttered mess of spray bottles under your sink, try installing an easy tension rod. You'll be able to hang spray bottles by their nozzle and free up space at the same time.
3. Label Literally Everything With Washi Tape
Marrywindix 10x Decorative Washi Rainbow Sticky Paper Masking Adhesive Tape, $7, Amazon
Never ask, "Where does this go?" again. With super affordable (and cute!) washi tape you can organize your kitchen, your bathroom, and your office as much as your heart desires.
4. Make Your (Actually Roomy) Jewelry Organizer Out Of Super Affordable Chicken Wire
M-D Hobby & Craft 57513 Chicken Wire, 2 by 8-Feet, $12, Amazon; Malden International Designs Rustic Wooden Picture Frame (8x11), $15, Amazon
This one is a crafty DIY, but you'll be able to hang all your jewelry from it once you've accomplished making it. All you need is chicken wire and a frame, or something to cover the chicken wire's sharp edges. When you're done, it should look similar to this:
Rustic Wooden Wall Mount Jewelry Organizer for Earrings / Necklaces / Bracelets / Accessories, $30, Amazon
Not crafty? No worries, skip a few steps, and just snag the inspiration piece above.
5. Organize Odds And Ends In A Ceramic Egg Carton
Rachael Ray Stoneware 12-Cup Sittin' Pretty Egg Tray, Red, $12, Amazon
If you're not so crafty, do some easy repurposing! This carton is meant to house eggs, but you can throw jewelry, your keys, or even office supplies in each of its little spaces.
6. Use S-Hooks To Organize Your Closet And Hang Purses, Scarves And Accessories
If you always have an avalanche of purses and accessories attacking you when you open your closet, you need this hack.
Premium 10-Pack Larger Round S Shaped Hooks in Polished Stainless Steel Metal, $4, Amazon
Instead of buying and having to build a purse rack that takes up floor space, you can get these easy-to-use S-hooks. Hang them from your closet rod, and they make an easy way to keep your purses right where you can see them. They're one of my favorite easy ways to organize!
7. Keep Track Of Bobby Pins, Hair Clips With A Magnetic Strip
Three by Three Magnetic Strip Bulletin Board, Black, $20, Amazon
Use this magnetic strip to keep track of bobby pins (we all know how hard it is to keep track of those things!) and hair clips. You can even use small magnets to pin notes, pictures or anything else up to the strip (like those keys you always bury at the bottom of your bag).
8. Use Matching Jars For Storing Just About Everything
Nakpunar Mason Glass Jars with Gold Lids, 7.5 oz (12 Pieces), $20, Amazon
Whether you go the rustic route with mason jars or go for a sleek design like these, you can use them in your kitchen to store coffee or sugar, in your bathroom to store cotton balls, or at your vanity to hold makeup brushes!
Bustle may receive a portion of sales from products purchased from this article, which was created independently from Bustle's editorial and sales departments.
Images: Giphy (2); Amazon (10)