Wait, Are Chad Johnson & Ben Higgins Friends?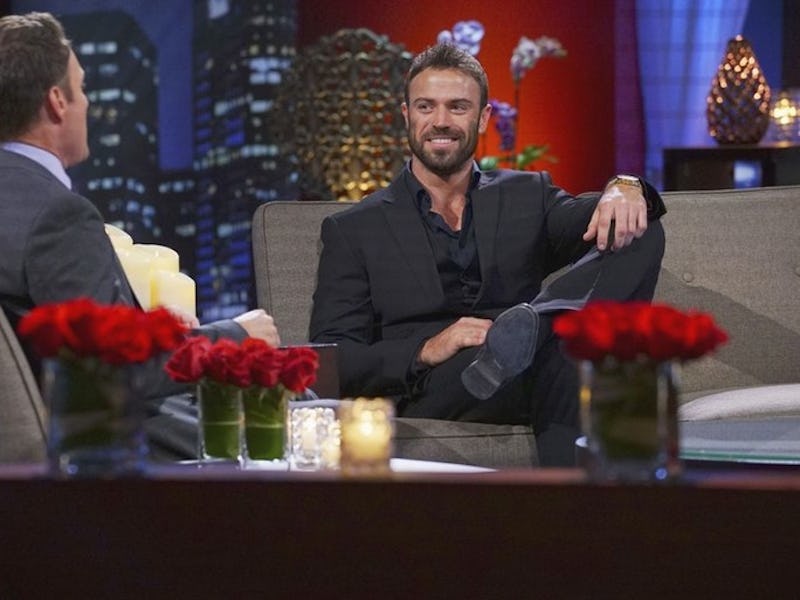 As many of you will all too painfully be aware, The Bachelorette's season 12 villain, Chad Johnson is like the Jason Voorhies of reality TV shows — just when you think you've gotten rid of him, he fearlessly returns. He made an unwanted appearance at The Bachelorette house despite being kicked off the show by JoJo Fletcher, then he showed up in Bachelor In Paradise, and now he's going to appear in yet another reality show. He's unstoppable, you guys. Entertainment Tonight is reporting that Ben Higgins and Lauren Bushnell's reality show Ben And Lauren: Happily Ever After? will feature Johnson in as yet unknown appearance on the show. But why? I mean, are Ben and Chad even friends in real life?
After much online sleuthing, I couldn't find any glimpses of friendship between the two, which only makes Johnson's appearance in the show even more intriguing. What does exist online are some social media threads that could help provide some handy hints over what in the world Johnson could be doing in Ben And Lauren: Happily Ever After?.
I mean, the only theories that I currently have are that Chad turns up (uninvited, obviously) at one of Ben and Lauren's barbecues and eats every platter of meat being cooked, or that he possibly attends Ben's gym and the two engage in some competitive weightlifting together. But that's all speculation, guys, let's try and stick with the facts here, right?
So, for starters. There's a brief history of beef (you know how much Chad loves his deli meat) between the two reality stars. It began when the ever cocky Chad trashed Ben during an "In The Moment" segment in The Bachelorette Season 12 premiere, where the creepy whistle enthusiast mentioned that he was, "like a manlier, more rugged version of Ben." Then, he elaborated on the ex-Bachelor stars apparent flaws by quipping, "He's just a softy. He's just a soft, supple, smooth, friendly guy." Cool burn, bruh. You know how much the ladies despise those smooth, friendly guys.
Of course, Ben was ready and waiting with the perfect comeback to such an insult:
Nailed it. Now, it feels a little silly to imagine that Ben would hold any sort of a grudge towards Chad for such a statement, but it definitely seems plausible that Chad might hold a grudge against Ben for daring to talk back about it. After all, this is the man who threatened to hunt down and beat up fellow Bachelorette contestant Jordan Rodgers after The Bachelorette had ended, simply because he'd politely invited Chad to join the group in a conversation. He's bananas sometimes. Still, it's feeling a little far fetched that such a grudge would bring Chad into the fold of Ben And Lauren: Happily Ever After?, even by reality TV show standards.
But there's one other theory that could work. Back in July, The Bachelor creator Mike Fleiss jokingly tweeted about wanting Chad for a Bachelor spinoff before suggesting the guy's chances of ever becoming the next Bachelor, or possibly even having his own reality TV show:
Chad To The Bone. I have no idea what that show would entail, but I'm not gonna lie, I would most definitely watch it. If Chad does have a real shot at starring in his own reality TV show vehicle, then it could well be that he's contacted Ben and Lauren for tips on how best to do it and maybe even, how to become the sort of smooth, friendly guy that viewers might actually be able to like.
Or, who knows, maybe Chad is ready to prove Fleiss wrong in thinking that he shouldn't be the next Bachelor and will be grilling Ben for tips in becoming the ultimate Bachelor star who should totally be hired for the position (though, I wouldn't hold my breath on that becoming a reality, fella). It'll remain to be seen what the nature of Chad's appearance on Ben And Lauren: Happily Ever After? will actually be, but, based on everything we know about the slightly unstable, protein-guzzling Bachelorette villain, it'll definitely make for great television.
Images: Byron Cohen, Rick Rowel/ABC; Giphy