Single, Muslim, and Dating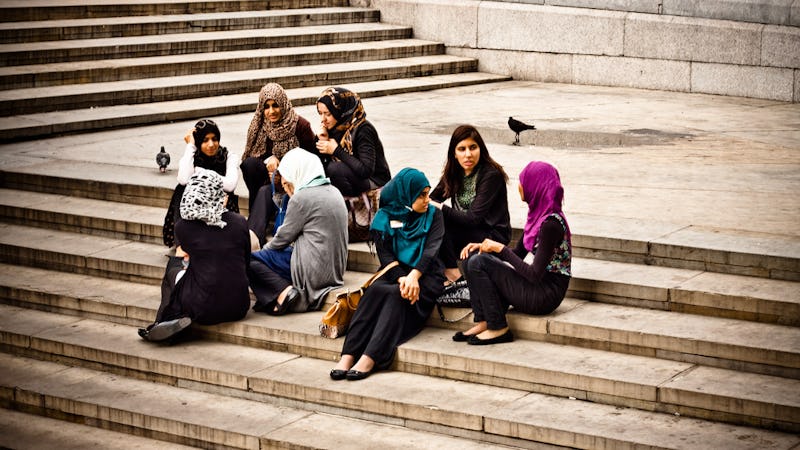 The premise of No Sex In the City, Australian author Randa Abdel-Fattha's newest book, is pretty similar to Candace Bushnell's original. Four single girls in their thirties, looking for a man in the big city. But there's a twist: One of the girls, Esma, is Muslim. Which means no alcohol, and no sex before marriage.
There are more choices than it seems for a single Muslim lady in the Western world, according to The Guardian . They can opt for being the traditional "submissive" (first or second) wife, or they can test out living together with an Islamic wedding contract (the nikah) before getting a civil marriage. Some modernists also contemplate marrying outside the Muslim faith, a practice currently allowed for Muslim men.
Many dating websites, including eHarmony, have a separate category for Muslim dating. Other more specialized websites exist, such as Muslim & Single and British Muslim Dating, where you answer questions such as "Do you eat halal?" so you can find your best match. Still, many women meet their hubbies face-to-face, in public events ranging from political demonstration to mixers.
Asma, a young professional based in London, describes for The Guardian "the huge numbers of confident college girls wearing wild and elaborate hijabs, loads of makeup and kissing their boyfriends in public." She goes on to explain that most Muslim women in Britain want to find a balance between the traditional and liberal in their marriage. Men "tend to go more nuts at [university]," she explains. "And then come out and become pious and want a good wife to pray five times a day with. Girls tend to find a middle path about their identity." It seems that even despite the absence of cosmos and sexual misadventures, there's still lots of girl-talk material for single and dating Muslim ladies.
Image: Garry Knight on Flickr