Hey Death Breath, 'The Lost Boys' Is Coming To TV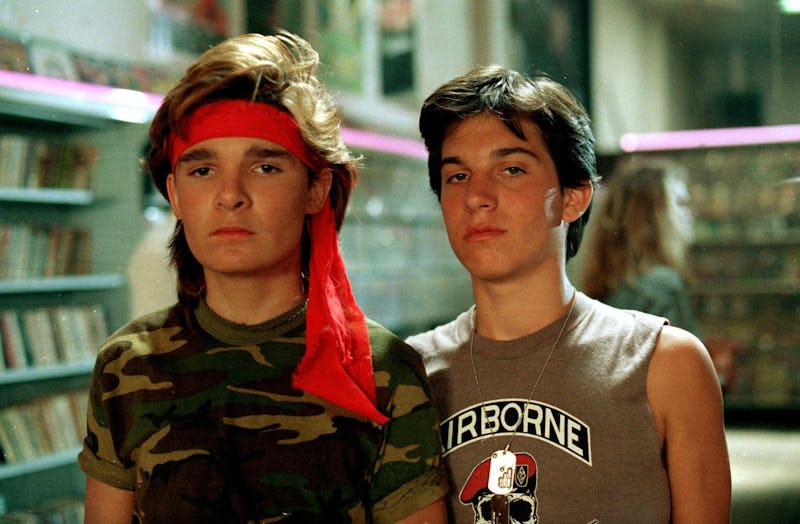 If you're currently sobbing over the supernatural, vampiric absence that the cancellation of The Vampire Diaries will bring to TV, then dry your eyes and fix up a nice, big comforting bowl of noodles for yourself ( they're maggots, Michael ) because The Lost Boys is being made into a TV show. As reported by Deadline, the series is being developed by The CW, and the TV-adaptation of the 1987 classic horror-comedy being brought to life by the capable hands of Rob Thomas (the creator of Veronica Mars, iZombie and Party Down).
The TV adaptation of The Lost Boys will also feature a crucial twist: The show will explore what it truly means to be immortal, with each potential season focusing on a different decade of time within the 70-year saga of the original story. As a result, though most of the characters will change with every changing season of the show, our undead Lost Boys friends will remain.
I feel like there's a lot of fun potential within that premise. Not only does it provide the sort of storytelling thrills of other anthology shows which tend to focus on different periods throughout time (such as Fargo and American Horror Story), but it also provides a great deal of potential for some great cast members to be involved. And if there's one thing I know about Thomas, it's that he loves to drop cameos from cast members of his past shows into his current projects.
After all, in iZombie, which is Thomas' most recent show, we've been treated to cameos from various stars of Veronica Mars . As well as a recent vocal cameo from Mars herself (Kristen Bell), we've also seen Ryan Hansen (Dick Casablancas), Percy Daggs III (V's best friend, Wallace) and Daran Norris (Cliff McCormack, aka Mars Investigations favorite public defender) playing roles in the quirky horror show.
And then we had Party Down which also just so happened to star a slew of Veronica Mars cast members in both small and even large roles such as Hansen (who apparently just has to star in every one of Thomas' projects), Adam Scott (Chuck Rooks), Ken Marino (the ever-annoying Vinnie Van Lowe) and Enrico Colantoni (Mars' father, Keith), to name but a few.
With all that mind, I feel like it's pretty safe to wager a bet that Thomas will be bringing a least some of his favorite iZombie, Veronica Mars and Party Down stars over onto The Lost Boys series when it starts. I mean, just take a second to imagine Hansen as a member of the undead, being less than cool about his new-found immortal lifestyle and getting a stake-through-the-heart immediately because he just couldn't shut up about being a vampire. Or, even better, imagine Bell as a retired vampire slayer, having to haul her ass back into action after Santa Carla becomes once more infested with those damn creeps down on the boardwalk.
It's a dream come true, people. And considering how witty and tone-perfect both Veronica Mars and Party Down were, I think it's pretty safe to trust in the fact that Thomas will imbue The Lost Boys TV show with the exact amount of dark humour which made the original movie so terrific.
Images: Warner Bros. Pictures